Windows 8 is pretty impressive, and everyone is waiting for the first Beta release. Everyone jumped the bandwagon and had installed Windows 7Â  Beta releases right away.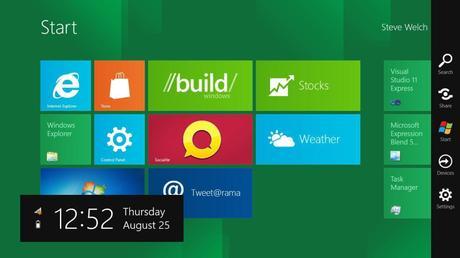 This time you don't have to wait till the Beta releases, Microsoft has released a pre-beta ( developer preview ) build which would demonstrate how beautiful and elegant the new Metro UI is, and how exactly developers could make use of the new UI.
As expected the download page is full of hidden warnings of not installing it in a hope to have a final stable version. This pre-beta is very unstable and is not recommended for normal users.
Windows Developer Preview works great on the same hardware that powers Windows Vista and Windows 7:
1 gigahertz (GHz) or faster 32-bit (x86) or 64-bit (x64) processor
1 gigabyte (GB) RAM (32-bit) or 2 GB RAM (64-bit)
16 GB available hard disk space (32-bit) or 20 GB (64-bit)
DirectX 9 graphics device with WDDM 1.0 or higher driver
Taking advantage of touch input requires a screen that supports multi-touch
To run Metro style Apps, you need a screen resolution of 1024 X 768 or greater
Microsoft has released 3 different builds,
Windows Developer Preview with Developer Tools, 64-bit
Windows Developer Preview, 64-bit
Windows Developer Preview, 32-bit
Just like everyone is moving ahead with cloud computing, to efficiently run Windows 8, and use all its features you would need a Live ( MSN ) account.
via Windows Developer Preview Downloads