When will I see you again?
When will our hearts beat together?
Are we in love or just friends?
Is this my beginning or is this the end? – The Three Degrees
Will the S&P see 1,420, will the Russell see 860 again?  

We need to see 13,600 on the Dow to flip our bull switch and we're happy to play that index bullish with something like the DDM (now $71.03 with the Dow at 13,264) $68/70 bull call spread at $1.15, which pays $2 (up 74%) if the Dow simply doesn't fail 13,200.  
The potential loss of $1.15 on the trade can be offset with the sale of the May $127 puts at $1.10, which is a bet the Dow holds 12,700 (down 4.25%) or you can pick a stock you would REALLY like to own if it gets cheaper like AAPL, and sell the May $460 puts (down 25%) for $1 or a stock I would love to buy cheap(er) like BTU May $28 puts (down 5%) for $1.25 or CHK July $21 puts (down 14%) for .90.  Assuming you offset $1 of the $1.15, then you are in for net .15 on the $2 spread with the potential for a 1,333% return on cash if the Dow simply doesn't go down from here.  If you are not willing to make that bet, then you are simply not bullish.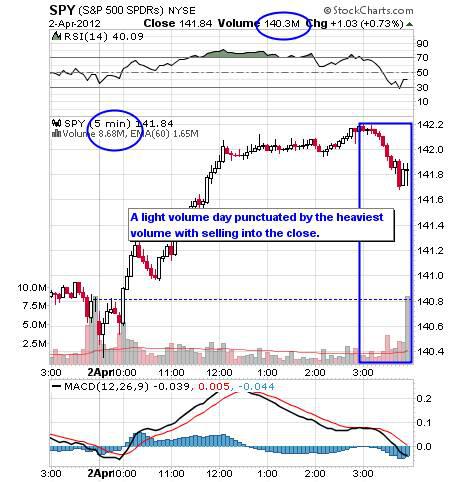 We still favor cash in this very uncertain market but we've been more enthusiastic about adding bearish trade ideas, on the whole.  Our very bearish, very aggressive, short-term $25,000 Portfolio gained a virtual $20,000 in the past two weeks DESPITE the fact that we're re-testing the tippy top of the market.  
That's because we are essentially doing the opposite of "buying the dips", which is "selling the rips" – taking advantage of the excitement of the bulls, who are whipped into an almost daily frenzy by these low-volume rallies.  
I'm happy to be bullish, really I am, but SHOW ME THE EARINGS!  We are now up 10% since January earnings and 25% since October's report so I am looking forward to some SPECTACULAR numbers to back up these new and vastly improved valuations for all these companies.  Heck PCLN (on our Long Put List and now in our $25KP) is up $250 (55%) since January alone…