Most individuals knowing of the pleasure of a good coffee and a good smoke are familiar with two fire steps. You must use fire to start smoking a cigar and you must use fire or high heat to make a hot coffee. There are – of course – more fires to this. The roasting fire to the seed carries great responsibility to begin with.
Now I have discovered a cigar made just for me – for my palette and for my alchemical realm of interests. Drew Estate has combined and intensified the need for fire in a coffee infused cigar.
The creator of this cigar says:
"Tabak Especial is a really special cigar that I have worked on for over 5 years. Perfecting all of the nuances that we learned in the making of Kahlua Cigars Delicioso and Java. We present our new Coffee Infused cigar in two styles, Dulce & Negra, using the very finest Nicaraguan tobaccos & coffee. Tabak Especial Negra is truly a work of art that will appeal to even the most die-hard traditionalist, and Dulce will keep all those fans of our other fine works addicted to it's creamy sweetness."  – Jonathan Drew
A very particular thing about this cigar is the highly unusual finish. A clear-cut on one cigar end is what we are accustomed to, but here the tobacco leaves have been carefully and artistically turned, separated and folded at the end by the torcedero, to obtain a finished cigar with an optical twist.
Actually there are two of these. An additional Java cigar is available as well, which goes more in the direction of a mocha (mocca) with milk infused cigar. That one I shall be smoking very soon, as well.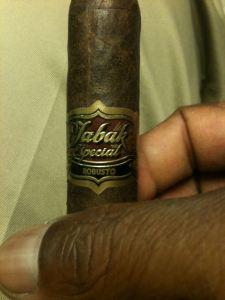 1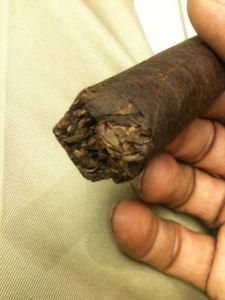 2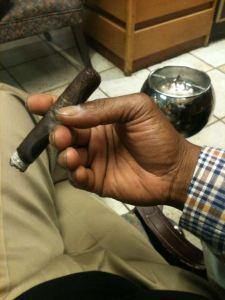 3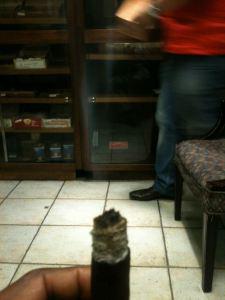 4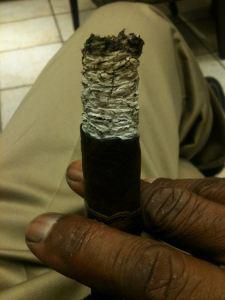 5
The taste is sweet and fairly strong, just as the color suggests. And I just had my second one.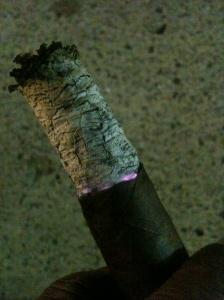 6 (Fire and Stone / my second Coffee infused Tobacco – smoked at night outside)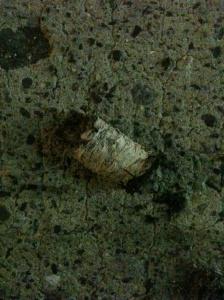 7 (Fallen Angel – finally / Ashes)
 "Drew Estate has become the standard when searching for infused cigars. The process they use to create their exotic flavors and aromas has never been duplicated. The tobaccos used for each blend are uniquely different from one another, with their attention to detail and quality control being flawless. Founded by Jonathan Drew, Drew Estate is currently a top manufacturer of Nicaraguan cigars and has expanded beyond strictly unique tobaccos and infusions into traditional blends."

"Filled with a flavorful concoction Nicaraguan, long leaf tobaccos, Tabak Especial is simply an excellently blended hand-made. It offers crisp flavors of earth and cedar, infused with powerful nuances of espresso and cocoa to create an incredibly rich, complex flavor only noticeable in an infused blend by Drew Estate. The burn, quality of product, and construction are all top notch. The blend is medium-bodied, with almost every size offering a "shaggy foot," which allows the flavors of the filler and binder tobaccos to be tasted separately from the wrapper. This blend is available in a smooth and silky Connecticut or a dark and rich Maduro wrapper. Tabak Especial is another welcomed, well received addition to the Drew Estate family of brands."  – CigarCom
About sila

I have been drinking coffee, eating coffee, thinking coffee. I am no historian, no expert, no missionary wishing to convince you that this particular brew in this particular cup will be the god-shot of your life. But perhaps being a reliable storyteller will help increase – among others – your coffee expectations, your perception in every cup, thus increasing your joy in each. View all posts by sila
→