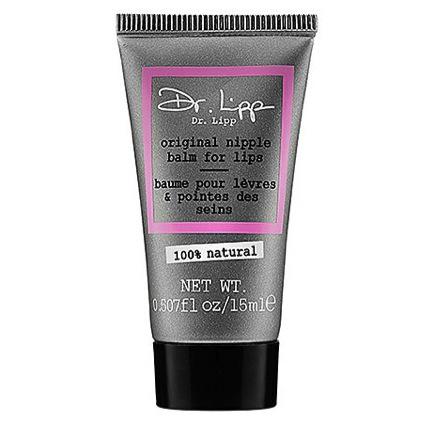 I must admit, when this balm landed on my beauty radar, the packaging alone caught my attention (nipple balm…for lips?!?). With a name like Dr. Lipp Nipple Balm For Lips I'm willing to bet that even the most uncurious minds would be at least a tad bit curious about this one. Hey, I've heard of all-encompassing beauty balms before, but this balm takes "all-purpose" to a whole new level. In short, this wonder balm can moisturize just about any skin issue, head-to-toe, including chapped lips, nails, gnarly cuticles, sunburns, dry elbows and feet, flakey skin patches, knees, split ends, and yes, even your nipps (hey, I told you it can be used everywhere). The end result? Velvety soft lips n' skin.
And since this balm has a major cult following, I couldn't resist giving it a test drive. My verdict? I heart you, Dr. Lipp! Here's the balm-loving scoop, beauties:
Beauty 411: Dr.Lipp's Original Nipple Balm For Lips is pharmaceutically acknowledged as one of nature's most effective & natural skin moisturizers and helps heal even the driest and sensitive skin. Extremely versatile you can use this double-duty balm anywhere you need deep hydration including your lips, cuticles, calluses, sunburns, baby rashes, scars, and even eczema!
Why you'll love it: 100% Pure. 100% Natural. And this miracle balm has been proven to reduce skin roughness up to 40% in a single hour (and let's face it…during the winter months dry, patchy skin just isn't sexy).
Beauty bottom line: This balm is a must for winter months. Chapped lips, dry hands, and rough elbows don't stand a chance against this miracle moisturizer. And the adorable tube is the perfect size to throw in even the smallest handbags.
You can find this double-duty balm ($14.50) at Sephora or on drlipp.com. Happy lip (and nipp) moisturizing, beauties!
What are your thoughts on a balm that serves double-duty for nipps and lips, readers? Are you already a cult fan of this balm? Share your comments below!
Crows' Feet, Cupcakes, and Cellulite does not accept compensation for reviews. Samples may have been provided. Opinions are 100% the author's own.