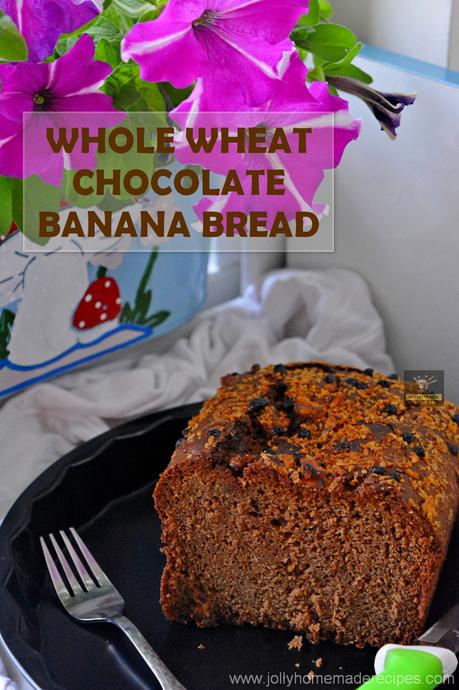 Our Double Chocolate Banana Bread is an easy and delicious banana bread recipe that's moist, fluffy and loaded with chocolate chips. Easy to make, dense and perfect chocolatey indulgence in every bite. Enjoyed it as a snack, breakfast or even desserts too!!
A perfect chocolate lover's dream come true with this double chocolate banana bread recipe. It can be made gluten-free by using gluten-free baking flour.  It is so comforting and will make you feel cozy with every bite!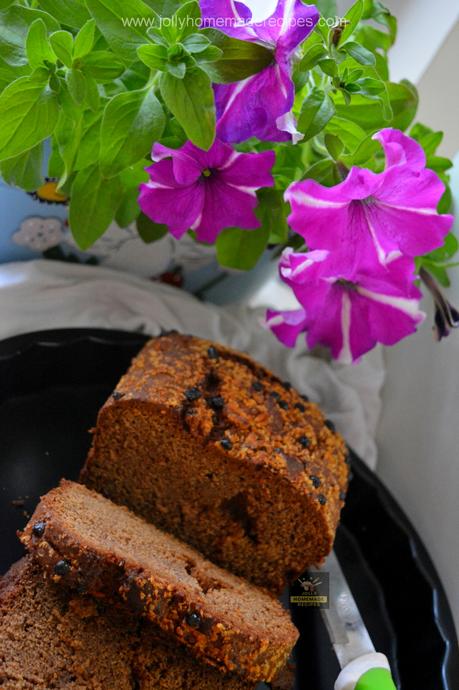 HOW TO STORE BANANA BREAD
There are different ways to store your chocolate banana bread. If you don't have too much of it leftover, wrap it in foil paper and leave it on your cake tin in refrigerator, take it outside just warm it in microwave for 15-20 seconds and enjoy. 
CAN YOU FREEZE BANANA BREAD?
Yes. Tightly wrap banana bread with plastic wrap first and then use aluminum foil to prevent it from getting freezer burned. You may also cut your chocolate banana bread into slices and store it in an airtight container before placing it in the freezer. How long to freeze banana bread? Banana bread will last up to 3 months in the freezer.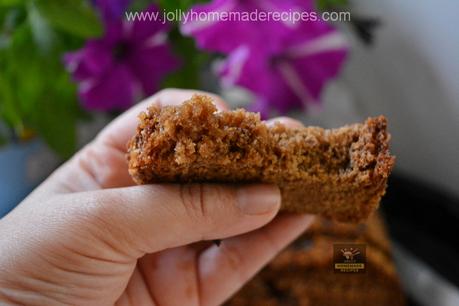 Course: DessertCuisine: American Prep Time: 15 minutesCook Time: 1 hour 5 minutesTotal Time: 1 hour 20 minutes Servings: 10 Author: Jolly Makkar
Ingredients
2 Cup Whole Wheat Flour
Nonstick cooking spray, for greasing pan
3/4 Cup Dutch-process Cocoa Powder or any cocoa powder
1 tsp Baking Soda
3 Large Very Ripe Bananas peeled
3/4 Cup Vegetable Oil 
1 Cup Sugar
2 Large Egg at room temperature
2 Tsp Pure Vanilla essence1/4 cup inside the batter + 1/2 Cup Dark chocolate chips on top
½
tsp Salt
crushed walnuts on top (optional)
Instructions :
1. Preheat oven to 350° F. Lightly grease a 9x5-inch loaf pan with nonstick cooking spray. Set aside.
2. In a medium mixing bowl, whisk together the flour, cocoa powder, baking soda, and salt. Set aside.
 Don't skip the sifting. This will help break apart any fine lumps of cocoa powder or flour.
3. 

In a large mixing bowl, mash bananas well. Mix in the powdered sugar, oil, eggs and vanilla essence, 
making sure to bread apart any lumps of sugar.
4. 
Begin gradually adding the dry ingredients to the wet ingredients. After all wet and dry ingredients are combined well. 
Do not over mix. Add 1/4 cup chocolate chips into the batter.
5. Pour the batter into the prepared loaf pan, and smooth the top with a rubber spatula. Sprinkle rest of chocolate chips and crushed walnuts over the top.
6. Transfer to the preheated oven and bake for 50-60 minutes, or until a toothpick inserted into the center comes out mostly clean, without any moist batter. 
7. Remove the pan from the oven and allow it to cool on a wire rack for 15 minutes. 
8. Run a knife along the edges of the pan to loosen the banana bread, and 
Use the sides of the parchment paper to lift the banana bread out of the pan. Slice and enjoy.
9. 
Store any leftovers in an airtight container at room temperature.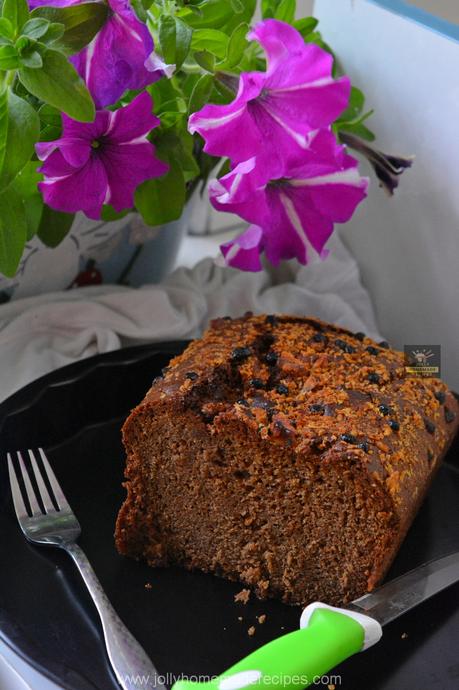 Love banana bread? Here are a few other you can check out:
Marbled Banana Bread 
Cinnamon Nutmeg Banana Bread
Banana Nut Choco Chip Bread
Chai spiced Banana Bread
Banana Chocolate Cake
Best ever Banana Muffins
This recipe a part of A to Z Recipe challenge. This month the letter is  C so I choose my key ingredients CHOCOLATE and make this moist and fluffy chocolate banana bread recipe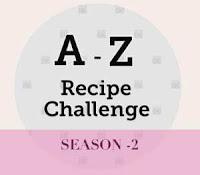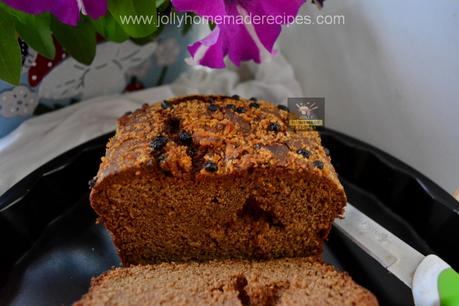 Did you try this recipe? 
Click a picture and mention 
@jollyhomemaderecipes
or tag 
#jollyhomemaderecipes 
in Instagram or Twitter
Subscribe to our 
YouTube 
Channel 
Click here to 
Subscribe
our 
YouTube 
Channel and stay updated with our latest video recipes
PIN IT later for your future use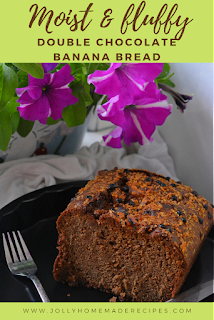 Let's share the food love & Enjoy 🙂