Dorset Energized partners came together for an informative public exhibition and forum at the Corn Exchange in Dorchester. Members of the public took the opportunity to discuss renewable energy technologies with the installers present and also to quiz representatives from the proposed Winterbourne Stickland and Charminster wind farm proposals from REG Energy and Broadview respectively.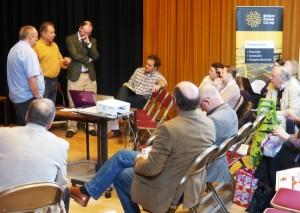 Attendees debate the issues at the renewable energy forum event
Vince Adams – Chair of Dorset Energized said "We had an excellent range of first class exhibitors and speakers for the 1st Dorchester Renewable Energy Exhibition and Forum and we have given ourselves the platform to really move forward and begin to achieve our objective of engaging the people of Dorset with the Wonderful World of Renewables"
Amongst the days activities there was an unexpected opportunity to lobby the UKIP prospective parliamentary candidate for West Dorset, see the latest in electric bikes and vehicles – both stationary and moving – as well as take part in some vigorous discussion around promoting renewables, the merits of the various technologies and issues of community investment and involvement.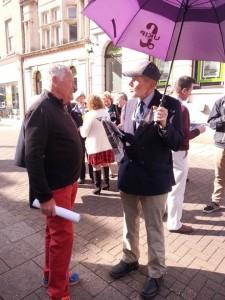 The UKIP delegation were in the Town and Vince took this opportunity to debate with them the merits of renewables
Dorset Energized is looking forward to organising another event in partnership with the Communities Living Sustainably Project at the Dorset County Show in September.