At the end of Part 1, I'd reached Ringstead Bay, at which point I decided to stop and finish off my lunch before negotiating an inland return route and hopefully getting to cross some hills. The temptation to trek back along the same line of the Jurassic Coast was great (in spite of those cliffs) but as someone who spends most weekends climbing mounds much closer to home, I wanted to discover what this patch of Dorset had to offer.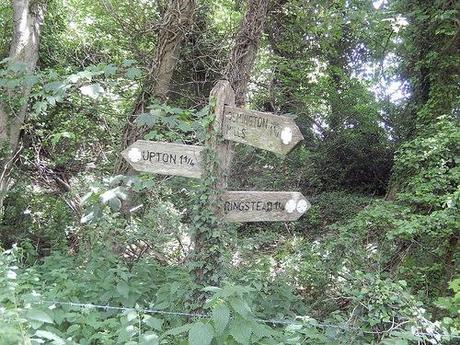 While the path ahead remained unknown, I knew with certainty that it would have to begin with a trail to the north. I fancied the idea of going a little further west in search of Osmington and a glimpse of their own White Horse carved in to the hillside but that would've taken me a little too far afield; I could always shoot for that target on another camping trip. So, climbing up through a shaded woodland area known as Spring Bottom, I set my sights on the village of Upton.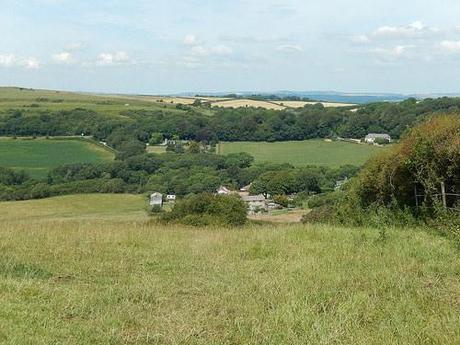 In the days leading up to what would become my first camping trip, I felt largely unprepared for this phase of the solo adventure. An alien county a fairly long way from home… I could easily have gotten lost or, worse still; not enjoy the walk! But I scoured my map for trig points to use as landmarks towards my return destination and the next on my list was at the top of Moigns Down, just west of Holworth.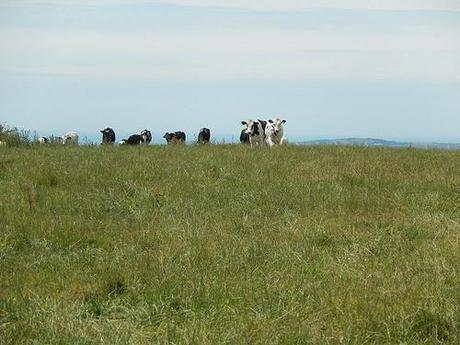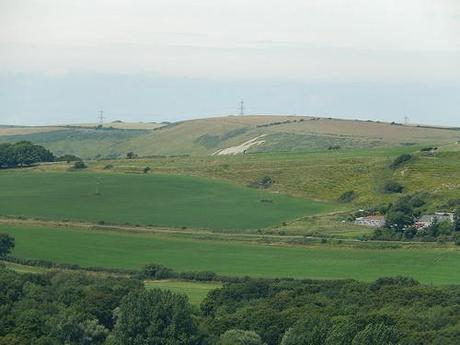 Before leaving Upton, I did in fact catch a distant sighting of the Osmington White Horse [tick!].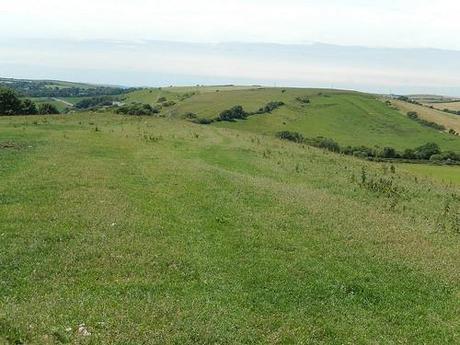 Reaching the penultimate field to the trig point-bearer was a warning of what was to come ahead…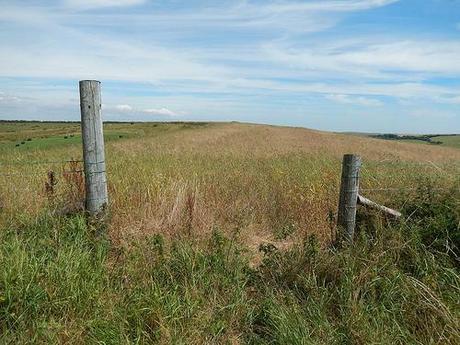 Waymarks were intermittent and there was barely a discernible footpath in and amongst the overgrown grass and crops. On a nice day in mid-July, it's illegal not to wear shorts too, right?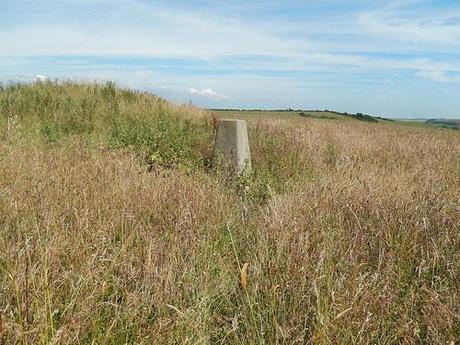 After much scratching, I approached upon the trig point; who's presence appeared undetermined from afar. This clearly isn't an area that's frequented by ramblers very often – either the locals know better or, people do not see the hills for the sea… According to the OS map, the path curves around to the left of the trig but with bare legs beneath my knees, that wasn't an option and so I followed the vague trail bearing right around the southern side.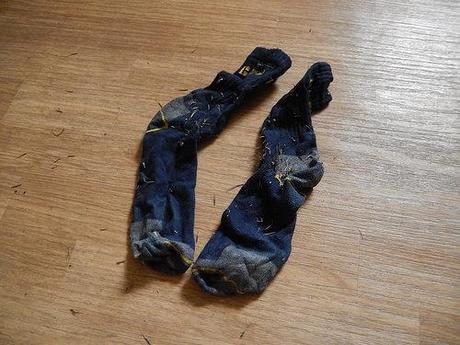 When I came to a kissing gate and the end of my torturous nightmare, I had to stop and change my socks. I always pack a spare pair, although it's usually in preparation for water and mud… This was the first time I'd suffered walking through a distinctly dry area. My socks and boots were full of what felt like thorns (many of which had to be hand-picked out before I could wash the socks back at home). I swear that I shall never set off on a walk without a clean pair of socks in my bag!!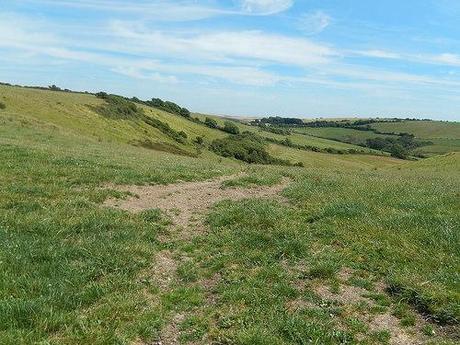 All that pain and the suffering could be left behind as I continued east straight through a farm and in to East Chaldon.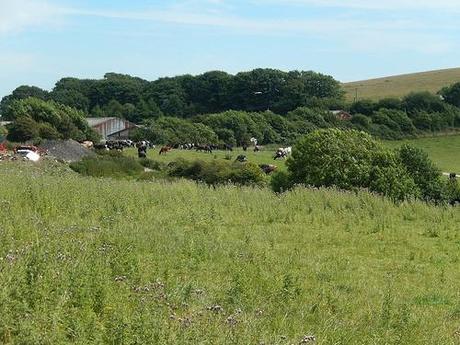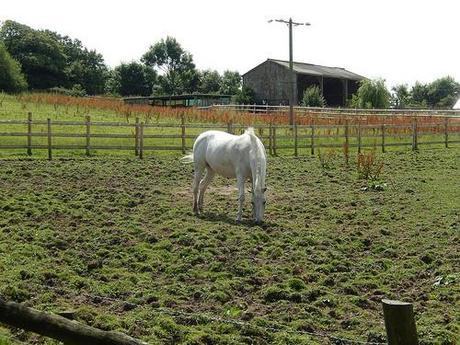 I kept to the roads for a little while, which is uncharacteristic to my usual preferences. But it provided a welcome break from the nerves of navigating green land.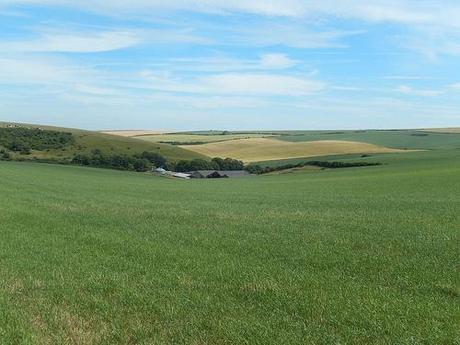 This next photo reminds me of a ten-minute roadside stop I made to greet an unusually-friendly herd of young-ish cows. Also, that I have some video footage of them somewhere!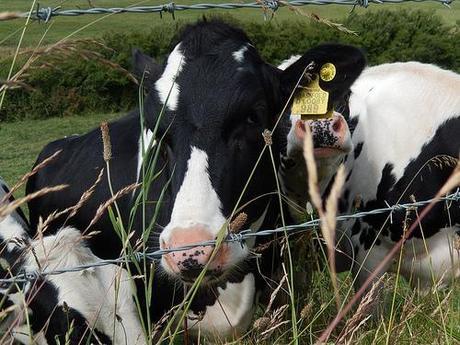 Where they can be intimidating and overly-interested in walkers when you're on their side of the fence, it was pleasant just being able to sit on the grass and to observe their ways.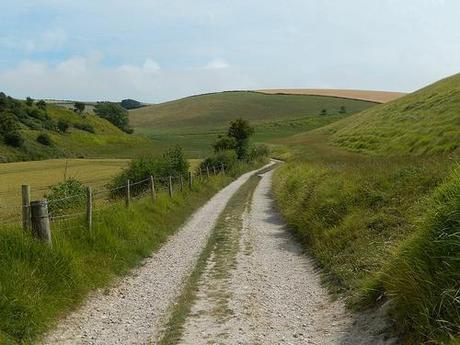 Further ahead and I would join a bridleway that would lead me an area known as Daggers Gate, from which I could soon arrive back in the village of West Lulworth.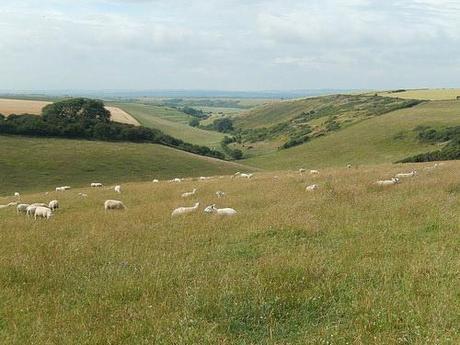 To my eyes, there was nothing outstanding along this route according to the OS map and I'm not the biggest fan of gravel tracks. But it turned out to be one of the most glorious and routes I would cover on this day – secluded within a valley just east of Chaldon Down; just a few cows and a field of sheep to keep my company…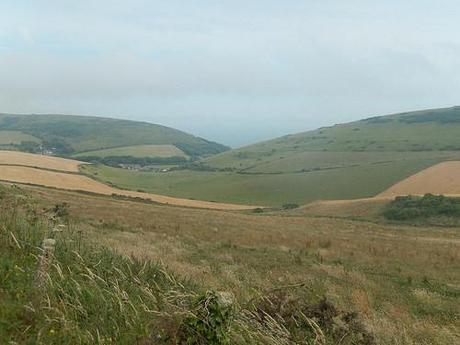 As I reached a B-road, I'd completed my return to West Lulworth. Straight ahead was the main car park for Durdle Door visitors and also the entrance to a camping site: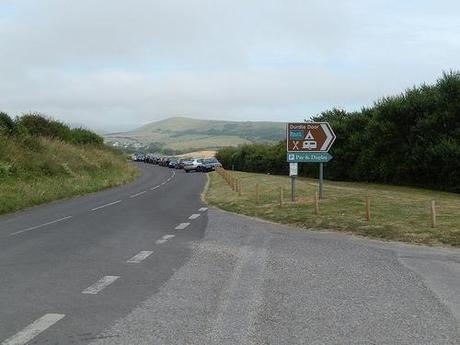 But along this stretch of road, less than half a mile from the center of the village, cars adorned the hedgerow on one side. They were parking for free – aside from the one car (behind me in this shot) who'd parked too close to the entrance and had been issued with a parking notice on the windscreen! So, I could've saved myself £7.50 here… Not that I was too bothered, having already received more than my money's worth from the coastline and beyond.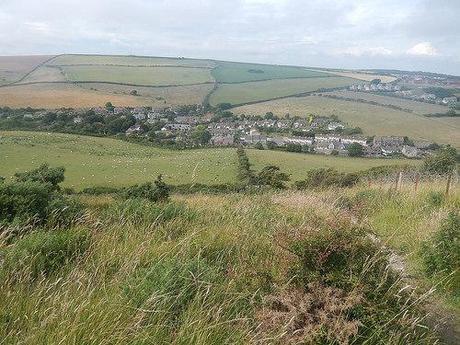 Here, I could've continued downhill and directly to my end point back at Lulworth Cove. But I wanted to go that little bit further. I wasn't sure of distance I'd covered by this point but subconsciously, I apparently wanted to reach the 17 mile mark!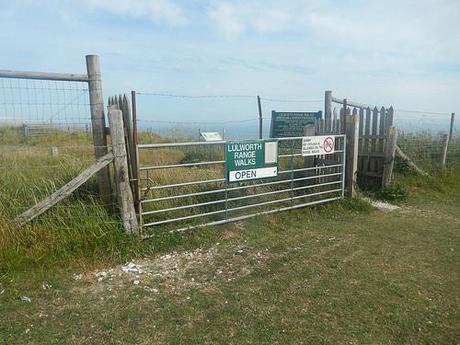 Entrance to the MOD's firing range at Bindon Hill, Dorset.
So, I continued through the village arriving a distance north of the Cove and preparing to climb up another steep hill that would lead me on to Bindon Hill via one of the permissive paths that crossed MOD land.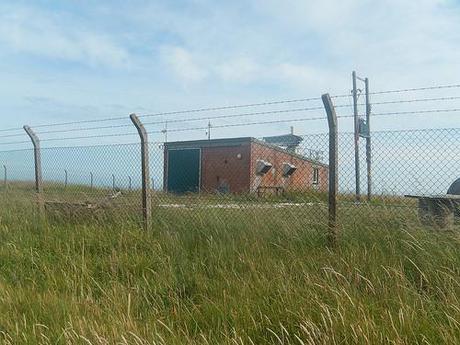 It's quite staggering to realize just how much land is commanded by the Ministry of Defence in this part of Dorset. Their reach also cuts in to East Lulworth and continues towards Kimmeridge. Days for when access is forbidden is clearly stated outside the gates but even the South West Coast Path runs straight through here… It would be unfortunate for anyone attempting a coastal walk of their own to arrive on the wrong day. A diversion of the firing range would be outrageous, to say the least.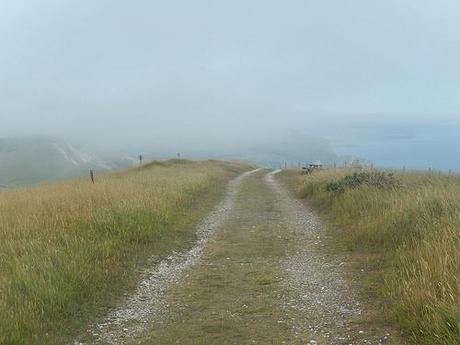 Crossing the hills of East Chaldon, I'd noticed the clouds seemingly pouring in from the sea and directly over the hills I'd set my sight on. It looked like rain in West Lulworth but in reality, I was just far more chilly and wind-blown than I could've anticipated.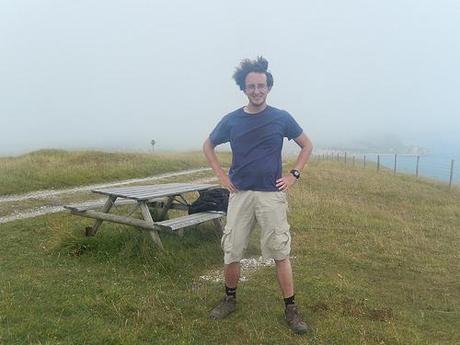 Bad hair day…. Upon Bindon Hill, Dorset
This cloud wasn't getting any thinner as I gazed inland to the north. Through my own lenses, I could just pick out Lulworth Castle (which I'd visited on the previous day), although it's near-impossible to see in the next photo: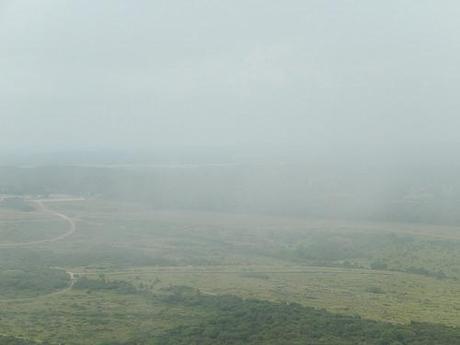 I was only camped about 10 minutes north of there in East Stoke but I doubt the coverage made it that far.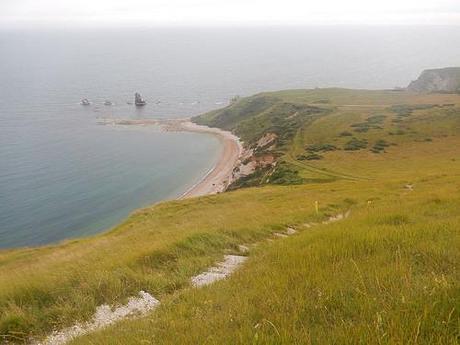 Further along the summit of this hill and I passed two groups of walkers on their return to Lulworth. As I reached a waymark stone for the Coast Path, I turned downhill along a route that had clearly been diverted in recent years, with Mupe Bay down to my left.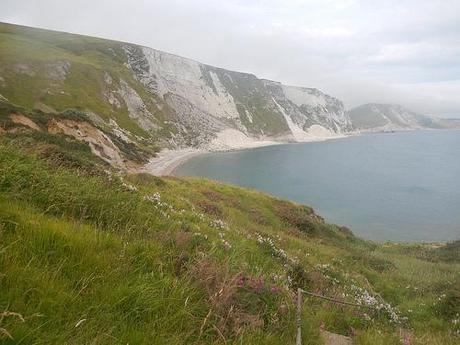 There was a point where I looked ahead to see a pair of kids (teenagers) treacherously scaling the edge of a cliff, in spite of the frequent warnings signs; far and away from the highlighted walking routes. They appeared to return to the top of the cliff without any loss of life or scares but it's perhaps fair to say that this portion of MOD territory isn't perhaps as closely guarded as in other parts of the UK may be (at least, not on a Saturday late afternoon).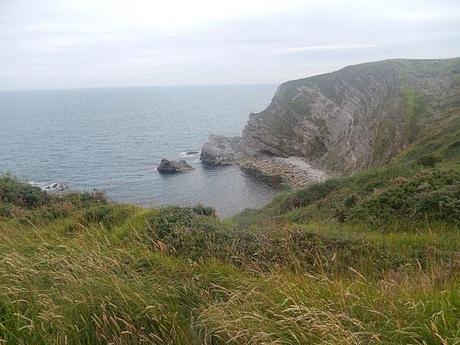 After passing another couple attempting to walk up the way I'd just descended from, I stopped for my second selfie with an enclosed stone bunker as my tripod.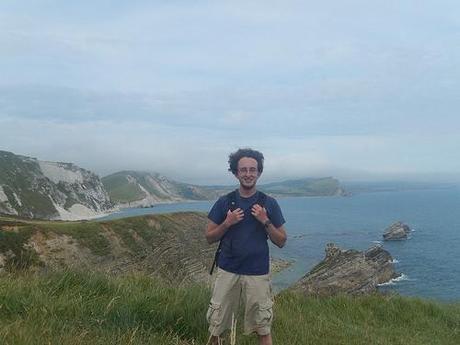 I marched along from there, feeling rather proud with myself, until the penny dropped and I realised I'd left my OS map sat on top of the stone structure!! I didn't 'need' the map at this point in order to find my way back to the Cove but a mad dash in retracing my footsteps saved me the expense of buying a replacement for any return visits to this area in future!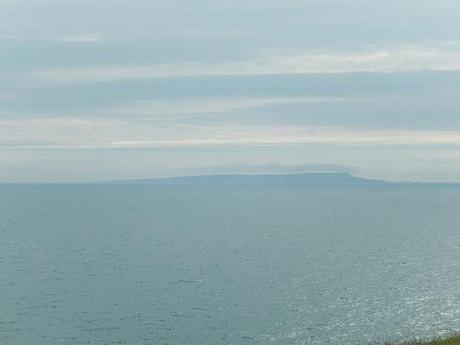 South-west of my location, it looked at though Portland was also experiencing its fair share of cloudy weather, at around 17.30 in the early evening.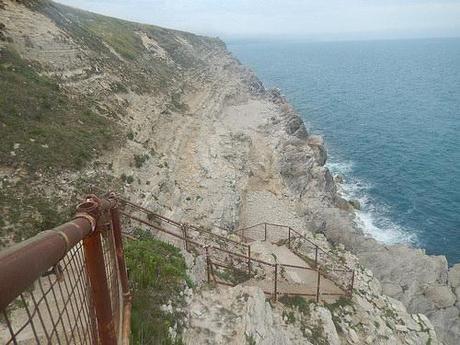 Fossil Forest – Jurassic Coast, Dorset.
There was only one thing left to do here and that was to complete my circular journey with a stop at Lulworth Cove, which lay in wait, dead straight ahead: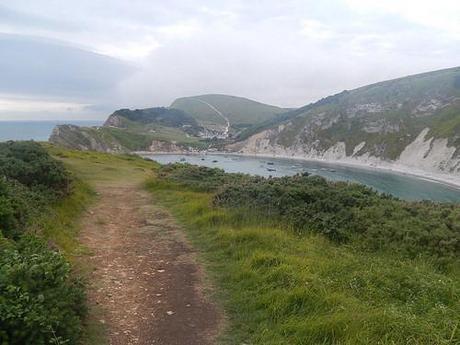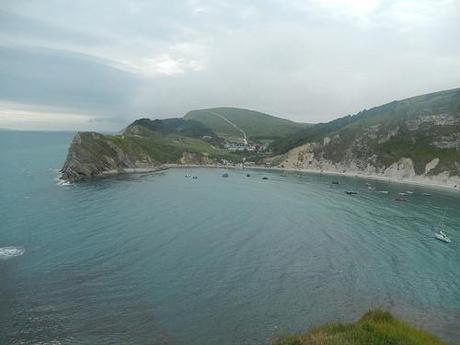 Lulworth Cove – West Lulworth, Dorset.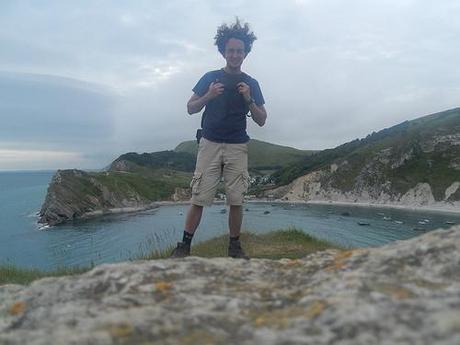 …Let's not talk about this one!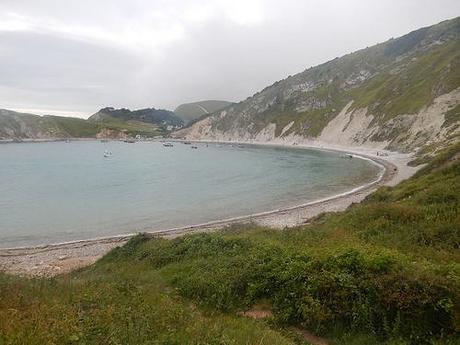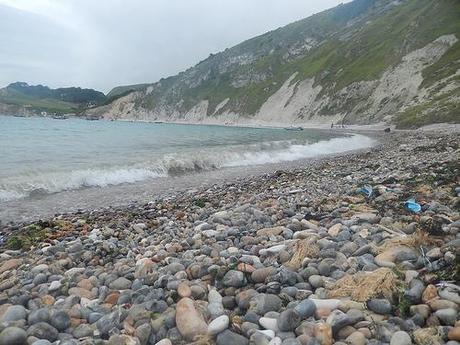 To be picky, I had hoped for clearer skies but even with another pebble beach to cross on top of my sore and weary soles, refreshment was found in the bathing of (rather cold) salt water.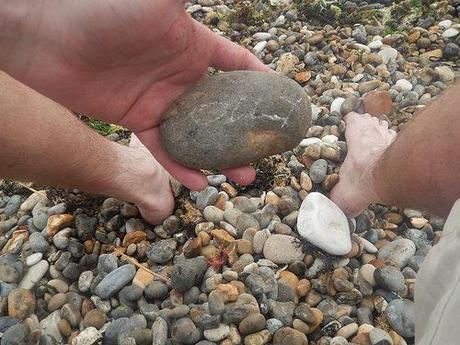 Leaving my mark on Lulworth Cove.
I cannot tell you how beautiful this part of the country is; how much I gained from completing this rather epic 17-mile adventure and how the chill of fresh water somehow nullifies the sensation of hard, round stones beneath naked feet.
I would do it all over again – perhaps with a couple of route alterations in order to avoid overgrown fields.

My route from the day – 17 miles in all!
One day, I shall return to rediscover the likes of Durdle Door and to experience Lulworth Cove on a bright and sunny day. I'm already dreaming of another coastal camping holiday for next summer, just a little further east of here, where I might also get to glimpse the village hidden deep within the MOD firing range. It was beyond 18.00 by the time I left the cove for my car, almost 9 hours after I'd set off. My chance of a cup of tea vanished as the local hut shut up shop and the takeaway had also ceased serving fish and chips by this time, much to my dismay! I didn't fancy squirming in to one of the active pubs on my own and so it was back to the camp site for a ten-side cup of tea and some rice pudding, as I recall!
Thank you very much for reading. Please click here if you'd like to see my entire photo set from this day.