We've had some good weather recently but it has to be said that it's been a little cooler than we could expect for this time of year. A month ago, things were quite different, especially down on the south coast where I was exploring the Jurassic Coast in Dorset. Today, I'd like to begin recounting that walk which followed my first night's sleep within a tent.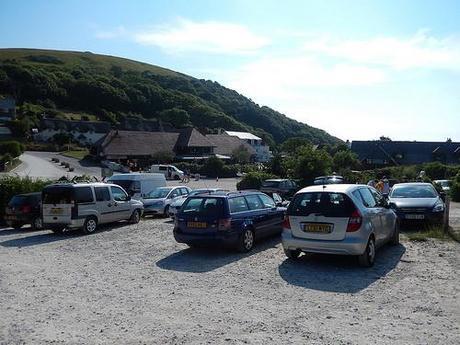 Lulworth Cove car park – 9am on a Saturday.
My intention was simply to walk west from Lulworth Cove (where I'd parked) to Ringstead Bay, which is around 6 miles. From there, I just wanted find a return route. I didn't thoroughly plan anything in advance. It was more to do with finding sites of possible interest on my map and aiming for each in turn.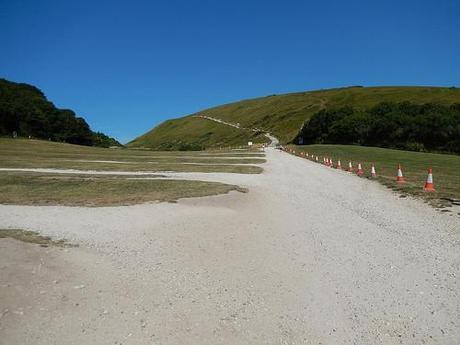 Immediately after leaving my car, I had to climb Hambury Tout!
It was 9am when I arrived the car park, which was only a 15 minute drive south from the camp site. I'd anticipated being the first person there but even by that time, the main space was half-full. I decided to leave a visit to the cove until my return. After paying (I think) £7.50 for over 6 hours of parking, I set off with an immediate and unforgiving climb up to the top of Hambury Tout.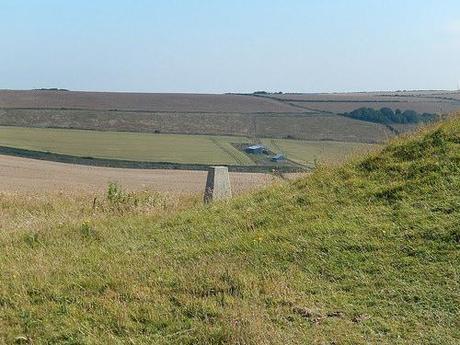 There's a trig point at the top but you have to leave the South West Coastal Footpath and climb a little higher if you want to find it. It's not quite the highest point on this hill (noting the small rise to the right of the photo above) but perhaps things were different when the large stone was installed.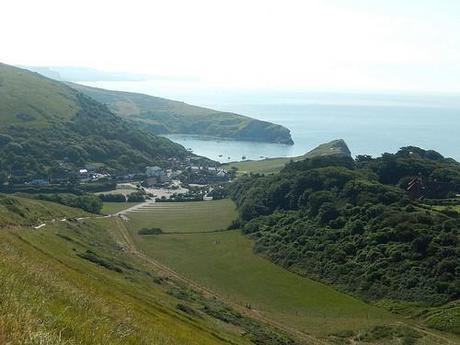 From here, I could look back towards Lulworth Cove. To the west, I received a glimpse of what was to come: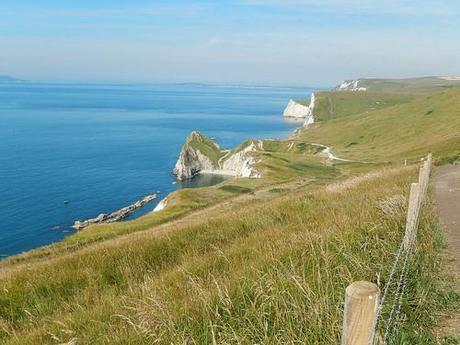 Heading along the path and down the hill, the first stretch of coast you come to is known as Man of War: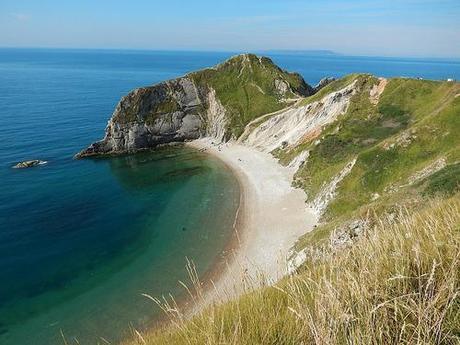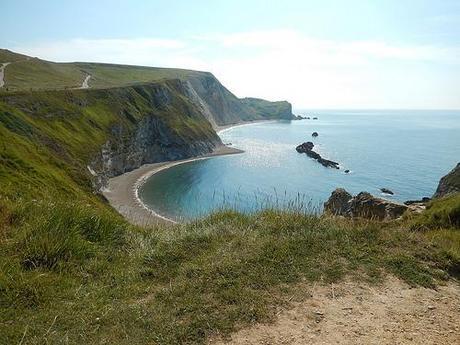 I had thoughts about making a rest stop here on my return route but that would've meant delaying any length of stay at Lulworth Cove.
Just after that and beyond the dividing rock that stretches out in to the sea, you have the infamous Durdle Door and its pebble beach: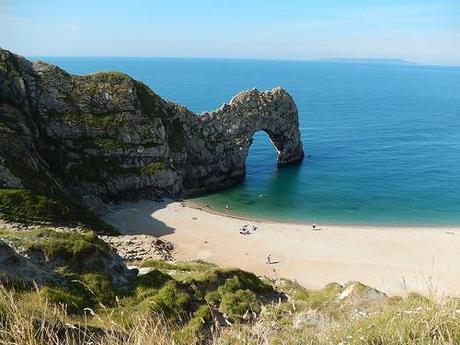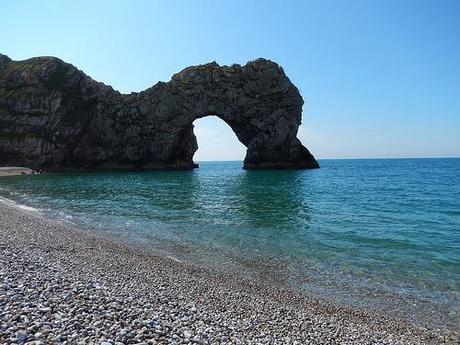 Heading down to the beach here, I was very surprised to note the distinct lack of footings for all the tourists who must venture here on an annual basis.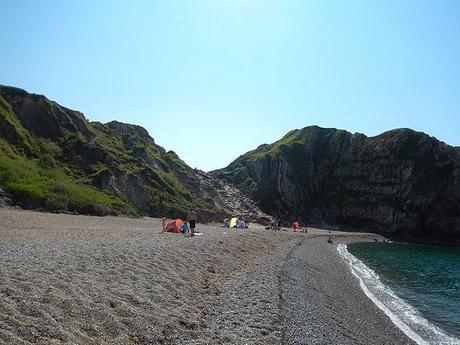 I made my way cautiously down the sloping rocks on the tail of a young family struggling to maneuver their baby's buggy.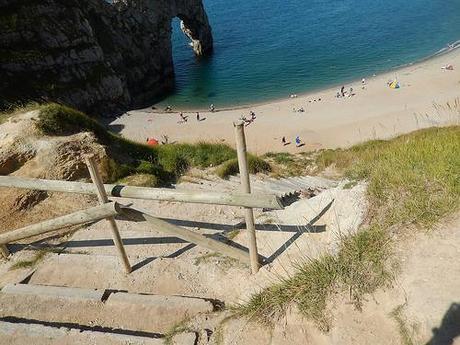 It looked as though there was once a set of steps that had for some reason disintegrated towards the final third. I do hope that the National Trust can restore this within the near future. Steps remain on the descent down to the Man of War side but from there is no easy (dry) way to reach Durdle Door.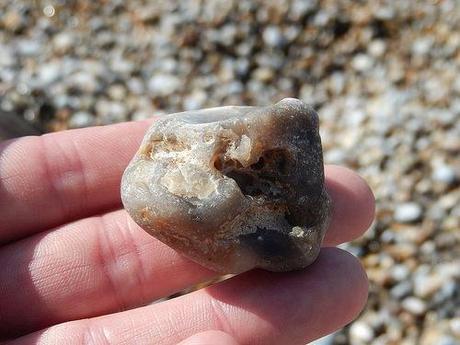 I did stop for a while where I discovered this small but rather unique rock. It felt only right to leave it behind but I also wish I'd kept it. There was little appeal in staying too long on this day as I knew of the journey I still had ahead of me (plus, I find pebble beaches a discomfort to walk along).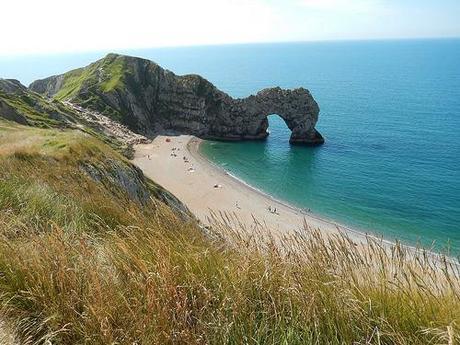 Leaving Durdle Door behind, my next destination would be the cliffs of White Nothe, as I continued west along the coastal footpath.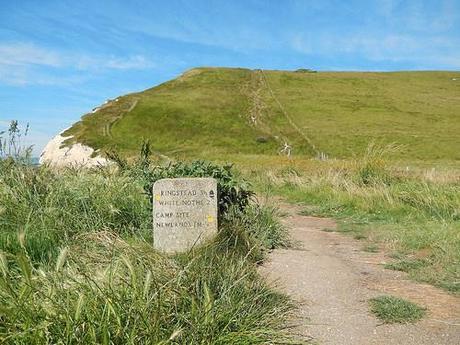 Up ahead was my second hill and I think I then had to climb once more before I reached the summit of those chalk-white rock faces. This walk was getting the better of me before I'd even stopped for lunch! I was unprepared and stopping frequently to catch my breath, having elected to leave my walking pole in the boot of my car.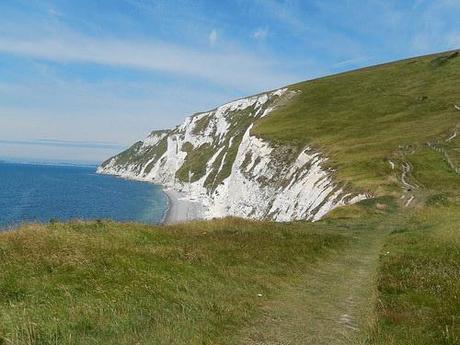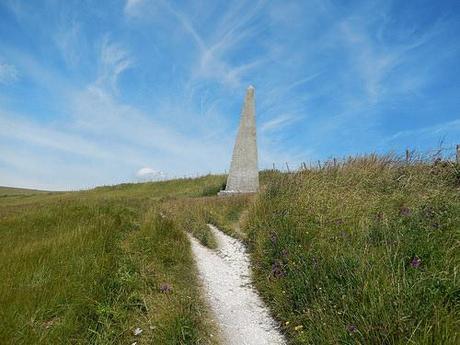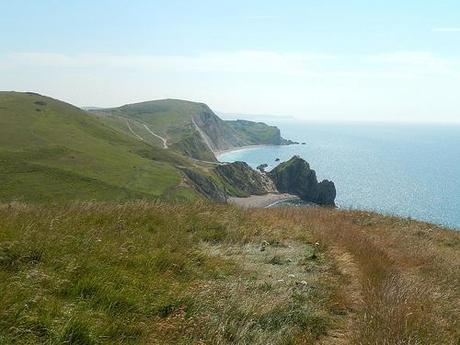 Looking back along my route so far.
Finally, it looked as though I'd completed the final climb for this short stretch of the coast, as the path introduced me to a field of long, dry grass.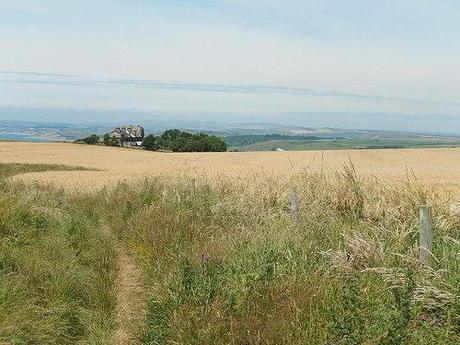 I took a slight diversion from the designated route to investigate this old brick structure that might well have been used for defence purpose during the war.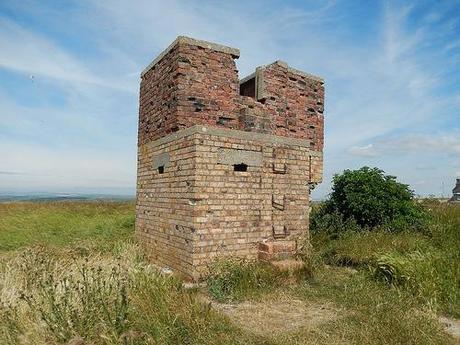 With the foot-hooks all bent out of shape (perhaps as a deterrent), climbing to the top was no easier than getting back down again but I found myself in an area and space of solace and so, out came the sandwiches that I bought on the drive down!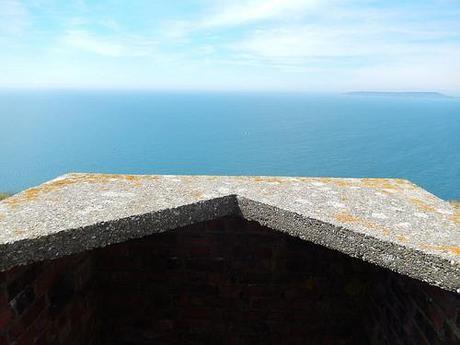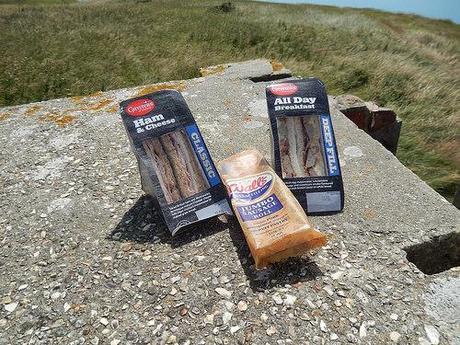 One for now; one for later!
It wasn't until I'd jumped back down that I realised there was an almost concealed entrance allowing you to walk straight inside from ground level! A bit like how a comedian or some kind of stage act can appear to 'disappear' behind the curtain; one wall was offset from the other.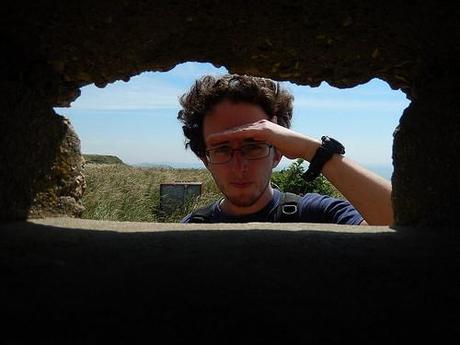 From the top of White Nothe, I could look down over Ringstead Bay, which would be my final destination along this stretch of the coastline: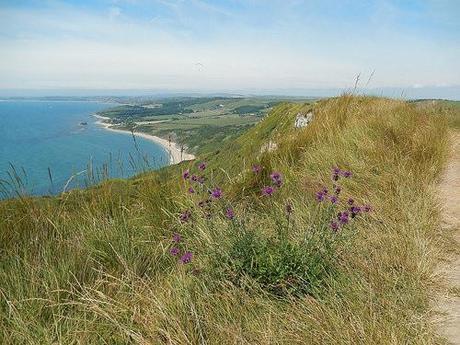 I followed two groups of fellow walkers downhill to what appeared to be a major point of confusion and congestion, with sign posts indicating the coastal path might continue in one of two possible directions.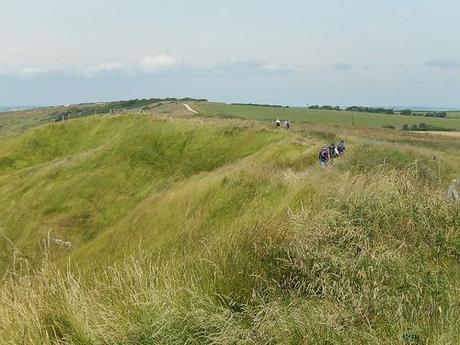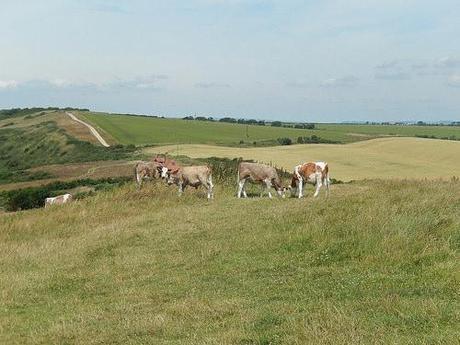 I followed them for a brief distance before we seemed to go our separate ways. They must've been headed elsewhere though because it wasn't long before I reached Ringstead Bay.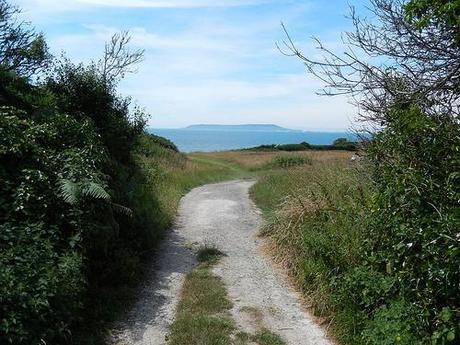 Portland.
I found a seat upon these large rocks pointing out to sea and finished off the lunch I'd started a little higher up. From here, I could also contemplate my next steps. If I was within the company of another person, this could easily have been another area where I'd have spent more time. I also noted how there was more sand here than at any of the other beaches I'd crossed so far.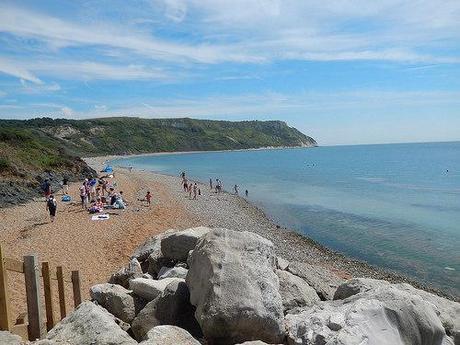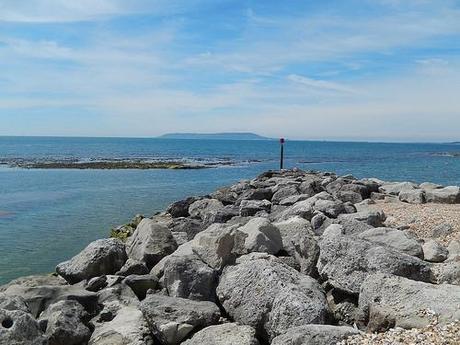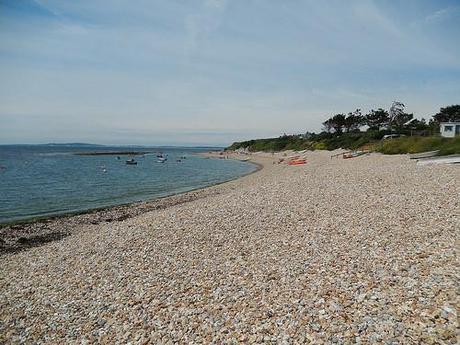 Leaving the coast at this point, my route would continue north for a way until I would be able to return to the east. But I'll save all of that for Part 2. I'd like to do some more camping and coastal walking in future summers but having now done 'the main one', I'm unsure of where I would go next. I feel like I'd rather move around more freely than to inch along the coast in either direction…
Thanks for reading.