This post lies dangerously close to being labelled as 'wood-related'! It's been a little while since I wrote about anything I've made or have been thinking of making but I've had a place in my mind for this little job since the day I moved in to my current flat.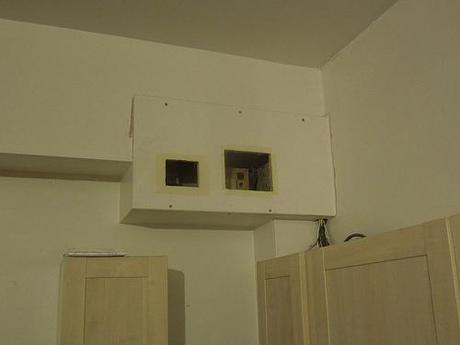 I am renting so I'm not normally expected to do things like this but I see the box as quite an eyesore for such an open space and I'd like to try and tidy it up a little bit. I'm hardly going to be defacing the property in any way. If anything, it'll come as an improvement to this corner.
As with most electrical meters, occasional access may be required. As it stands now, it's too available and it may be letting in the odd draft. I think there's also a water meter in there – my electricity is funded by a pay-as-you-go top-up key so I don't ever really need to look.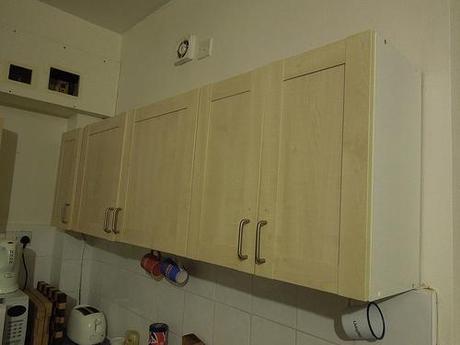 Obviously, I'd like it to remain in keeping with the rest of the kitchen, which is covered with these maple-ish-effect doors. I have access to offcuts of birch plywood, which should make for a close enough match once varnished or lacquered. Grooves along the inside edges, a 9mm thick panel to fit inside and perhaps pocket screws to pull each door together. Add a pair of handles and it's job done!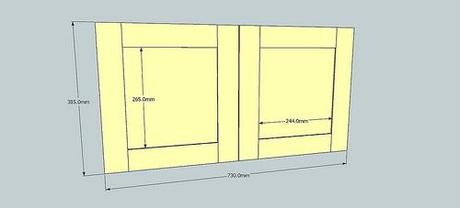 If you have an opinion or suggestion, I'm open to thought on the type of hinges to use, bearing in mind that those handles protrude about 32mm from the face of a door and the right-hand would certainly be opening directly against the adjacent wall.
One option is to add a 'blank' stile to the right-hand end, which would provide plenty of clearance but look quite out of place… Maybe I should just bring that door in a bit and leave the dead space white? Looking at these images, I'm suddenly conscious of how much wider these proposed doors appear to be over the existing ones.
Oh, and yes, I could probably assemble a simple two-sided box to hide those bulky wires, if I really wanted to.
Thanks for reading and for your thoughts.