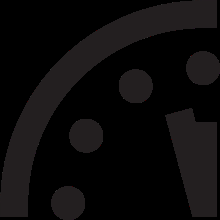 Each year, the Bulletin of the Atomic Scientists resets the Doomsday Clock. This year they moved it up another 30 seconds, and it now rest at 2 1/2 minutes until midnight -- the closest to midnight (i.e., doomsday) since 1953 (when the clock was set at 2 minutes to midnight).
The following is from their website:


2017 SUMMARY 




For the last two years, the minute hand of the Doomsday Clock stayed set at three minutes before the hour, the closest it had been to midnight since the early 1980s. In its two most recent 
annual announcements on the Clock, the Science and Security Board warned: "The probability of global catastrophe is very high, and the actions needed to reduce the risks of disaster must be taken very soon." In 2017, we find the danger to be even greater, the need for action more urgent. It is two and a half minutes to midnight, the Clock is ticking, global danger looms. Wise public officials should act immediately, guiding humanity away from the brink. If they do not, wise citizens must step forward and lead the way. 

ABOUT THE CLOCK




Founded in 1945 by University of Chicago scientists who had helped develop the rst atomic weapons in the Manhattan Project, the Bulletin of the Atomic Scientists created the Doomsday Clock two years later, using the imagery of apocalypse (midnight) and the contemporary idiom of nuclear explosion (countdown to zero) to convey threats to humanity and the planet. The decision to move (or to leave in place) the minute hand of the Doomsday Clock is made every year by the Bulletin's Science and Security Board in consultation with its Board of Sponsors, which includes 15 Nobel laureates. The Clock has become a universally recognized indicator of the world's vulnerability to catastrophe from nuclear weapons, climate change, and new technologies emerging in other domains.