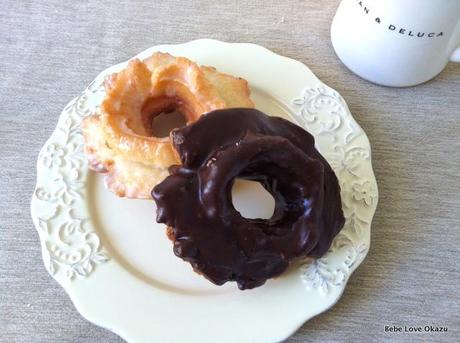 Inconceivable!
There are donuts in my home.
I never eat donuts (it's been 4 years), yet, I had an odd craving for them about a week ago, but of course I didn't succumb. Not then at least. But today is different.
Today, perhaps because I have nothing better to do than buy gift bonds (the girls know what I mean by this), play with my little one and satisfy my donut craving, I decided that I should live up to the tag line of my blog: "a recipe and family JOURNAL".
So today's post is about, "a day in my life".
My little nephew had a tonsillectomy so the theme in our home is playing doctor. So that's what Bebe E and I did this morning. I was her nurse. She sat in the laundry basket (her office), and I lined up patients (stuffed animal friends) and would bring each one to her "office" and explain their ailments. She would then diagnose each one (yes, she uses the word "diagnose"), sometimes give them a shot, sometimes give them a kiss with a, "you're going to be O-K", but each and every "patient" left with a little bandaid on their arm, leg, tail, fin, or head.
Putting bandaids on animal friend patients is apparently very fun and entertaining.
It was a good way to spend 45 minutes. I also managed to fold laundry in between directing "patients" to my Dr. E. Oh, and I should mention that after they saw Dr. E, it was my job to take the patients to the bus stop and make sure they waited in line for the bus to go home. See the line for the bus below.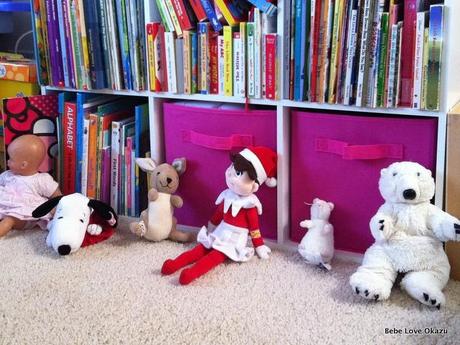 Then we set off to feed the donut craving.
The last time I ate a donut was almost four years ago while I was pregnant with Bebe E. There's a donut shop in Newport Beach that is close to the hospital where I regularly went in for exams, and on the way home, my husband would stop at the donut shop for me, run in, and get me an old fashion buttermilk donut.
And, no, I'm not with child, for those of my friends who might be trying to "deduce" things that are not so.
So there you have it, the last time I had a donut four years ago.
Because that donut shop was in Newport Beach, I'd actually never been to a donut shop in my own neighborhood. So I was faced with a bit of a challenge this morning as to where to go to buy donuts. So I Googled. Yes, I had to Google a donut shop in my neighborhood. My husband thought that was pretty funny. We've lived in our neighborhood together for over 7 years.
I believe Bebe E has eaten one donut in her life. This was at my nephew's t-ball game last year where donuts were provided as post-game refreshments. She doesn't remember ever eating that donut. But she'll remember this one. Today's pick, and likely her last donut for the year. Pink (of course) and with sprinkles (no surprise). She said, "mmm, this is yummy Mommy."
In my mind I was thinking, "better enjoy it, because that's the last one you'll eat in a very long time".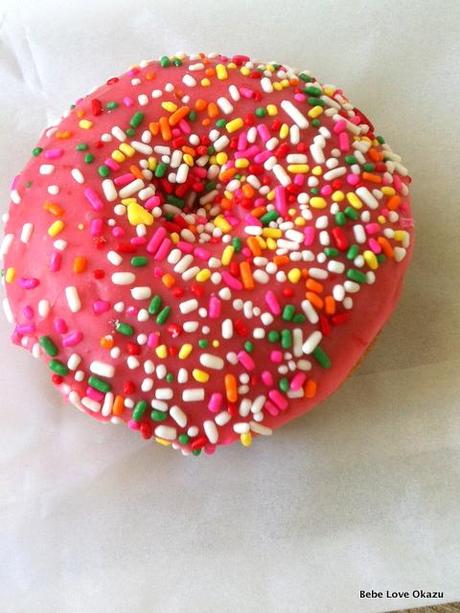 Because this trip to the donut shop was a special one, I also bought three little donut holes. Cute. Fluffy. Sweet.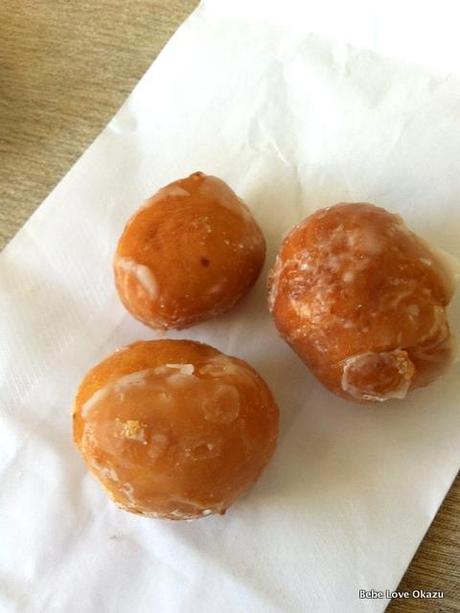 After we ate donuts, and I enjoyed tea in my favorite Dean & Deluca mug, a souvenir from a trip to New York that my Mom and I took many, many years ago, Bebe E and I painted. I painted the little yellow sun, mini tornado, butterfly, ladybug, purple flower, and heart flower. The rest is all her. She is a little Rembrandt.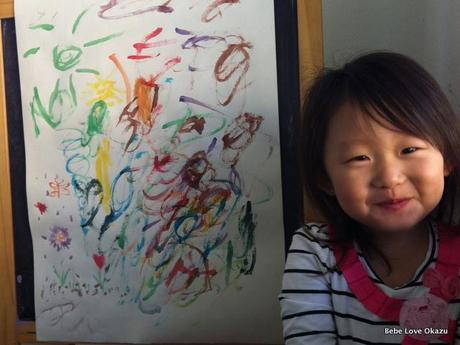 She painted some more. The following picture, as Bebe E described to me, is "rain, fireworks, big blue cloud, and a tornado". You see, we looked up "tornados" on Google the other day to learn what they are since Daddy always comes home to find our house a mess and says, "You're a little tornado, Bebe!"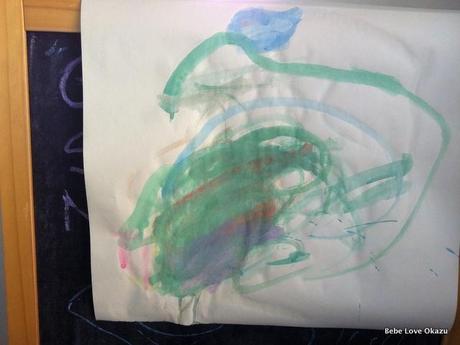 Often, when Bebe E draws pictures, she likes to draw pictures of Daddy. She misses him when he is working. The picture below is that of her Daddy, standing next to his office (blue box on the left), and he is holding a big red "daddy" balloon happy face. This is how she explained her painting to me.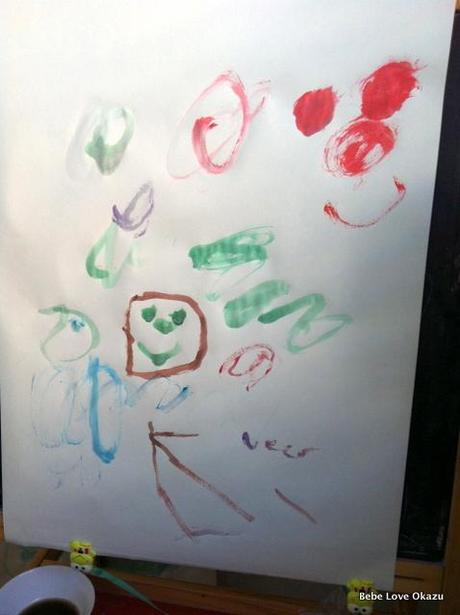 After arts and crafts time, it's on to our lunch of leftover homemade turkey chili. Recipe available here.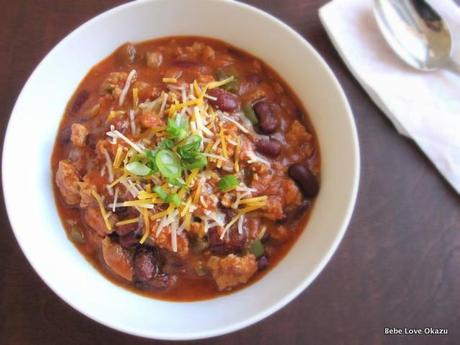 And after all this fun it's nap time. Which is when Mommy has her quiet time, buys bonds, eats her chocolate old fashioned donut, drinks more hot tea in her favorite Dean & Deluca mug, and thinks about the fact that now she ate donuts and chili, all in one day, she better make a trip to the gym and drink more green smoothies!