by
Briar Jensen
I love fashion and dressing for the occasion, but I'm not into fancy dress, so popping on a national costume and waltzing around town while on holiday sounds downright cringe-worthy. But this week I've had reason to change my mind.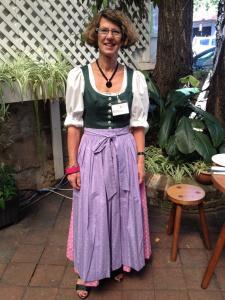 Here I am wearing a dirndl
At a Sydney lunch hosted by Austrian Tourism I was persuaded to don a dirndl – the Austrian national women's dress (think buxom fräulein waitressing at beer festivals).
While the dirndl, and lederhosen for men, might have come from humble origins – they originated as farm workers' clothes in the 1850s – they became fashionable in the 1880s when Emperor Franz Joseph paraded around Vienna in lederhosen after a holiday in the Salzburg Lake District. The dirndl has since become ingrained in Austrian culture, and most women have at least one in their wardrobe.
The dirndl consists of a puffed sleeve blouse worn underneath a full-skirted dress with a very tight bodice buttoned at the front to accentuate the bust. Over this goes an apron and often there are petticoats underneath. The traditional dirndl has a green bodice and the original farm workers' skirts were hemmed with black fabric so as not to show the dirt.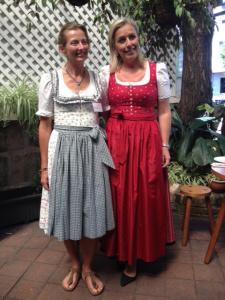 On the left is a modern take on the dirndl while the one on the right is a dressier version of the traditional dirndl
Where you tie the apron bow hints at how playful you're feeling – something I didn't learn until after I had tied mine. If you're married you tie the bow on the right; if you're available, or feeling flirty, you tie it on the left. I'd tied mine exactly in the middle!
The dirndl is having a renaissance thanks to trendy young designers like Lena Hoschek and is the theme of the Sydney 'Dirndl Temptation – Dare to flirt back' campaign being run by the Austrian National Tourist Office.  (Check this out quickly for a chance to flirt with the dirndl ambassadors and win a trip to Austria.)
Wearing a dirndl in Sydney opened a window into Austrian culture, but wearing one in Austria can be an empowering experience, as my equally skeptical friend and colleague, Kay O'Sullivan, discovered in the Austrian village of Hallstatt. You can read her delightful story on The Hoopla.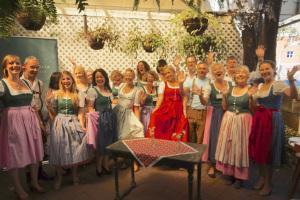 Some Austrian good cheer in Sydney
I can't say I felt as sexy as Kay in my dirndl, because mine was a bit loose. The bodice wasn't as breath-restrictingly tight as it should be, so I didn't get the breast 'uplift' I so desperately need. But it was certainly fun to flounce around in a long skirt – and check out my mates in their lederhosen.
As Kay says, national costumes don't always export well, but in their country of origin they can offer unexpected cultural insight. So when in Austria, strip off those inhibitions and squeeze into a dirndl.
See Dirndl to Go if you'd like to don a dirndl in Hallstatt.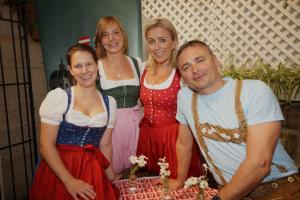 The team from the Austrian National Tourism Office looking chic in their national costume