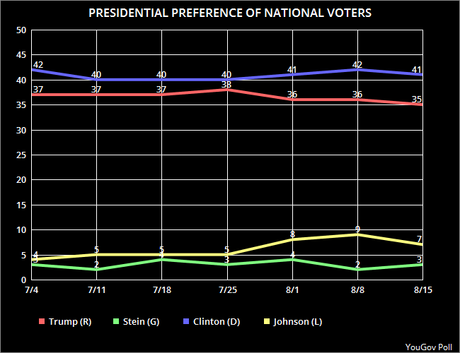 The chart above shows that Hillary Clinton currently enjoys a 6 point lead over Donald Trump in the presidential race. That may not sound like much to some. It could look like a margin that could be overcome in the next 11 weeks. But there are two things that show that is unlikely (barring a major political event of some kind).
The first is evident in the chart above. The race seems to have settled down and what little movement there is seems to favor Clinton. Many political pundits are predicting there won't be any major movement in the poll numbers between now and election day.
The second is illustrated in the chart below. It shows that Donald Trump is very unpopular (with 53% saying they could NEVER vote for him), and that unpopularity is mainly because he has a serious gender gap problem. About 49% of men say they could possibly vote for him and 47% say they could never vote for him. That's only a 2 point gap (well within the poll's margin of error).
It's far different among women. Only 39% say they could possibly vote for Trump, while a whopping 59% say they could never vote for him (a 20 point gap). That gender difference would work against Trump even if women and men voted in equal numbers, but they don't. Women vote in larger numbers than men -- and that fact alone could keep him out of the White House (without even considering his poor performance among minorities and young voters).
Trump's projects of winning are looking pretty dim right now.
These charts were made from a new YouGov Poll -- done between August 11th and 16th of a random national sample of 1,300 voters, with a margin of error of 4.1 points.