Sure, it's fun to catch the latest flick at the multiplex, or grab the newest release at a video store, but sometimes you just gotta say, "Out with the new, and in with the unknown." There are plenty of older flicks out there that are worth a rental, but never registered on your radar. In Don't You Forget About, we remember the long-gone gems, so you don't have to.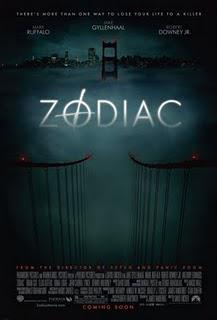 Photo: impawards.com
ZODIAC
 WHAT it's about:
The infamous Zodiac Killer, who terrorized and killed a number of people in San Francisco area in the 1970s and Robert Graysmith, the cartoonist who became obsessed with his every, cryptic move and eventually wrote the non-fiction novel of the same name.
 WHO'S in it:
Jake Gyllenhaal, Robert Downey Jr., Mark Ruffalo, Chloe Sevingny and Anthony Edwards
.

<img height="44" width="32" alt="Chloë Sevigny" title="Chloë Sevigny" src="http://ia.media-imdb.com/images/M/[email protected]@._V1._SX32_CR0,0,32,44_.jpg" class="" /

WHEN it came out:
2007
 HOW come you haven't heard of (or just seen) it before:
It didn't get the mainstream media attention it should have. Critics loved it, but I don't recall the ad campaign at all. I mean, unless you were a self-proclaimed Gyllenhallic at the time,  it was a pretty tough sell. A nearly three-hour thinking man's thriller with no real resolution is not exactly popcorn muncher bait.
WHY you need to watch it - immediately!...
It's directed by DAVID FINCHER. You know, the man who brought us Fight Club, Se7en, The Social Network and Alien 3!?
The back story, based on true events, is remarkably chilling. It may start off like a standard urban legend - couple at Lover's Lane get killed by a mysterious mad man - but as things move along, slowly but oh-so-surely, things get more and more real. 
There's a whole lot of Gyllenhaal in vintage plaids and cords, mumbling like an indoor kid. 
RDJ acts like Tony Stark in the 1970s. Or himself in the mid 1990s.
Mark Ruffalo just knows how to pick movies. And hairstyles. And just general ways of being. 
It's got the most perfectly creepy 1970s folksy rock/spooky soul soundtrack featuring stellar, underused Donovan, Issac Hayes and Three Dog Night tracks.
The cinematography, much like that in The Social Network, is off-colour gorgeous, making everything seem like a terrifying, yet consuming dream.
It contains one of the most horrifically realistic movie murders I have ever seen in my life. There's no corn syrup or bad, pre-kill puns. Just a dude and a knife and no fucking mercy. Sure, it's brutal but it's brilliant. At least for us desensitized slasher fans. It's Henry: Portrait of a Serial Killer stuff.  Only worse. Cause you know it actually happened.