Sure, it's fun to catch the latest flick at the multiplex, or grab the newest release at a video store, but sometimes you just gotta say, "Out with the new, and in with the unknown." There are plenty of older flicks out there that are worth a rental, but never registered on your radar. In Don't You Forget About, we remember the long-gone gems, so you don't have to.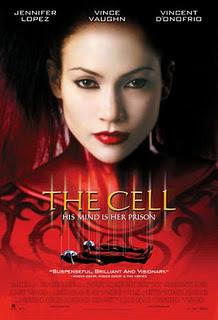 THE CELL
WHAT it's about:
When serial killer Carl Stargher (Vincent D'Onofrio) falls into a coma, FBI Agent Novak (Vince Vaughn) seeks the help of psychologist Catherine Deane (Jennifer Lopez) who's a specialist in an experimental coma treatment, ie. equipment that allows her to virtually enter the minds of her comatose patients. However, rather than healing him, Deane's task is to find our where he's captured and caged his latest victim before it's too late.

WHO'S in it:
Jennifer Lopez, Vincent D'Onofrio and Vince Vaughn. Odd, right?
WHEN it came out:
2000
HOW come you haven't heard of (or just seen) it:
Truthfully, you've probably seen it. It was massive when it came out, crushing the box office, not to mention to hype built up toward its release. However, the review came in mixed and for the most part, disappointing. Though praised for its
amazing
 visuals, many critics said the story fell flat. Since then, it's just faded away.
WHY you need to watch it--immediately!
The story is compelling. There are two narratives going on at once: the real world and the killer's mind. This film got docked for it's unoriginal narrative. And partly, I agree with that in the real world narrative, though the human drama does pull you through. However, the narrative in the killer's mind is amazing. It's very unstructured and seemingly ambiguous, but you never loose sight of what's going on. In short, the sci-fi world makes sense and then some, and that's no task that should be underestimated.
It's from the prime of Lopez's film career. The following year, we'd get The Wedding Planner. And I know there's no need for me to expand on what would follow.
This film is visually stunning. Seriously. Director Tarsem Singh (Immortals, and upcoming Mirror, Mirror) sought inspiration from visual artists Damien Hirst (see: the infamous horse scene) and the Brothers Quay, as well as Marilyn Manson and Nine Inch Nails music videos, among others. It's gory. It's immaculately detailed. It's pure art. But let me break it down for you.

Set design: The sets are surreal, as any mind would be if dreams are any indication. They're gothic, macabre and so magical.
Costume design: Costumes are bizarre, edgy and offbeat, seemingly straight off the most innovative, daring designer's runway.
Make-up: It's dark, bold and often ghoulish. Think pales fleshtones, deep reds and rich purples. (Sadly, this was the only category it was nominated for an Oscar for. And lost. What were you thinking, Academy?!)
Cinematography: Shots are daring and drastic. There would just be no other way match rest of the amazing visuals.
P.S. This scene gets gross.
P.P.S. Yes, that is Lizzie McGuire's little bro.