Sure, it's fun to catch the latest flick at the multiplex, or grab the newest release at a video store, but sometimes you just gotta say, "Out with the new, and in with the unknown." There are plenty of older flicks out there that are worth a rental, but never registered on your radar. In Don't You Forget About, we remember the hidden gems, so you don't have to.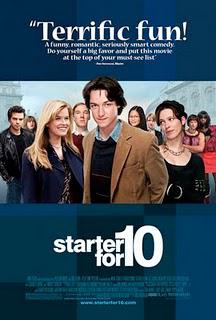 Photo: impawards.com
STARTER FOR 10
WHAT it's about:
The post-secondary life of Brian, who has moved to the city for his undergrad -- and a chance to fulfill his dream of competing on the televised quiz programme,
University Challenge
. While there, he learns a whole lot of semi-useless trivia and a little bit about women.
WHO's in it:
James McAvoy (Brian), Alice Eve (Brian's teammate/superficial blonde crush), Rebecca Hall (Brian's eventual, politically-charged brunette love interest) and the dude who used to date Amanda Seyfried – in
Mamma Mia!
and real-life – Dominic Cooper (Brian's badass, imaginary GF-stealing BFF).
WHEN it came out:
February 2007
HOW come you haven't heard of (or just seen) it before:
Although produced by Tom Hanks' production company, Playtone Pictures, this Brit rom-com got a really limited release in North America. I know I had to trek to a now-closed suburban indie theatre to see it. It also didn't get very much press on DVD, so unless you're a diehard McAvoy or Hall fan, you probably wouldn't have been inclined to seek it out.
WHY you need to watch it – immediately!..
Um, James McAvoy is a babe. I may even go see X-Men: First Class because of him. Well, him and Michael "German-Three-Isn't-English-Three!" Fassbender (Inglourious Basterds, Jane Eyre). I hear they've got some super homoerotic chemistry goin' on!......
But I digress. Let's get back to Mr.McAvoy. While he's been pretty stellar in dramas (Atonement, The Conspirator, The Last King of Scotland ), it's really nice to see him let loose a little. (And not as an animated garden gnome.)
Prime example: When he gets high for the first time at his crush's cottage, he runs into the kitchen to get a midnight snack and catches her mom in le nude. He tries to make a Mrs. Robinson joke and fails epically, all while trying not to crack up and spit ham everywhere.
The soundtrack is filled with 80s new wave classics courtesy of The Smiths, Psychedelic Furs, Tears for Fears, The Style Council, Echo and the Bunnymen and of course, The Cure. Sure it's a little modern-set rom-com cliché to include them now (See: (500) Days of Summer, Going the Distance and pretty much every recent chick flick trailer). But considering that this is actually set in the era they came from, it's more than okay.
Rebecca Hall is just really beautiful. And talented. As if you didn't already know that.
There's a fully-realized Tarts and Vicars partay!
Because of said costume soiree, Brian is convinced his roomates are drag queens. And they most definitely are not.
Did I mention it's set in 1980s Britain!? That means really great accents and really terrible ensembles!