Sure, it's fun to catch the latest flick at the multiplex, or grab the newest release at a video store, but sometimes you just gotta say, "Out with the new, and in with the unknown." There are plenty of older flicks out there that are worth a rental, but never registered on your radar. In Don't You Forget About, we remember the long-gone gems, so you don't have to.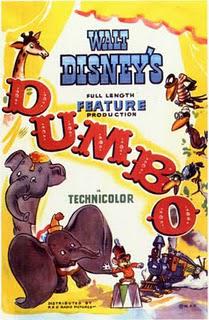 Photo: moviegoods.com
WHAT it's about:
A little circus elephant who is teased by the older, grouchy, snotty elephants. And by older, I mean his mother's age. Terrible, right? But he finds support in befriending a cheery little mouse, who helps lead him to discovering he's actually pretty darn talented.
WHO'S in it:
Umm... Well, the titular character doesn't have a voice. But Timothy, the mouse, is voiced by Edward Brophy, who starred in the Oscar-winning 1931 film
The Champ
. He also appeared in
The Thin Man
, a film that stretched five sequels and made Ebert's Great Movies. But honestly, this is not a film you'll be drawn to for the actors (or voices) at all.
WHEN it came out:
October 1941.
HOW come you haven't heard of (or just seen) it before:
Because it's pretty much been forgotten. Although it originally won an Oscar and was nominated for another, as well as picked up another at Cannes, and had then (and still) been highly revered, for some reason, it still doesn't make the Disney must-have list. Would you opt for
Dumbo
over
Bambi
?
Pinocchio
?
Snow White and the Seven Dwarfs
? Probably not. But you should.
WHY you need to watch it - immediately!...
A seriously lovable, heart-warming story. No, really. I cried. I still cry. And this was not the oh-no-someone-shot-Bambi cry; this was a relatable, potentially real-life situation cry.
It's unlike much else from Disney. The main character doesn't speak, so needless to say, he does not sing annoying (although sometimes catchy) songs. It's also unsexualized, a rarity in children's films today (and even some then).
It's short. It's not drawn out, slowly drilling a message home. It's concise and not dumbed down.
Dumbo is so cute. Come on, you know that's a good reason.
The Pink Elephants scene (see below). Yeah, probably inappropriate for a toddler audience and maybe something parents might not be ready to explain yet. And also pretty creepy, even for adults. But, very entertaining and artsy.