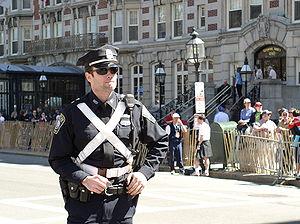 Hmm . . . that's an interesting question. (Photo credit: Wikipedia)
Here's a video of some legal advice from an attorney who talks faster than I do.
Generally speaking, I'd say this attorney's advice is solid.
But I have some doubts . . . or at least some questions. If you've read my hypothesis concerning Notice, then you know I that I believe the proper to response to any governmental Notice is not: 1) to make statements; or 2) to go silent–but instead, 3) to ask questions.
I'm therefore inclined to suspect that every interaction initiated by a police officer begins with some sort of "notice". That notice may be the emergency lights on top of the cop car. It may be the officer's uniform, or the fringed flag on his shoulder.  It might be a statement as simple as "I'd like to talk to you," or "I'd like to ask you a few questions."
I agree with the attorney in this video that you must not make statements to the police. However, without any supporting evidence, I still have some doubt whether your best choice is to go silent.
Yes, silence is almost certainly better than making statements.  However, I suspect that when the police try to interview you, you might do best by responding to their initial notice (for example, a Miranda warning), with questions of your own concerning the venue of the alleged offense, whether the status of the "police officers" is de facto or de jure, and how they perceive you ("Do you presume that I'm a 14th Amendment 'citizen of the United States'?" "Do you understand that I am one of the people of The State of Oregon?" "Do you understand that I'm a man made in God's image?" "Do you admit or deny that I'm endowed by my Creator with certain unalienable Rights?").
I've never tried this strategy.  It's purely hypothetical.  I don't know that this strategy would work always, mostly or even ever.  But if you were articulate, astute, and not too pushy, I have a hunch that by persistently posing intelligent questions you might encourage the cops to either end the "interview" or make 'em so frustrated that they'd crack your skull.
video   00:48:40