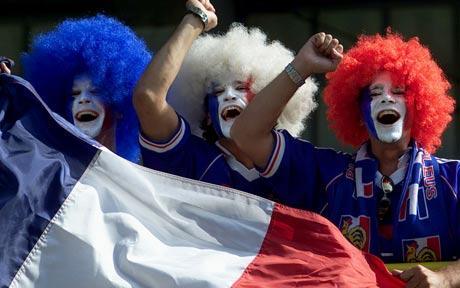 "Wow. Ils sont trop cool. J'adore le look!
C'est le top!"
Franglais: Noun, Masculine[frahng-gley]French spoken or written with a large mixture of English words, especially those of American origin. Anglicism. (Source: dictionary.com)Quel scoop: Le Franglais has become an inescapable part of daily life in France. Peppering one's conversation with a few chosen English (American?) words is très, très in, don't you know?Main culprits: Journalists (looking at you, sports commentators!) Advertisers. Business people. Teenagers. Check out the newest product in the T.G.V. (high speed train) line, introduced this week by the très French S.N.C.F.: le Ouigo. Get it? We Go/Oui-Go already has its own website. We predict a very bright future for this little guy...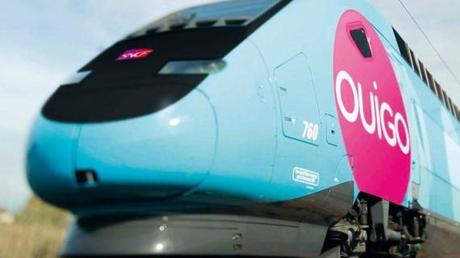 OuiGo: The low cost TGVTrop top. Trop cool.
The problem with le Franglais is that many French people don't understand it. At all. 
My grandmother, Andrée Laffitte, is not around anymore. When I stayed with her in the summer, she used to mention young people going crazy at the local neesh-cluhb. It took me a while to figure out she was referring to a "night-club." She tried, bless her heart. Unlike most French children today, she had never studied English in school.
I can just imagine her reaction if she heard the following conversation between two co-workers (translation below *):
- "Tu as lu la dernière newsletter?"
- "Oui, mais ça ne sera pas un best-seller. Ils auraient pu brainstormer avant!"
- "J'aime bien le nouveau look quand même." 
- "Oui, c'était un must." 
- "Bon, j'y go. Je suis en retard. On chat plus tard?"
- "Ok."
Andrée Laffitte would just shake her head and mumble something along the lines of "Peuchère! Le monde est devenu fou!" (My God. The world has gone mad!) speaking in French and le patois, the Southern dialect she had learned growing up. To each his own.

We are all guilty of over-using English words. They have been around for ever, it seems. Weekend. Sandwich. Baby-sitter. Design. Discount. Gadget. Happy end. And the list goes on.

Like everything else in life, it is ok to use them... in moderation.
The worst offenders seem to be publicists: To appeal to younger audiences, they will create new words, and mix French and English. This guarantees they do not have to follow a rule imposed by the French government: Translating all marketing and advertising materials, such as labels, used in the French market. 
A few years ago, a clever French advertiser working for a big communication company encouraged the French public to use a new cell phone: "Pokez! Taggez! Likez!" What a creative use of English verbs in the [French] command form, l'impératif.
Clearly, some are under the impression that using English words in conversation makes them sound branché, or dans le coup ("in.") 
Andrée Laffitte would not be impressed and would just scratch her head. Andrée Laffitte would be right, and she had no patience avec les snobs. Advertisers would have lost Andrée Laffitte at "design," with no hope of a "come back..."
I am personally scratching my head and wondering what les Immortels (the Immortals,) have been up to lately... For those of you who are not familiar with l'Académie Française, it is a true French institution. La crème de la crème.

Le Cardinal de Richelieu

created this unique body in 1635, when it became a priority for King Louis XIII to unify the French around a common language. The Académie members were assigned a very important mission: Creating a thorough encyclopedia reflecting the richness of the French Language. To date, nine editions have been published.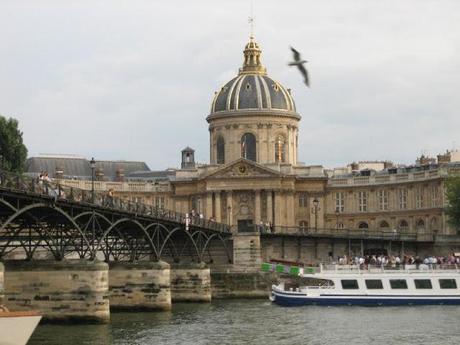 L'Institut de France
(everseradio.com)
Don't be fooled, the Immortals do die eventually, just like everyone else. Some are quite old, but they have all led distinguished lives in the arts, literature, or politics, before they can be elected.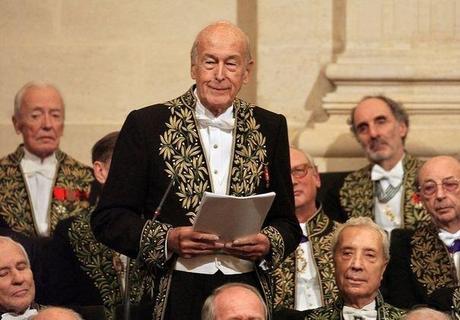 Former French president Valéry Giscard d'Estaing 
wearing the traditional Académicien "Habit Vert" on induction day (2004)
Imagine these venerable men (and a few women,) scrambling furiously to come up with a French version of every single foreign word that has just showed its ugly nose in French streets and offices... I can picture them trying to invent a French version of "flashmob.." -- Insert major bout of head scratching, à la Andrée Laffitte.The Immortals are old, and tired. They must feel overwhelmed when they turn on the TV on Sunday afternoons to watch the French soccer team tackle England, and hear the commentators repeat with sheer delectation: "coach," "fair play, "penalty," "shoot," "supporter," and so on.Pauvres Immortels. Pauvres Académiciens. Time to pull out those swords, Messieurs! King Louis XIII and Richelieu would not have it otherwise!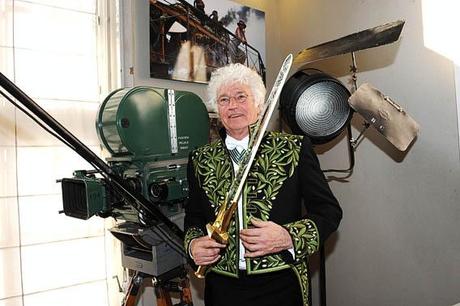 Académicien (and film maker) Jean-Jacques Annaud
Even though the beautiful French language, la langue de

Molière

(Molière's language,) is currently under attack, I would like to end this story on a happy note. 
To my countrymen who do not have a clue what Franglais is all about, here is way of making it work for you, too. The end of this post will be en français so you can make the most of my advice... Comprend qui pourra (Understand if you can...) "Chers Français, 
Ne désespérez pas.
Vous aussi pouvez parler anglais.
Voici quelques traductions françaises pour certaines de ces expressions anglo-saxonnes qui vous énervent tant (**)... 

Pour dire:                                                     Prononcez:
L'addition (= the bill)                                     Débile
Plus d'argent (= more money)                        Mors mon nez
Nous sommes en retard (= we are late)                                             Oui, Arlette
Je cuisine (= I am cooking)                           Âme coquine
Verre sur la table (= glass on the table)        Glaçone de thé beule


Vous voyez? Ce n'était pas si difficile. Après tout, il faut vivre avec son temps... Le Franglais, ça peut avoir du bon..."
Somewhere, I know it, Andrée Laffitte is smiling...
A bientôt.
(*) Translation:
- "Did you read the latest newsletter?"
- "Yes, but it won't be a best seller. They could have brainstormed first!"
- "I still like the new look."
- "Yes. It was a must."
- "Well, I've got to go. I am late. Shall we chat later?"
- "Ok."
(**) Merci, blaguesdeouf.skynetblogs.be