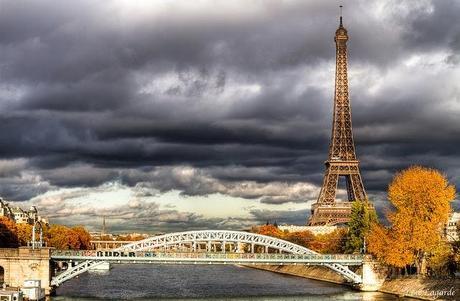 (Photo: flickr.com)
During the travel preparation workshops I instruct in the Seattle area, people often ask: "When is the best time to go to Paris?" My answer: "Go anytime. There is always something happening in Paris."
How true. Paris is never boring. October is typically a busy month, with a plethora of trade shows, many open to the general public, (Paris Motor Show, Chocolate Trade Fair) and cultural events (Montmartre Harvest Celebration, Autumn Festival, to name just a few.) Just this week, I heard some interesting - even surprising - news about the French capital.October 2014 looks, so far, like an excellent vintage. Just this week, I found out that:1. Burger King is opening its French flagship restaurant in the 14th arrondissement.I have already discussedthe Parisians' fascination for hamburgers, food trucks, and every trend under the sun that is dubbed "C'est très Brooklyn" (just like in Brooklyn.) There is big money to be made out of Parisian Bobos (Bourgeois-Bohêmes,) local hipsters, Brooklynites wannabes, and some international visitors. Burger King, the fast-food giant, recently returned to the French market. Every day, long lines of worshippers wait outside the restaurant located inside the St-Lazare train station, inaugurated last Christmas with much fanfare. Granted many Parisian restaurants offer real hamburgers, but not everyone is willing to spend 15 Euros ($20) on a burger.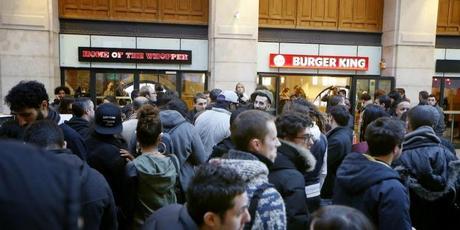 (Photo: Metronews.fr)
And so, this weekend, Burger King is opening its largest, most-modern restaurant near Métro Alésia, on the Left Bank. It is interesting the American fast-food giant chose a location named after a major military defeat that marked the end of Gallic resistance against Julius Caesar in 52 BC.

Vercingetorix

would roll in his grave!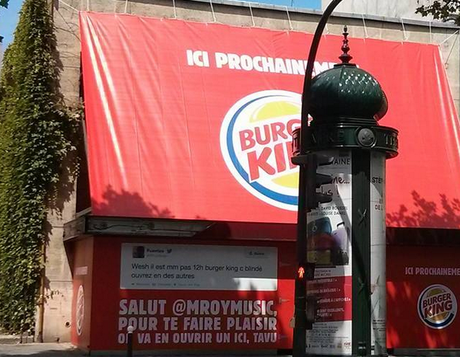 An iconic Morris Column tries to ignore its loud neighbor
(Photo: paris14.fr)
2. Is lingering at your table a thing of the past in some Parisian eateries?
This week, a debate erupted online between the owner of HolyBelly, a "branché" (trendy) restaurant (trendy restaurants in Paris often have creative anglo-saxon names with menus peppered with anglo-saxon expressions,) and one of their customers. Even if HolyBelly usually gets rave reviews for its fresh, organic food, and coffee (provided by the popular Belleville Brûlerie,) visitors have complained about limited seating space, no-reservation policy (resulting in long lines, especially on weekends,) and steep prices.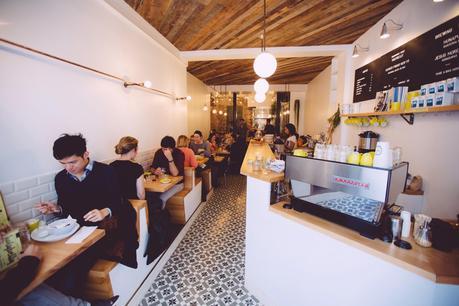 Inside the Belly...
(Photo: Kinfolk.com)
And so this week, a customer sent an email to HolyBelly's management to share her experience: The food was great, but she and her friend did not appreciate being rushed by their waiter (after sitting at their table for barely an hour,) when they ordered two more drinks after a full breakfast. At that point, the waiter brought the check and suggested they take their hot teas "to-go," since there was a long line outside, and the restaurant needed their table. Do you see where I am going with this? 
The restaurant co-owner, a well-traveled Frenchman, later decided to publish the customer's email on HolyBelly's website, and wrote what felt like a drawn-out reply. You have to read it yourself, as well as the comments left by Internet users. People quickly took sides: Some spoke in favor of the friendly, entrepreneurial, owner, Nico, and his vision for his business; others sided with the disappointed customer, who only wanted what most of us expect (and get) in Paris: A chance to linger at the table, enjoying good food, a good drink, and good conversation.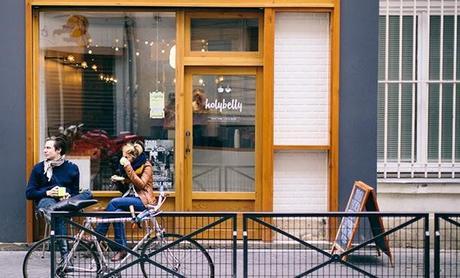 Outside the Belly...
This incident is worth mentioning here, since rushed service seems to be a growing trend in packed, new Parisian eateries, where seating is often limited and outdoor space non-existent. I, for one, love French restaurants and cafés for their slow pace, with minimal interruptions by the waiter. And the check should only show up on the table when I ask for it, at the end of the meal. I mean, if I want overly friendly yet rushed service, I can only go to the Original Pancake House or Red Robin, d'accord? 
What about you?
3. Another D.A.B. just opened in downtown Paris.
Quoi? 
D.A.B. = Distributeur Automatique de Baguettes. A machine that sells - brace yourself - fresh baguettes. It is called Pani Vending, and the award-winning inventor, Jean-Louis Hecht, a baker, is getting a lot of press. The machine has even been adopted by fellow bakers who use it to supplement their daily production!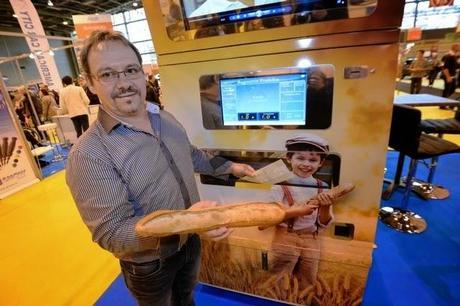 Monsieur Hecht and Pani Vending
Apparently, Pani Vending makes excellent bread. Baguettes are partially pre-cooked, and when customers insert 1 Euro in the machine, baking is completed in a few minutes. Out comes a fresh, fragrant, crispy baguette... around the clock. Perfect for late-night cravings. 
If you are staying in Paris' 15th arrondissement, look up the new Pani Vending, rue Paul Barruel. Bizarre? It seems French baguettes inspire creativity...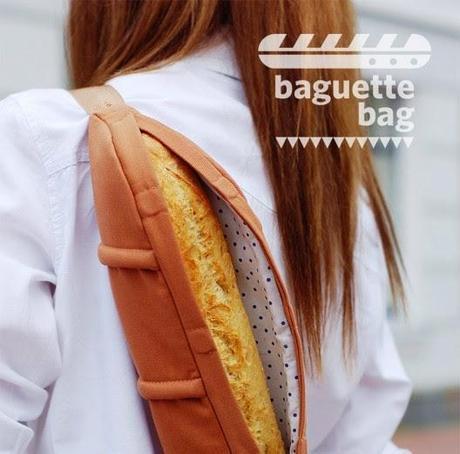 (Photo: Thetrendygirl.net)
4. A short-lived event took place in Paris this week.
Paris has always welcomed - and inspired - artists, and over her 2,000 years of existence, the French capital has seen it all, or so we thought. Parisians have often rebelled against art work or new landmarks they did not appreciate. The Eiffel Tower itself was so controversial and enraged so many, it was supposed to be dismantled after the 1889 World Fair. This week, an American artist, Paul McCarthy, got more publicity than he had bargained for when displaying his latest

creation

in the middle of the venerable Place Vendôme as a guest of the Paris Art Fair. I am guessing Mr. McCarthy does not mind publicity, good or bad, and he is a lot more famous today than he was 72 hours ago, thanks to a 70-foot high, green inflatable structure he named his "[Chrismas] Tree."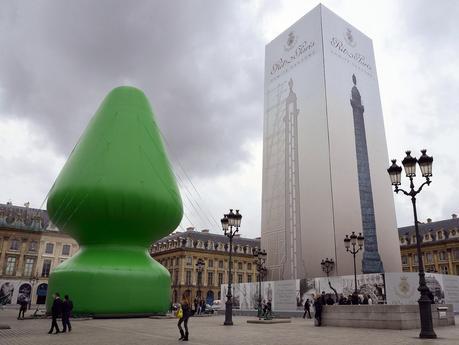 McCarthy's Christmas Tree
(Photo: www.Independent.co.uk)
Within hours of the installation, a crazy rumor started spreading around Paris, Twitter, and then the rest of the world: A controversial American artist had set up a giant Christmas Tree butt plug in the middle of Paris. Even worse: Said artist had openly acknowledged that his art piece was rooted in a joke about a sex toy, even if it was inspired by a Christmas tree. Most passersby looked puzzled at best, or plain horrified as the giant *tree* was unveiled on Thursday. A Parisian man was so upset he slapped the artist before running away! On Twitter, a French conservative group declared: "Place Vendôme disfigured. Paris humiliated." The news was quickly relayed by the international press, and their readers had a field day taking cheap, but often humorous shots at "prudish" Parisians. Things took a turn for the worse when vandals took things in their own hands on Friday evening; cut the *Tree* straps and power supply. By Friday morning, the *Tree* looked like this...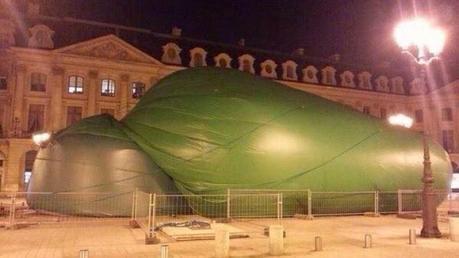 The toppled *Tree*
(Photo: www.France24.com)
On Saturday afternoon, the *Tree* was taken away, never to return to la Place Vendôme. Since then, French authorities have extended their deepest apologies and their full support to a [visibly shaken] McCarthy.  The new Paris mayor, Anne Hidalgo, made an impassioned plea for "artistic freedom." 
Fact: Many Parisians - who had previously condemned the *Tree* - now condemn the act of vandalism. Give them a few more days, and they will say they miss the *Tree.* If Mr. McCarthy plays his cards well, the mayor of Paris will soon beg him to set up another *Tree* by the Eiffel Tower, the most protected Parisian landmark. 
Fact: Even if French conservative groups are widely blamed for this, no one has officially claimed responsibility. For all we know, the *Tree* could have been toppled by a group of inebriated students who got pissed because the neighboring Hemingway bar has been closed for over two years during the Ritz Hotel renovation. 
Fact: Many Parisians are now breathing a huge sigh of relief. Nobody wants to see a Christmas tree (real or imagined) on the way to work as early as October. Without the giant green eyesore, la Place Vendôme is back to its former glory (well, not quite, since the Ritz Hotel is still a mess; and the Vendôme Column, once erected by Napoleon, is wrapped in [not so] creative scaffolding, as illustrated in the photo above.) 
As for Mr McCarthy, (many English internet users hilariously kept referring to him as "Sir Paul," thinking the *Tree* was the work of ex-Beatle Paul McCartney!) he will get over his Parisian episode, and will let his creative juices flow somewhere else...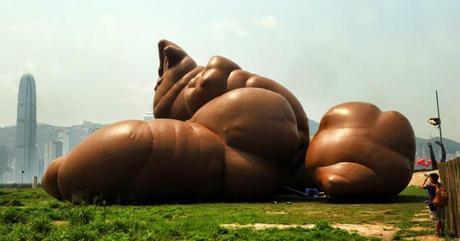 A McCarthy classic: "The Complex Pile" - Hong Kong, 2013
Parisians have strong opinions and volatile tempers. Mc Carthy should be grateful they did not take him to the Bastille (main reason: Parisians once got mad and destroyed the Bastille, and we all know how that ended.) Overall, looking at the bright side, he fared better than Robespierre, who, not unlike Mr McCarthy, always provoked strong feelings among his contemporaries. It seems Parisian prudes have gotten softer lately.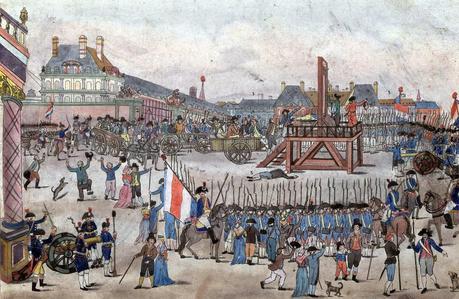 Robespierre meets his fate in 1793
Ending on a cheerful note...
5. This year, you can celebrate Halloween at the best amusement park in Paris.
Why go to Disneyland? Don't you fear déjà-vu?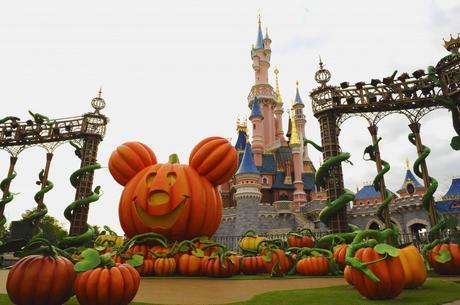 Cinderella Castle, Mickey Mouse, giant pumpkings... Same old, same old.
Instead, head north to the Parc Asterix for the special, "Peur sur le Parc" (Fear at the park) event. I happen to know fierce Gauls like Asterix and Obelix fear only one thing: That the sky may fall upon their heads. I am curious to see what they have prepared for visitors. I am guessing it won't be pretty. But as long as you stay away from Christmas *trees,* you should be fine.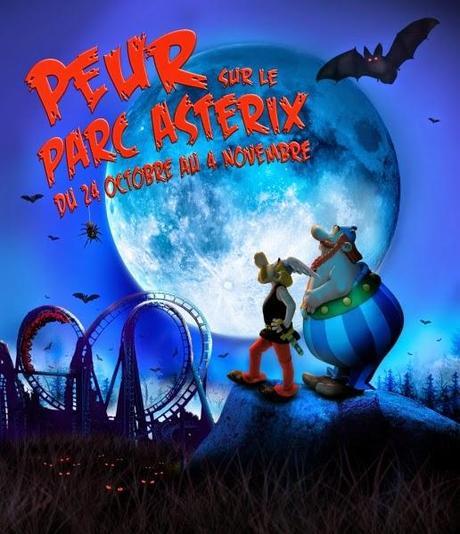 A bientôt !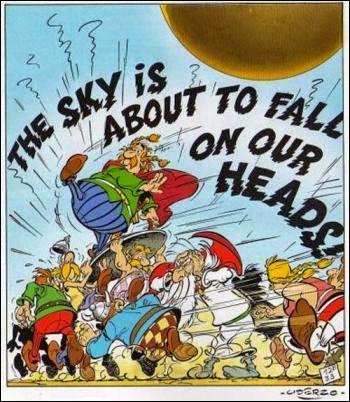 Crazy Gauls! 
(credit: Uderzo)