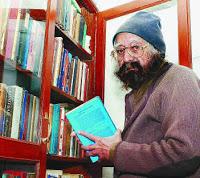 I love his books. The way he writes truthfully without any fear but his regular column inHindustan times according to m

e

has insulted us as a Nation.

Though

it is true we as a nation have had staggering times but even the

greatest

and mightiest economy America when got independence was also in a mess afflicted with corruption and do not forget their black hating soci

ety. And do have a
l

ook at our neighbor

which

is still struggling for peace. Allow India some time, do

n't

be so hars

h

on it.

I just wanted to convey this to you sir. An

d

please

do not

mock India.
Excerpt from Khuswant

Singh's column in

Hindustan Times dated 22/

O

ct/2012:
"

I  want that my readers, especially the younger generation, should share with me the interesting piece sent by Vijendra Gupta: "When Clement Attlee, Prime Minister of England, introduced the Indian Independence Bill in 1947 and it was being debated in British Parliament, Sir Winston Churchill, the war time Prime Minister of England, had angrily remarked: 'Power will go into the hands of rascals, rogues, and freebooters. All Indian leaders will be of low calibre and men of straw. They will have sweet tongues and silly hearts. They will fight amongst themselves for power and India will be lost in political squabbles. Not a bottle of water or loaf of bread shall escape taxation; only the air will be free and the blood of these hungry millions will be on the head of Attlee." We are indeed an incredible Nation; we have worked very hard and we have indeed proved him right!!!"