H

ypothetically speaking, you are ready to purchase a home,  you may consider buying  directly from the owner or  what majority have done, which is put their trust in a recommended real estate company to help with the process.
As a customer, do you even consider asking your agent if they possess a real estate license? Or maybe you give him/her the benefit of the doubt, but…
   "What does buying a house have to do with Public Relations?"
That's a great question!
Real Estate Agents and Public Relations Professionals need accreditation in their fields in order to conduct business. If this is new information for you, then you have come to the right blog. For a PR specialist, an Accreditation in Public Relations(APR)  is this an imperative tool for high dollar clients, it shows that you are a distinguished professional in your field. I am currently in the process of studying for my new accreditation, but it takes time and money, just like any other investment.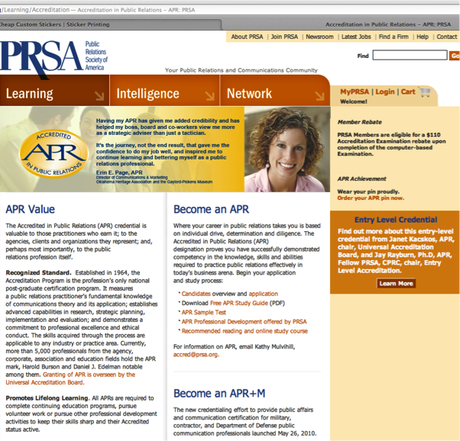 So here the Public Relation Society of America's steps to getting that accreditation;
1.
 Before you apply, there are some prerequisites; the key factor is experience. If you have not been practicing any kind of Public Relations, consider applying after 5 years of experience in the field. In addition, you must have a degree in any PR related fields, example Ethics & Law or Mass Communication.
2.
The application form will ask you document your experience and responsibilities.
3.
When you have completed your application return it via fax or mail with a payment of $25 and examination fee of $385.
4.
Download the study guide filled with case studies and questions that a PR professional should know. Questions like
  " What is the difference between primary and secondary research?"
If you do not know the answer to this basic question, you need to do some reading.
5.
Practice the sample test  that  is provided by the PRSA, take a look at this one.
6. It is suggested by the PRSA, that applicants attend seminars, participate in online study course and read training requirements before committing to a test date.If you meet the criteria above, I recommend that you get right on this, you will be proud and your clients will have more trust in your work than ever before. This is what a responsible PR professional would do.