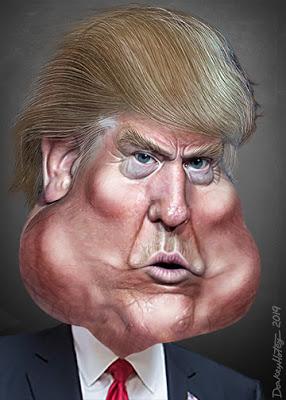 (The caricature of Donald Trump is by DonkeyHotey.)
With only a couple of days to go before his tariffs on all Mexican products were to begin, Trump declared victory and claimed he had negotiated a great deal with Mexico.
That's just another Trump lie. The truth is that nothing new was gained through the last minute negotiating. Everything Trump claimed he got was already agreed to by Mexico long ago. Trump just chickened out and backed down because he finally realized his stupid tariff was opposed by most people (even the people in his own party).
Here's part of how The New York Times describes Trump's latest attempt to claim a false victory:


The deal to avert tariffs that President Trump announced with great fanfare on Friday night consists largely of actions that Mexico had already promised to take in prior discussions with the United States over the past several months, according to officials from both countries who are familiar with the negotiations.




Friday's joint declaration says Mexico agreed to the "deployment of its National Guard throughout Mexico, giving priority to its southern border." But the Mexican government had already pledged to do that in March during secret talks in Miami between Kirstjen Nielsen, then the secretary of homeland security, and Olga Sanchez, the Mexican secretary of the interior, the officials said.




The centerpiece of Mr. Trump's deal was an expansion of a program to allow asylum-seekers to remain in Mexico while their legal cases proceed. But that arrangement was reached in December in a pair of painstakingly negotiated diplomatic notes that the two countries exchanged. Ms. Nielsen announced the Migrant Protection Protocols during a hearing of the House Judiciary Committee five days before Christmas.




And over the past week, negotiators failed to persuade Mexico to accept a "safe third country" treaty that would have given the United States the legal ability to reject asylum seekers if they had not sought refuge in Mexico first. . . .




Having threatened Mexico with an escalating series of tariffs — starting at 5 percent and growing to 25 percent — the president faced enormous criticism from global leaders, business executives, Republican and Democratic lawmakers, and members of his own staff that he risked disrupting a critical marketplace.




After nine days of uncertainty, Mr. Trump backed down and accepted Mexico's promises.