Neil Cavuto
Former Alabama Governor Don Siegelman gained traction this week in his effort to shine light on corruption related to
the political prosecution that sent him to prison for more than six years
.
First came reports that a news Web site had arranged for a showing in Montgomery of the documentary
Atticus v. The Architect: The Political Assassination of Don Siegelman
. Then came a mostly favorable interview yesterday with Neil Cavuto, of Fox News, in which Siegelman argued that President Donald Trump should pardon him.
A screening of the Siegelman documentary is set for 3 p.m. on Sunday, Oct. 1 at the Davis Theatre for the Performing Arts on Troy University's Montgomery campus. (Note: Mrs. Schnauzer and I were fortunate to catch a concert by Fleetwood Mac guitarist Lindsey Buckingham
in March 2007 at the Davis Theatre
. As a long-time fan of Buckingham's work, I consider this perhaps the finest concert I've ever attended. And we give the Davis Theatre two thumbs up as a venue. It should be a fine place to view the Siegelman film.)
Prattville-based
Alabama Political Reporter (APR)
is sponsoring the showing, after the Capri Theatre canceled a scheduled screening because of complaints from board member Leura Canary, who was U.S. attorney for the Siegelman prosecution. From a report by
APR's
Josh Moon:
"Atticus v. The Architect: The Political Assassination of Don Siegelman," as the documentary is officially named, was originally set to be shown at the Capri Theater in Montgomery in July. But former Federal Prosecutor Leura Canary, who serves on the Capri board, convinced her fellow board members in June to rescind that rental agreement.
Montgomery residents were outraged, and a heated Capri board meeting a few days later ended in nasty exchanges but no change in the vote.
That's when APR owners Bill and Susan Britt decided to step in.
"When we heard that the documentary showing in Montgomery had been cancelled because of pressure from the so-called political elites, it wasn't surprising," Bill Britt said. "We don't like censorship at APR, and we decided we'd do whatever we could to give Montgomery residents an opportunity to see the film, to judge for themselves the contents of it."
It only makes sense that the film be shown in Montgomery. But Moon reports it was a challenge to make the screening a reality, and it might not have happened without a push from Dr. Jack Hawkins, president of Troy University:
Much of that story took place in Montgomery, and the city served as a backdrop for much of the documentary.
Siegelman served as governor in this city. He was tried in this city and found guilty by a jury that resides in this city. Many of the people featured in the documentary reside in Montgomery.
And yet, time and again, APR ran into fear and bureaucracy when trying to find a location to show the film. Every venue was surprisingly busy or uninterested in accepting their usual rental fees to show "Atticus." Some never returned calls. Others had exorbitant insurance demands.
Enter: Troy president Dr. Jack Hawkins. . . .
"We are committed to freedom of speech and transparency," Hawkins wrote. "Within the Academy and within a free society there is little room for censorship."
That did the trick. A contract was prepared and signed within days.
Many props to Hawkins, the Britts, APR, and Troy University for making this happen. How is this for irony? The Davis Theatre has a seating capacity of 1,200 (
compared to 700 at Capri)
and almost certainly is nicer and more spacious than the film house. Our message to Leura Canary and the cowards on the Capri's board: Stick it up your collective ass.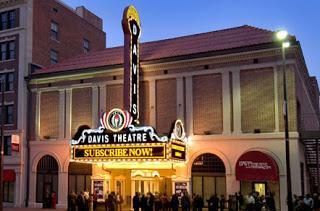 Davis Theatre, in Montgomery
As for the interview with Neil Cavuto on Fox, Siegelman pushed the argument that Trump should pardon him. Cavuto said that is unlikely to happen, and he's almost certainly correct -- in part, perhaps, because Trump might soon be headed toward impeachment, indictment, conviction, and imprisonment himself. With any luck, Attorney General and former Alabama U.S. Senator Jeff Sessions, who played a major role in the Siegelman prosecution, also will be headed for the federal slammer soon.
Cavuto did note the dubious nature of the Siegelman case, which also ensnared former HealthSouth CEO Richard Scrushy:
Cavuto stated with amazement that "Normally you look for a big ole suitcase of cash but there was no suitcase and no cash [in your case.]"
He warned "this could happen to Republican or Democrat, anyone in power, because . . . [in] campaigns you get money. . . they could be perfectly innocent but all of a sudden it looks like a 'Pay to Play' deal."
The interview can be viewed at the link below:
Don Siegelman interview with Neil Cavuto of Fox News