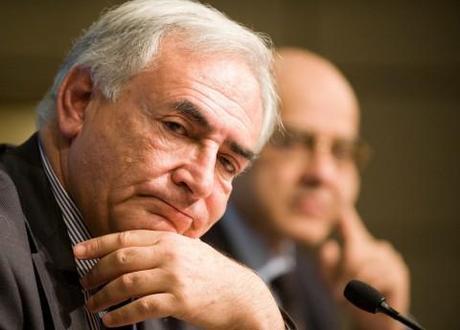 IMF chief Dominque Strauss-Kahn, . Photo Credit: International Monetary Fund
The hotel worker allegedly assaulted by former IMF head Dominique Strauss-Kahn has spoken out in a series of interviews. Nafissatou "Nafi" Diallo waived her right to anonymity to give details of the alleged attack to ABC News and Newsweek magazine. Her decision to speak follows weeks of speculation that the case against the Strauss-Kahn may be on the verge of collapse: a New York Times report claimed investigators had found inconsistencies in the Sofitel maid's story, and she has been accused of lying on her US visa application. Strauss-Kahn, who entered a not-guilty plea to all the charges, was released from house arrest on July 1; at the time, there was speculation that if the charges were eventually dropped he would be able to reawaken his bid for the French presidency.
"Crazy man". Diallo claimed that when she arrived to clean Strauss-Kahn's hotel suite on May 14, she found him naked. She told Newsweek that she apologised for the intrusion and attempted to leave, but that Strauss-Kahn was like "a crazy man to me" and wrestled her into the bedroom, where the assault allegedly took place. Diallo said that she attempted to push him away but was worried about the consequences of hurting a VIP guest. Afterwards, Diallo told Newsweek she hid in the hall; once she saw Strauss-Kahn leave, she claimed, she returned to the room to collect her cleaning equipment: "I was so nervous; I was so scared. I didn't want to lose my job," she said.
"What disgusts me is an effort to pressure the prosecutors with street theater." William Taylor
Damaged reputation. Although Diallo could not be named by the media until now, she has endured a series of allegations about her past as the media storm has swirled around Strauss-Kahn. "Because of him they called me a prostitute," she told Newsweek, referring to the New York Post story that alleged she had worked as a call girl; Diallo is suing the paper. Meanwhile, Diallo's lawyer told ABC News that she would be filing a civil lawsuit against Strauss-Kahn.
Money matters? Diallo told Newsweek that she was not interested in financial gain. "I want him to go to jail. I want him to know there are some places you cannot use your power, you cannot use your money," she said. According to a New York Times report, investigators uncovered a taped conversation between Diallo and Amara Tallawally, currently held in a detention centre, in which she talked of the potential financial benefits of accusing Strauss-Kahn. However, the evidence may not be straightforward: "At the time, prosecutors did not have a full transcript of the call, which had been conducted in a dialect of Fulani, Diallo's language. The quote was a paraphrase from a translator's summary of the tape, and the actual words are somewhat different, sources told Newsweek."
"I didn't want to lose my job." Nafissatou Diallo
Street theatre? Strauss-Kahn's lawyer, William Taylor, has hit back against the latest allegations: "What disgusts me is an effort to pressure the prosecutors with street theater, and that is fundamentally wrong," he told Newsweek.
Naming names. Writing in The Washington Post before Diallo went public, Paul Farhi discussed the fact that mainstream news outlets would not publish her name, despite widespread speculation about her identity on the internet: "The no-name tradition, which dates back at least a century among newspapers, reflects the media's assumption that public disclosure of sexual assault would cause additional pain for the alleged victim. It's a prohibition generally shared by victim's rights groups and criminal prosecutors," he said. Farhi quoted defence lawyer Alan Dershowitz as insisting that the victim's right to anonymity gave "unfair advantage to the accuser". According to Jennifer Peltz at the Associated Press, Diallo's decision is seen by legal experts to be "unusual and risky", allowing her to tell her story but at the same time opening the possibility that Strauss-Kahn's defence will attack her public statements.
Further allegations. Strauss-Kahn is also facing accusations of sexual assault in France: writer Tristane Banon has filed charges against him for attempted rape in 2003; her mother, Anne Mansouret, claimed she told a senior French Socialist Party official about the assault at the time, leading to allegations of a cover-up. Last week, Banon's lawyer had a meeting with Manhattan District Attorney Cyrus Vance and Diallo's lawyer: there is a possibility that Banon may testify to the New York prosecutors, if not in court. Writing in The Times, Will Pavia said: "Introduction of so-called 'similar act evidence' is controversial: a judge must weigh its relevance against the possibility that it will prejudice a jury."
More on DSK

DSK prosecutor won't step down
Strauss-Kahn resigns
Can DSK rebound – right into the presidency?
This is not a 'sex scandal'
Strauss Kahn released