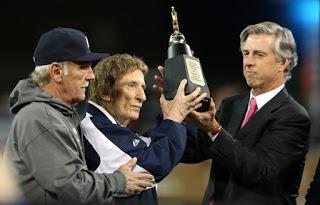 I guess you might say the Red Sox won twice on Tuesday night.
During their 9-1 win over the Indians, Red Sox announcer Don Orsillo made a startling announcement as the 8th inning was underway, that the Red Sox had hired former Tigers GM Dave Dombrowski as the new president of baseball operations, beginning immediately.
Current GM Ben Cherington was asked to stay on, but he declined, as Dombrowski will have the last word on all baseball decisions. Cherington will stay on with the transition until the end of the season.
Dombrowski has been the general manager of the Montreal Expos, Florida Marlins and Tigers. His high point was winning a World Series with the Marlins in 1997. He had been the GM in Detroit from 2002 until a couple of weeks ago, when the Tigers allowed him to move on. He rebuilt a Detroit club that lost an AL-record 119 games in 2003, and won the pennant in 2006.
Last night's announcement was a real surprise, as the most likely landing spots for Dombrowski figured to be either Toronto or the LA Angels. He will now be calling the shots, and has a huge job ahead of him turning the Red Sox fortunes around.
Cherington leaves with winning a World Series in 2013, but also what appears to be a third last-place finish. It was most likely he would fall on the sword for the moves the club made that badly backfired over the past year.
What this means for John Farrell is not clear, but you have to figure that if he is healthy enough to resume his managerial duties in 2016, he will be back. Letting him go during this offseason would be a disasterous PR move for the Sox. But Farrell will be under the microscope once the season begins.
Dombrowski also figures to bring in some of the people who worked for him in his other MLB positions. The new GM could be the recently hired Jerry DiPoto, who was LA Angels GM until he resigned earlier this year. Former Braves GM Frank Wren, who worked with Dombrowski for many years, has also been prominently mentioned for the job.
Dombrowski will be formerly introduced by the Red Sox this afternoon.
Let the 2016 season begin.