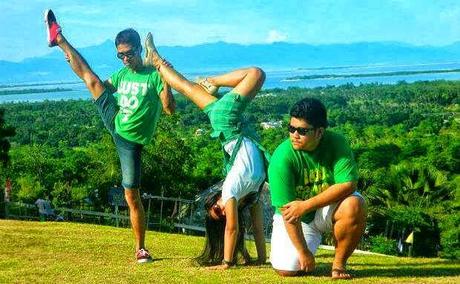 Green Minded  Team : Athan, Irene, Bonj as execute their trademark pose in every travels (Mitra's Ranch )
I always stressed, "I will not allow my life to pass without doing an extraordinary thing". Living in my comfort zone is a big no no for me. Trying something new to spice up my life is my goal.
My eagerness to travel became my passion. I made sure that wherever I go I had pictures or souvenirs as proof that I was able to do it. I learned to plan  ahead of time and also how to prepare myself for these travels both physically and mentally. Then I started to share my trips through my travel blog. And was motivated to be a practical nomad. I was inspired by a letter from Lois Yasay, -
a woman who quit her job just to travel Southeast Asia for six months with PHP 100,000 (non-stop).
James Betia (I joined some of his travels and learned surfing),-who backpacked the Philippines for 100 days for PHP50, 000 (non-stop). Lastly, Rinell Banda a Filipino Dreamer who traveled the whole World.
After knowing these true-blooded nomads personally, I learned to celebrate the Panorama of life, to travel and not to be afraid. We must take risks  in order to know where we truly belong.  And as with traveling you'll never know what to expect.
I was able to rove, survive and enjoy the so called "City in the Forest" for only PHP4500. Together with my friends, we booked a r
ound trip air ticket to Puerto Princesa City
and this trip took six days from April 4 -10,2013.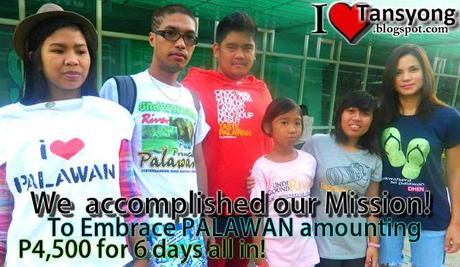 April 4, 2013 at 6PM we arrived at the airport with no plans, no accommodations  and no fixed itinerary at hand. But that didn't stop us from laughing and taking pictures. Literally, all we cared about was having fun and being in the moment.  We then  proceeded to this  restaurant the offers Birds nest soup. You haven't been to Palawan if you haven't tasted it.
Moreover, with the PHP4500 fund which we spread out for six days. It covered the round trip tickets,
accommodations
, foods ( Chaolong , Nido Soup, Sea foods), Swimming at pristine beach, experience Underground River, City tour, Bar Hopping, Hair Tattoo and of course "pasalubong (souvenirs)" .
Since I was trying to push my limit in terms of traveling I got to thinking how far would PHP500 take me? This idea pushed me to dare my friends to go on a 3 day trip to Rizal from August 9-11, 2013. To go as far as we can with that thought in mind.  It was crazy yet exciting.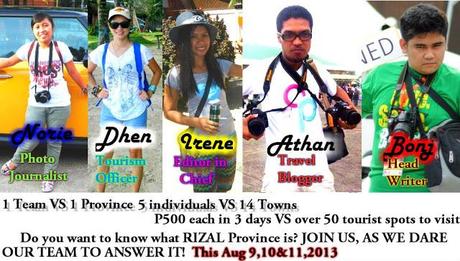 First day we met in Cainta Rizal (Goodies Capital), and then we went to Taytay, Rizal known for its  Garments and Woodcraft products to visit the "Bantayog ng mga Bayani (Guerillas Memorial Shrine)" and in Jardin Miramar situated in  Antipolo City. The second day, we hired a tricycle for PHP300 for the entire trip. From Morong Rizal, we went to Baras, Rizal to visit the longstanding church, then lunch at Daranak Falls in Tanay, Rizal, then off to the Floating Restaurant in Pililia, Rizal and ended up in Jala Jala, Rizal. On  our last day, we visited Angono Rizal (Art Capital) before we went straight to Thunderbird Casino and Resort where I was invited to conduct a motivational speech for a journalism seminar. It was indeed relaxing and an unforgettable experience. The best part of it? It was FREE.
"Travelling doesn't need to be expensive" that's what I learned. You just have to know how to be resourceful, wise and make TIME for it.  And as a full time employee, getting approval for a vacation leave is not easy, so being tactful is also required LOL!
As Jack Canfield said " If we  are not a little bit uncomfortable every day, were not growing. All the good stuff is outside our comfort zone."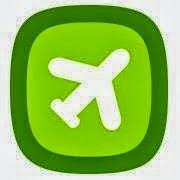 This Article is an "I Love Tansyong" Official entry in a Writing/Blogging Contest organized by Wego in partnership with Cebu Pacific Air, the Tourism Promotions Board, and ABS-CBN Choose Philippines with a theme "Your Life-Changing Travel Story"
Thank you Eliza J. Diaz (Market Development Manager for Wego Philippines) for the invitation.
Also thank you to the four judges, Anita Duffin, Doming Ramon C. Enerio III, Phillip Kimpo Jr.

xml search