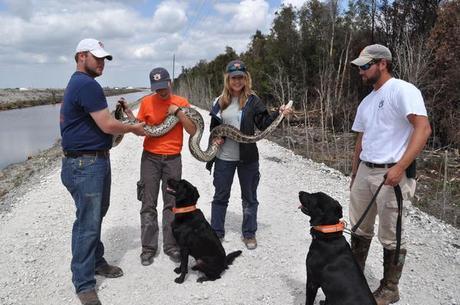 You could reasonably expect bomb-sniffing dogs to sniff-out bombs, right? After all, that's the job description.
But now, some of the K-9′s that are specially trained to help fight terrorism are being drafted for other work – to sniff out Burmese pythons in Florida's Everglades, according to Reuters.
The dogs are members of "EcoDogs," a three-year-old collaboration at Alabama's Auburn University between the science departments and the school's Canine Detection Research Institute, which trains dogs to detect explosives, the news service reports.
"The dogs are really, really good," said Christina Romagosa, a biologist at Auburn.
She said in a test of python detection in south Florida, the dogs could cover a search area 2.5 times faster than a person.
"People can only see that the snake is there if they can see the snake. The dogs can smell the snake even if it's not visually apparent to us," she said.
Steury estimated training a new dog to detect a scent takes six to 10 weeks. Training for each additional scent takes "about 10 minutes. You can do it by accident if you're not careful," he said, by inadvertently rewarding the dog for something you weren't looking for, which then becomes part of the dog's repertoire.
Why is sniffing out snakes such important work?
According to Reuters, environmentalists fear the pythons are upsetting the native ecological balance of South Florida. The invasion is generally attributed to both irresponsible pet owners dumping their snakes and 1992′s, Hurricane Andrew, which destroyed an adjacent exotic snake warehouse.
Linda Friar, spokeswoman for the Everglades National Park, said the snakes are so thoroughly adapted to the Everglades, and the park is so wild and inaccessible that there is no expectation of eradicating them, even with the dogs' help. The best hope is to prevent the pythons from spreading and be prepared for future invasions of new exotic species, she said.
Todd Steury, an Auburn conservation biologist and co-founder of the project, said many of the EcoDogs were found temperamentally unsuitable for indoor explosives work but thrive outdoors searching for ecological targets.
Flushing out snakes. Sort of the K-9 equivalent of senior workers going into consulting, after their best bomb-sniffing days are over.
Courtesy of CBS News