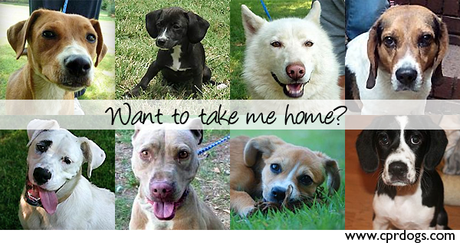 I recently started helping put together the bi-monthly newsletters for
Companion Pet Rescue and Transport
-- an incredible volunteer organization that saves more than 2,500 pups each year. These people are seriously the BESTand have some of the cutest, sweetest, most adorable dogs around (Little Greg and Peggy Sue were two of their rescues -- read that story here.) They have dogs of every shape, size, age, etc. and are fantastic at pairing you up with the perfect dog! If you're considering adopting a pup -- or if you just like looking at pictures of super cute dogs and reading some incredible survivor and rescue stories -- sign up for their
newsletters
and like them on
Facebook
. Trust me, you won't be disappointed. It's total cuteness overload.
All the dogs pictured above are up for adoption! Click a name to learn (and see) more!
Top row:
Hope (such a sweet story!) | Penny | Mason | Clark Kent 
Bottom row:
Petey | Millie | Prim | Chesney
See all CPR dogs on Petfinder.com.
And a quick PSA:  Please don't ever buy a dog. Even from a reputable breeder. There are thousands upon thousands of dogs out there -- including purebred puppies -- that need a home and are put to sleep because there isn't enough room in shelters. Don't contribute to the problem -- rescue a dog. You will be their hero for life. Promise.