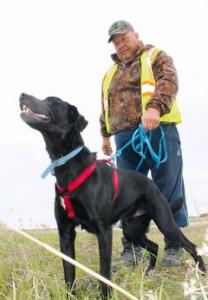 A Winnipeg man has trained his dog to search for other people's lost pets.
Rene Belliveau used books and online training to teach his black lab, Shadow, tracking techniques.
The pair start with a sample scent from the lost pet.
"We scent him before I harness him," said Belliveau, "He knows when he sees his harness, it's work time."
The two have been tracking lost animals together for nine months and they have a pretty good track record.
They've reunited 15 different owners with their lost pets including cats, dogs and even a ferret.
One dog, Griffin, was missing for more than 20 days before Shadow was put on the case.
"He got the scent right off the bat. He tracked this dog right to a house where he felt the dog was," said Belliveau.
Griffin was turned in a few days later.
Belliveau says he loves the reunions between lost pets and their owners.
"There's lots of tears going around," he said, "Including myself. When we found Griffin, everybody was crying."
Belliveau has a piece of advice for all pet owners.
He says they should buy a brush and label it with the animals name before using it and then sealing it in a bag to be used if their pet ever goes missing.
~ Courtesy of CTV
Tags: complex training, dog commands, dog finds missing dogs, dog finds pets, dog training