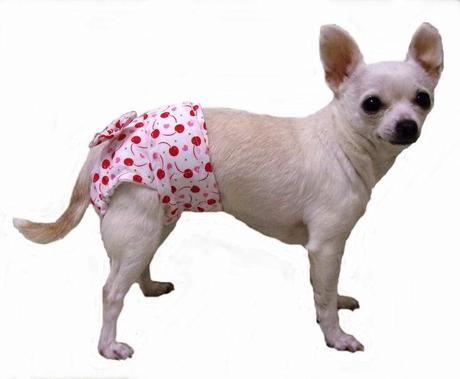 Do you know that female dogs have also there menstrual cycle? Yes, they have. In fact my cousins dog name Kimchi had her first menstruation yesterday. After learning about this news, we ask her Veterinarian about it and also do some researches of our own. 
Bleeding in dogs are also known as
heat period
or
estrous cycle
which is equivalent to menstrual cycle in human being. Usually dogs heat cycle occur at age 6-12 months. For smaller breeds it may start as early as five months. For larger breeds it my take until 14 months or may be later for this to happen. Dogs menstruation last in an average of 21 days or three weeks, but may vary from 8 to 30 days. Menstrual/heat cycle of dogs happen at least twice a year or once every seven months.
There are four cycle in Dogs
heat cycle/estrous cycle
:
Pro-estrus. This stage usually last for 4-20 days. During this phase, your female dog my show symptoms such as swelling of the vulva and clear discharge sometimes accompanied by blood and frequent urination. Some large breed dogs may not show any external signs and symptoms. 
Estrus. This stage can last for 4-7 days. During this phase, your dog would be more receptive to males and allow them to mate with her. At this stage, the bleeding normally stops but there could still be swelling at the vulva region. Your female dog's secretions would also turn a lighter color.
Diestrus/Metestrus. This phase is known as the false pregnancy phase. Your dog would gradually stop bleeding and would also stop from flirting from other male dogs. Prenancy would last for about 60-64 days, that is if your female dog mated successfully and got pregnant.
Anestrus. This is the last phase, the time when your dog ends her heat cycle. There is no activity in the female dog's reproductive tract at this time, lasting around 5-11 months.
Sometimes it is hard to tell if your female dog is in heat. But here are some signs you may watch out for:
Increase urination
Swelling vulva, although this may not be noticeable in some dog breeds
Menstrual bleeding
There, that should give you some basic ideas regarding your dogs menstrual cycle. :)
6AZAAZ62WHRH