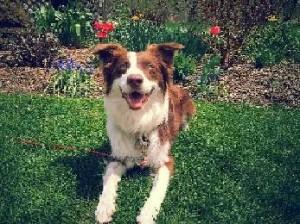 Madison (WKOW)– Military service is something that often runs in the family. Many military families have long histories that go back generations, spanning across several wars and conflicts. That is certainly the case for the Cook family in Madison, where even the pets get involved in serving their country.
"It's just so cool how this worked out. She's going to work with vets in the area. It should be a good thing for her," Air Force veteran Alan Cook says.
Cook is babysitting his daughter's Australian Shepherd Harper she serves overseas in Afghanistan. Sgt. Danielle Cook is working with an Air Force unit on a short-term mission. Meanwhile, her dog Harper is being recruited for a mission of her own.
"People at the Dog Den just thought she'd fit perfectly with their veteran program. They think she is a good dog for this project," Cook says.
The Dog Den is a dog daycare facility in Madison. The group shelters dozens of dogs while their owners are at work. Employees quickly discovered Harper's unique personality and her potential to help local vets.
"She is very shy and fearful, but at the same time she is gentle. She's the perfect dog for our veterans program," Dog Den employee Deborah Crawley says.
The Dog Den has recently started a partnership with a veteran support group called "Circle of Change." The non-profit originally started in Rockford Illinois and recently decided to expand their program to Madison. The group selects veterans at local VA hospitals that suffer from PTSD and other mental health-related problems. Volunteers pair the vets with a canine companion that they can train and bond with.
"There's a lot of research out there that just sitting with a dog and petting them, it really lowers a lot of the depression, the anxiety, the PTSD symptoms," Circle of Change coordinator Julie Murray says.
Not only do the dogs help the vets, but the vets actually help the dogs. Many of the dogs have anxiety or isolation issues that make them the perfect candidates for the program.
"Basically what happens is these vets see that the animals are changing progressively as they're working with them and training them. It just builds their confidence and it just brings them right out of their shell," Crawley says.
Volunteers with the Circle of Change just finished their first 13-week course in Madison. The program attracted six local veterans including Desert Storm vet Mike Weber.
"My way of handling my problem was just to avoid everything. This has really helped me come back out and kind of get me back on track," Weber says. "It's such a great program and it really has helped me bond with not only the animals, but other vets and volunteers."
On Thursday night, the group will start their 2nd program in Madison. Harper will get to meet the new batch of veterans for the first time. Over the next 10 weeks volunteers expect her to make a lot of new friends as they work together to heal their mental wounds.
"We're a military family all the way down to the dog now," Cook chuckles. "My daughter is just so proud of Harper and thinks it's a great thing. It gives her something to do while my daughter is away overseas."
~Via WAOW
Tags: dog hero, Military Dog, PTSD, service dog, veteran dog