Clark and I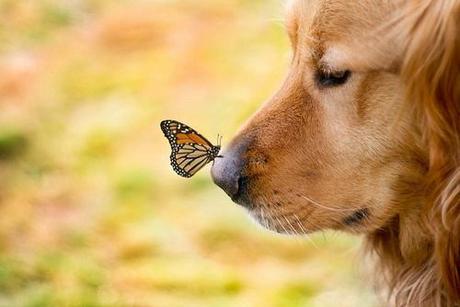 lay in bed and listen to music and on the particular play list I had put together is the song "Dog and Butterfly "by Heart.  Its funny because throughout the years the meaning of this song has been a mystery, or better yet one of those songs that basically means something personal and very different to everyone, In General the song written by Ann Wilson was written about her sheepdog, as she looked out the window, the dog was happily and playfully chasing a butterfly, jumping up to try to catch it, and twisting and falling back down to the ground, only to shake it off and try and try again, it reminded her of how life can be, as earthbound creatures we are constantly  reaching for something higher.
The songs lyrics mimmic that for me but on a personal level, I used to have talks with my Dad a lot, When I got older and was able to drive I used to meet him here and there, sometimes at a park, usually smith park and we would sit by the pond, not for long but for long enough, as i got old enough to drink i would sit in the bar with him and talk, he would talk to me about his life and i would talk to him about mine, My dad never knew the details of some of the trial i had growing up, sometimes i felt maybe he did,but he felt helpless.I can remember some of the things my Dad would always say to me, "Im the smartest man in the world, I know everything"  'Never drive in the opposite direction of your destination" I finally figured that one out as i got older! and many other things, but one of the most important was when he would always tell me if you go for something you really want and you fail, don't accept the defeat try and try again and keep trying after that!"
Personally that makes perfect sense about this songs meaning.
"There I was with the old man
Stranded again so off I'd ran
A young world crashing around me
No possibilities of getting what I need
He looked at me and smiled
Said "No, no, no, no, no child.
See the dog and butterfly. Up in the
Air he like to fly." Dog and butterfly
Below she had to try. She roll back down
To the warm soft ground laughing
She don't know why, she don't know why
Dog and butterfly
Those lyrics are personal to me as I sat with my dad, I would often run from my home life, and call him and thats when we would meet and sit by the water, I would tell him how I was feeling and he encouraged me without knowing he was, my Dad was not a very sensitive on the outside, he had a hard shell, i only saw the man cry twice in my entire life, he put on a strong coat of arms around people,  He was basically telling me to continue to get through,to keep jumping.
"Well I stumbled upon your secret place
Safe in the trees you had tears on your face
Wrestling with your desires frozen strangers
Stealing your fires. The message hit my mind
Only words that I could find
See the dog and butterfly
Up in the air he like to fly
Dog and butterfly below she had to try
She roll back down to the warm soft ground
Laughing to the sky, up to the sky
Dog and butterfly
Intresting to me personally, there was a time in my Fathers life he left his family, he lived in an apartment up above the bar  at Bills Open door , the bar he  basically lived at lol.  I went there looking for him, the owners daughter who was a friend of mine she told me my dad had been staying up there for a while, so I went upstairs and talked to him, it was one of the Two times I ever saw him cry, he was confused, unhappiness surrounded him, My Father was an alcoholic and a Gambler and he loved women, although after he married my step mother he was much better, although he was a bit still abusive, he would tell me, my step mom of course would never say anything, She loved that man with all of her heart, She never had a bad word to say about my Dad, through all of the bad situations he had his family in, and there were quite a few, that woman never left his side. If you mentioned a certain woman's name around her though, she had a glare in her eye, she knew there was something up on occasion, just was not sure, she trusted my dad, but she sure didn't trust that woman.   I knew my Dad had experienced great love, he would tell me stories of a woman he met in the Philippines and hinted of someone else in another state he simply could not be with, while he was in the service,  He had a vision of what he wanted in life, he had a gift in his soul, however he never let it out.
I remember the man looking at me and with tears in his eyes said "Kid, what should I do"  I told him to go home, and try and if he failed to try again and to try to keep jumping for something higher and higher, 2 days later he went home, and although things did not change much there, they improved some.
We're getting older the world's getting colder
For the life of me I don't know the reason why
Maybe it's livin' making us give in
Hearts rolling in taken back on the tide
We're balanced together ocean upon the sky
I guess i felt at that time the world was a cold place as i got older, I was able to escape the life I had to endure at my home,
Another night in this strange town
Moonlight holding me light as down
Voice of confusion inside of me
No begging to go back where I'm free
Feels like I'm through
I was stuck in a dead in town between Dayton and Cincinnati, nothing to do, no where to escape to. All of my roots were there, my parents both born there all of my family there, I felt stuck, felt like there were walls around that city, it was like the hotel california, you can check out any time you like, but,you can never leave!  lol   My Dad finally left, although his physical body is buried there he's certainly not there! I finally left, searching for something higher, jumping to try to catch that dream, It is a good thing I did, because i found it, I had the very same shell my dad did, I have the very same gift my dad did, I want the same things my dad wanted, I intend to let it all out, i intend to continue to try to jump higher and higher, To continue to try to catch my dreams, and when I do catch them, I intend to reacher higher ones! I realized this one thing personalizing the lyrics to this song,  My dad was and still is the smartest man in the world!
Then the old man's words are true
See the dog and butterfly
Up in the air he like to fly
Dog and butterfly, below she had to try
She roll back down to the warm soft
Ground with a little tear in her eye
She had to try, she had to try
Dog and butterfly 
Aim Higher!!!
Lois