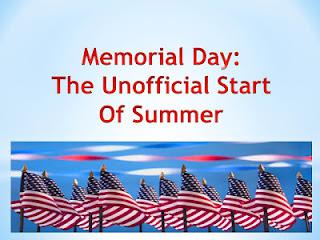 The weekend has begun, and for many, this means it's the first unofficial weekend of summer. Three-day weekend, parties, cookouts, parades, picnics, swimming all make it fee like summer has begun and life is good.
But who takes the time to remember Memorial Day?
Memorial Day is the reason we have this fabulous three-day weekend. Did you know that the last Monday in May was given to Civil War vets to take so that they could help out at cemeteries, cleaning up and decorating the graves of the deceased servicemen from the war? Did you know about the ladies in Pennsylvania in 1866 who started the whole idea of decorating the graves with flags and flowers?
Probably forgot, right?
It's easy to forget when there's so much fun going on, but it's so important to remember why we have this day, to remember fallen heroes of any war who has sacrificed his/her life for our freedoms.
If you can, help out at a cemetery. Or visit some living veterans and tell them thank you. Or fly your flag at half staff until noon and then full staff for the rest of the day. If none of those are possible, pause in silence at about 3 p.m. on Monday for the National Moment of Remembrance.
To learn more, visit:
Memorial Day Meaning, Facts and Celebration Ideas
.
Have a great weekend!
~Marissa
American Flag And Pole Set