The new year always generates a lot of chatter about new beginnings, new chances, new opportunities. It has us taking inventory of our lives, taking count of the things that matter and the things that don't, and devising plans to make the most of what's important. Or at least it should. But that shouldn't be limited to the new year. Your LIFE is meant to be LIVED, and lived with passion.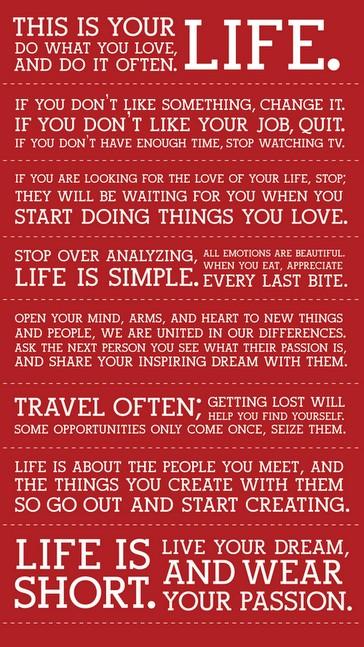 Source: iwastesomuchtime.com via Kristin on Pinterest
If you're just going through the motions, stop. Look at your life. Is it everything you dreamed it could be?
What IS your happy ever after? Have you stopped running long enough to figure out what your dreams are so that you know where you're running? Do you have a plan for how you're going to achieve your dreams? Are you actively working toward achieving them?
If the answer to all of those things is "no," stop. Think. A happy ever after isn't defined by a particular segment of your life, it's something you work toward continuously, a dream you believe in and work to make a reality. It can be a family situation, love, getting a chance to take a dream trip, a dream job, anything. We all say we wish we had more money, more time, but that's easy – think about what makes you happy now, and what changes you would make to your current situation to make it into your dream.
If you really think about it, it might not be that big of a change! And with hard work and a good plan, you can get there. So figure out what you want, and then take the leap and BELIEVE it can happen if you work at it! The key word is work – we have a saying that "hope is not a course of action" – so you need some elbow grease and a plan that helps you use that smartly.
Why am I posting this mini-lecture? Because over the past year of blogging, I've had so many people inspire me with how they've designed and created their happy ever after, I want to see everyone who's just putting up a few new year's resolutions to do the same. Think about what would make you happy. Really think. Then write it down. Then start writing down things you can do to get there. It might be more resolutions, it might be a 101 in 1001 list, it might be a full life plan with a list of contacts, courses to take, events to attend, and more. I think you'd be surprised that when you look at the big dream and the little steps you can take to get started, those little steps are attainable.
I would love to hear from all of you about this – what is your happy ever after? and what are you doing to get there?

KCS