With a big pop from the crowd, Billy Currington hit the Boots & Hearts 2018 main stage for a set filled with hits and good times.
The Georgia boy was all smiles up on the big stage in front of somewhere around 40,000 country music fans. He looked like he was having the time of his life while the assembled mass sang and danced along to his songs. And before the night was through, Billy Currington knew just how much the Boots & Hearts fans loved him.
With a long list of big hits and fan favourites, we didn't know exactly what we'd hear from the Must Be Doin' Somethin' Right singer. But as Currington and his band played their 12 song set, it became clear that they'd made the right selections. From the front to the back of the crowd, folks were singing and dancing. And whether it was something upbeat or something slowed down, they were right there with him.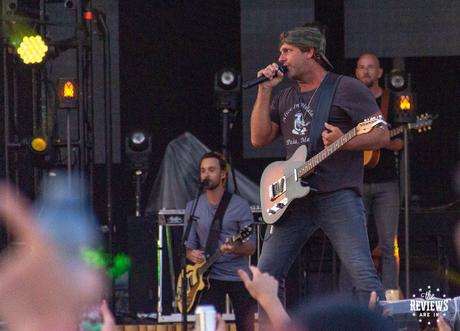 The sound from the seven dudes on stage filled the field. From Don't It off the top to Good Directions at the end, things sounded good. They were tight, on time, energetic and enthusiastic. And they sounded happy.
As the lead-in to Saturday's headliner Alan Jackson, Billy Currington gave everyone exactly what they could have hoped for. He gave the crowd an opportunity to warm up their voices. He had them invested in his setlist. And he was the last of no fewer than six artists we heard either telling the crowd how excited they were to see Jackson or asking how excited the crowd was.
We have to give some love to Currington's cover of Walk The Moon's Shut Up And Dance. It was unexpected and awesome. The crowd loved every second of it, singing loudly and jumping up and down. It was a great addition to the 11 hits we got from Billy Currington's career library.
Saturday night was an exciting one at Boots & Hearts 2018. There were smiles on faces from the front of the stage all the way to the back of the hill. And when Billy Currington was up doing his thing, he showed everyone exactly how country boys roll.
Billy Currington Setlist, Boots & Hearts 2018
🍻 Don't It
🍻 That's How Country Boys Roll
🍻 Pretty Good At Drinkin' Beer
🍻 Love Done Gone
🍻 Let Me Down Easy
🍻 It Don't Hurt Like It Used To
🍻 Do I Make You Wanna
🍻 Must Be Doin' Somethin' Right
🍻 Hey Girl
🍻 We Are Tonight
🍻 Shut Up And Dance
🍻 Good Directions
Photos of Billy Currington at Boots & Hearts 2018