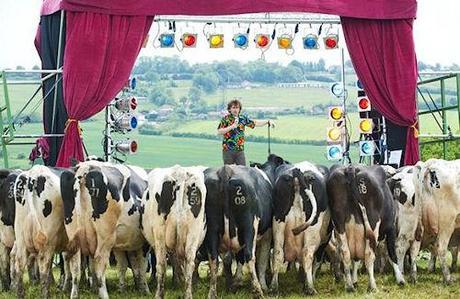 English comedian Milton Jones performed a stand-up routine to a field of cows in an experiment intended to see if they have a sense of humor. He was joined by cow expert Bruce Woodacre on a Hertfordshire farm to test the reaction of a herd of fresians. He performed a special set of visual and verbal jokes, called 'Pull The Udder One', while Mr Woodacre monitored the cows' reaction.
Mr Woodacre, who has studied
cow behaviour
for more than 40 years, said:
Happy cows are more productive and there's a chance we've stumbled across something here. Most of the herd crowded closely round the stage and jostled for a good position. They had their mouths open and their ears laid back, indicating they were relaxed and content.
Not everyone was entertained though - some low heckling moo's were heard and there were even a few walk-outs.
The Presurfer