New DJI Osmo is the first camera designed to create stable photos and videos in any condition
DJI, the world leader in creative imaging technology, today announced the launch of the Osmo, an integrated camera and handheld stabilizer that opens the creative possibilities of cameras in movement.Using DJI's signature three-axis gimbal stabilization technology, the Osmo eliminates the shake of traditional handheld devices, creating cinematic shots in an easy-to-use, easy-to-set up form factor.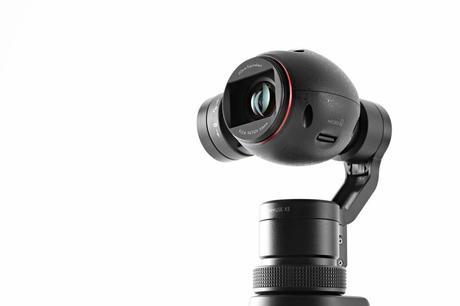 The modular format of the Osmo makes it fully compatible with DJI's Zenmuse camera series, but comes standard with a 4K, 12-megapixel camera with a 1/2.3" sensor and a 94° field-of-view lens.
"DJI consistently refines the way cameras move in space – whether they are in the air or on the ground," said Frank Wang, DJI CEO and Founder. "With the Osmo, we have created a camera specifically designed to capture a smooth moving image regardless of filming conditions."
Intelligent controls built into the handle make changing between shooting angles, capturing photos or recording video effortless.
Creators can view live images of what the camera captures, adjust camera settings and control smart filming functions including :
Panorama – Take a picture and the camera will automatically pan around 360°, taking and stitching overlapping photos to create a panorama.
Long Exposure – Make handheld long-exposures crisp using the camera's stabilization technology
Slow Motion – Capture slow motion shots at 120 frames-per-second (fps) up to 1080p
Its onboard universal mount works together with an included smartphone holder in addition to other optional accessories including a tripod, a bike mount or an extension arm.
The Osmo handle comes equipped with an on-board stereo microphone, as well as a 3.5mm audio jack for recording professional-quality external sound.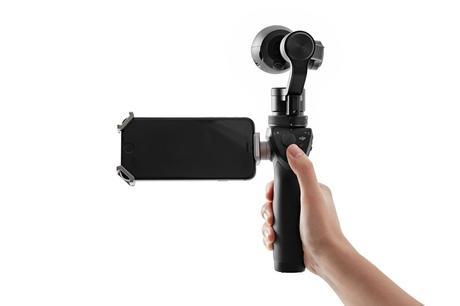 "Traditional handheld cameras are either shaky, or require bulky stabilizers that are difficult to set up," said Paul Pan, DJI's Senior Product Manager. "The Osmo moves the experience of handheld filmmaking from capturing what happened, to sharing expressive, smooth video that shows what an experience was like."
The Osmo handle, which can be bought separately without a camera, is fully compatible with DJI's existing Zenmuse series, making it the perfect accessory for everyone who already owns an Inspire 1 with a Zenmuse X3, a Zenmuse X5 Pro or a Zenmuse X5 Raw.
Video
Additional Osmo accessories include:
Tripod – Place the Osmo securely on almost any surface.
Extension Rod – Reach out further for all new angles. Combine with the Tripod for added height.
Bike Mount – Lock the Osmo to your bike for a new kind of bike movie.
Universal Mount – Add extra microphone or LED light to your Osmo.
Straight Extension Arm – Mount two accessories to your Osmo at the same time.
Pricing & Availability
The Osmo is available for pre-order at store.dji.com for USD 649.