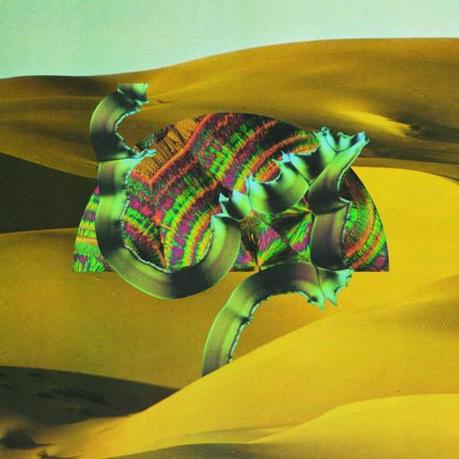 While it's difficult to define what bands like Django Django (@thedjangos) are actually doing, whatever it is, it's certainly interesting. Eclectic genre bending of this degree might not always click straight away, but it's definitely the kind of catalyst that can bring about career longevity, something which is becoming increasingly rare in this industry.
Their self-titled debut wears multiple brightly coloured feathers in it's plumage, ranging from tweaked art rock riffs to syrupy psych-folk sounds and ethnic percussions. Granted, it's definitely a case of style over substance, but the smorgasbord of sounds are often very lush and pretty to listen to. Not to mention, these Brit's certainly know their way around a catchy melody or two.
For the most part, the record is well-balanced, dividing percussion, guitars, vocals and synths pretty equally. Keeping things in perspective like this divides up their sound nicely and allows for some free flowing progressions to open things up even further. However, on a few occasions the group finds themselves looping round and round in circles. On top of that, despite the glittering, shimmering, glitchy soundscape produced, the album does occasionally come off a little too light in the loafers, lacking true depth or definition. Dont let this put you off, though. If you take the record at face value (like you should), then you'll find there's a lot of fun and enjoyment to be had.
They might not be flying out the gate firing on all cylinders just yet, but there's certainly enough here to place Django Django firmly on the musical map. Imaginative, creative and moving with an angled approach, the multi-dimensional sound of this young band could very well progress into a force to be reckoned with.