Create a Rustic Xmas Reindeer with Skye from Skye's the Limit.
Ok, so it's come around again! It can be hard to think of new things to make for Christmas decorations, so I thought we'd do something really rustic and kinda chunky and 'organic'.
I was inspired by all those cardboard figurines and amazingly precise animal heads that are in the shops at the moment. They are quite elaborate, so I thought I'd have a go at a really pared-down version that my modest DIY skills could cope with.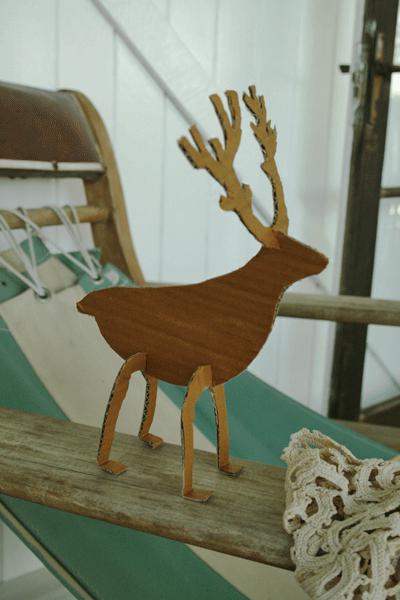 The finished product
How to …
I just used a box I got from grocery shopping…you can have endless fun decorating him, or keeping him raw and natural. Another great idea is to use a patterned fruit box that has lots of chunky coloured type and illos on it – your creatures will look most festive cut out of a red green and gold fruit box! You could even make a whole herd – or nativity scene.
Download the template here
Use the pdf template provided and trace off all the pieces. The slots for the legs and antlers need to be the same kind of width as the cardboard you're using, otherwise if they're too wide the appendages will fall out/off. So adjust these cut marks to your own piece of cardboard. Best to start too slim than too wide.  Using a strong utility knife, cut out the shapes on a cutting mat.
Assemble… Easy!
Fold the 'feet of the deer so they have some 'grip' if you like. They need to be the same length to make your deer stand up straight and tall.
We'd love to see your efforts!