This shop has been compensated by Collective Bias, Inc. and its advertiser. All opinions are mine alone. #FamilyPizzaCombo #CollectiveBias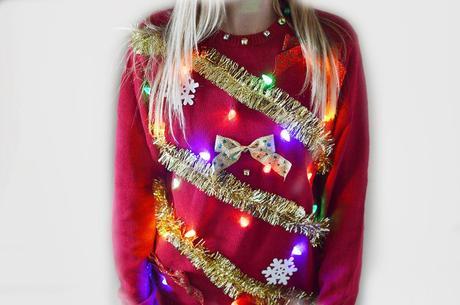 Can you believe it's the first day of December tomorrow?! The summer felt like it went on forever but now that it's the holiday season, time is flying by. And before we know it, Christmas will be here! A few years back my family and I started a new tradition on Christmas Eve…ugly Christmas sweaters. We thought it would be fun for everyone to come dressed in ugly Christmas sweaters for our annual Christmas Eve party and because we had so much fun, it's now become a tradition. Well obviously the ugliest sweater is the best sweater, and sometimes, the ugliest sweaters are the ones you make. So this year, I decided to take it a step further and add REAL Christmas lights to mine! Want to make your own DIY ugly Christmas sweater? Keep reading

What you need:
Sweater; a sweatshirt is fine but if you want to string lights through it, I highly recommend a sweater.
Hot glue gun and sticks.
Glitter paint.
Pom poms.
Felt.
Jingle Bells.
Glitter glue.
Tinsel.
Battery operated lights.
Anything else you want to use to make your sweater super ugly!
Here's how I did it: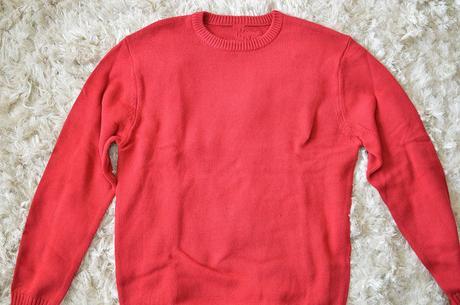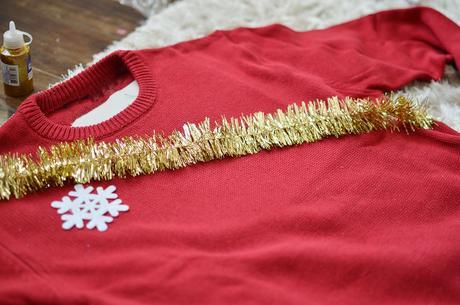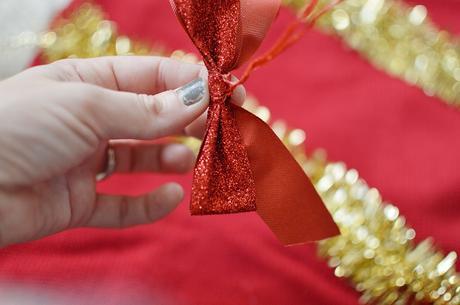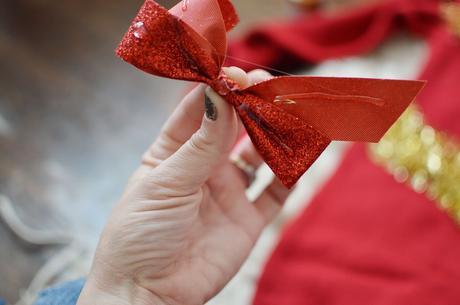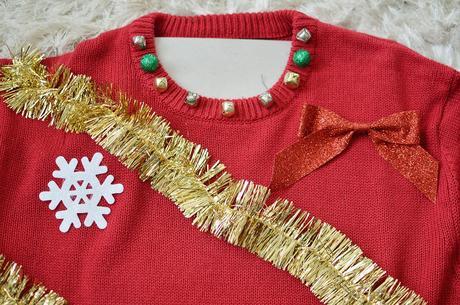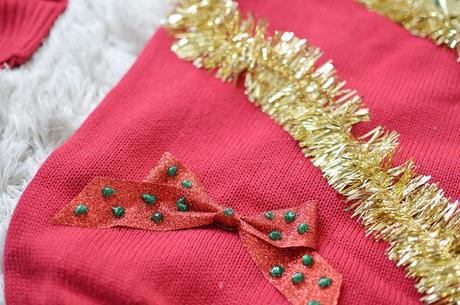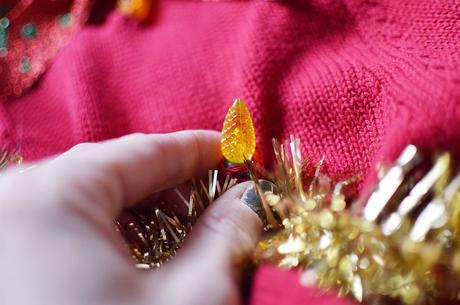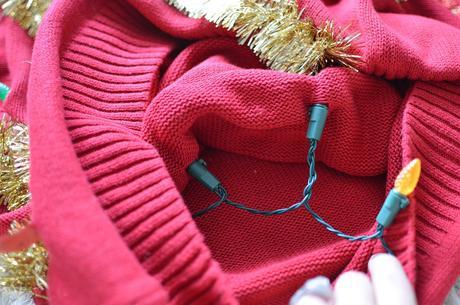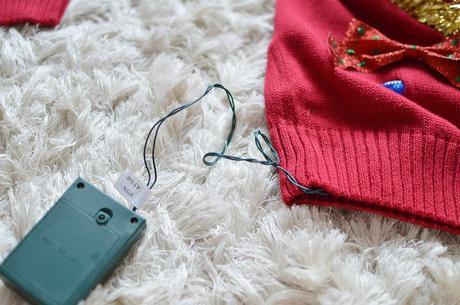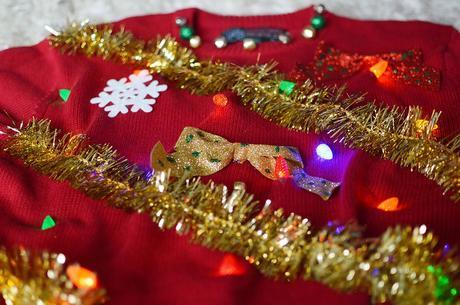 1) Put a piece of cardboard inside the sweater to avoid gluing it together.
2)Cut your tinsel to fit the width of the sweater. If you want to be super fancy, you can wrap it all the way around. But I decided to go with a nice diagonal pattern.
3)Cut the ties off the bow and glue them using the hot glue gun.
4)Glue jingle bells and pom poms around the neckline.
5)Using the glitter glue, make polka dots on the bows. Let this dry overnight to avoid smudging.
6)Starting with the end of the string opposite of the battery pack, push the first light through the sweater. Use a twisting motion and your fingers to spread the sweater. Be careful not to make the hole too big but just big enough for the bulb to pop through.
7)Continue zig-zagging down the sweater so that the battery pack ends up at the bottom. You will stick this in your pocket when you go to wear the shirt.
Super fun, right?!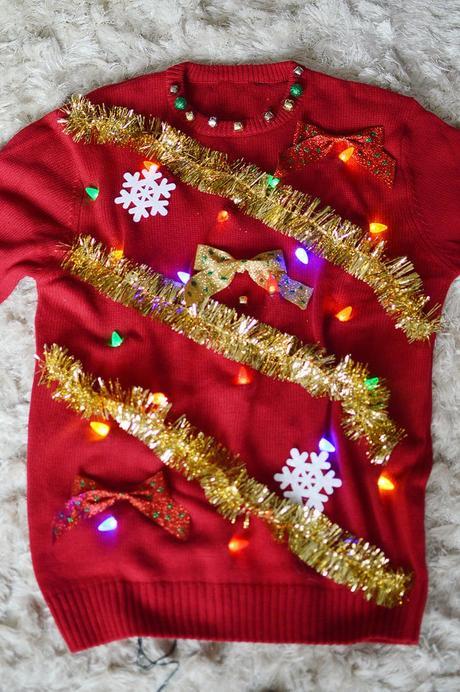 Because I knew we would be spending a lot of time on our sweaters, I picked up a Sam's Club Cafe Pizza and Coca-Cola Bundle for dinner. For only $13.98 you get a 16-inch pizza, cheesy breadsticks, 6 cookies, and 2-Liter of Coca-Cola. Such a steal! This is seriously my new go-to; no need to worry about cooking, especially during the holiday season. I was super focused on making my sweater and this was super easy for my husband to pick up from Sam's Club and bring home. Once I'm in the zone, I'm in the zone… and I certainly couldn't stop to make dinner!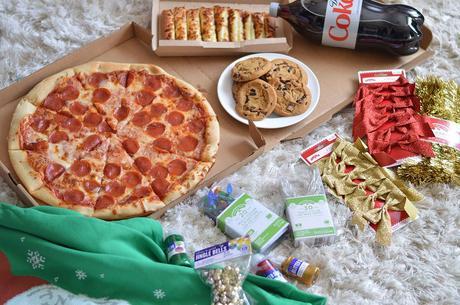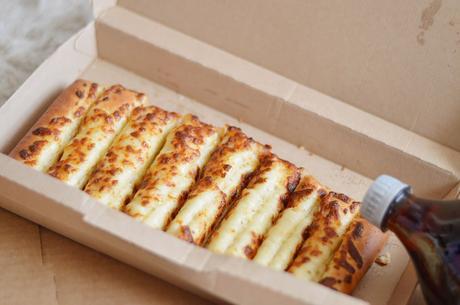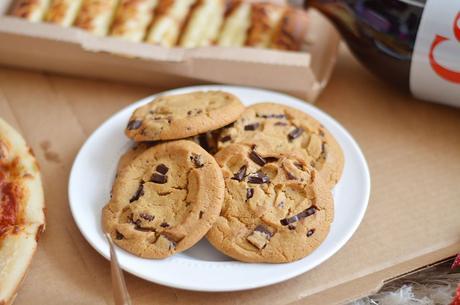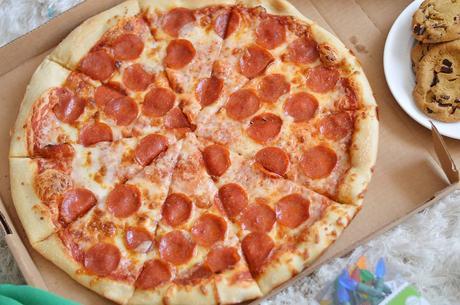 Christmas is such a fun time of year and it wouldn't be the same without spending it with family. Not only am I super excited to wear my light up ugly Christmas sweater for Christmas Eve, but making them with my family was also just as fun. Memories people… it's all about the memories

Do you go to any ugly Christmas sweater parties? Do you buy or make your own?