Today's guest post is by Hannah of VoucherCloud.com. Enjoy!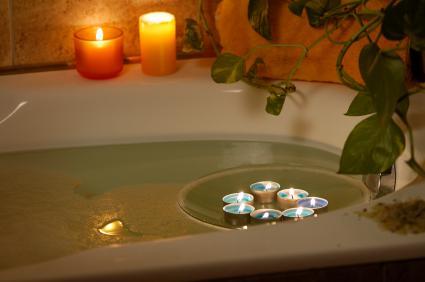 Image credit to bullfroghottubs
Now more than ever we are all in need of some hot pamper action. But times are tight and glitzy days away to premium spa establishments are probably not high on people's priority lists. But never fear you can still enjoy some spa-style indulgences at a low, low price if you just create your own at home. You'll soon be luxuriating like nobody's business, just try these spa-tacular tips!
Preperation
It's going to be hard to picture your bathroom as your own luxurious private spa if it's the colour of gravel and relays an atmosphere of grime. You'll want your tub to be pristine if it's to be the beacon of relaxation that you hope. A small amount of bleach dissolved in water and left overnight can make a porcelain tub shine, but it's not recommended for enamel baths. Make sure you know which one you're dealing with before you proceed. Sadly there are no miracle cures. Domestic bathroom cleaners and a lot of elbow grease are the best way to clean your sorry tub. But once the bath and surrounding areas are spotless, you'll be halfway towards your in-house spa!
If your tub is beyond a simple scrub, you may want to consider refinishing it (which is quite tricky) or purchasing a bath liner. This fairly simple method effectively resurfaces your grotty tub and gives it a whole new look.
Now you can think about a theme for your homemade spa. Probably best to go for a relaxing one, not volcano, taxi rank or Napalm Death. Candles in waterproof holders can instantly add elegance and calm. A simple change of curtains or wall decorations can give your bathroom a whole new feel and atmosphere. And consider binning that ratty old bathmat and upgrading to a more luxuriant model.
Accessories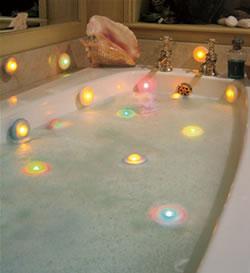 Image credit to prezzybox.com
Now it's time to make your DIY spa a bit more distinctive. There's a whole host of little bits and bobs to provide glamour and distinctiveness for your tub.
Add your own light show with some relaxing Spa Lights – Forum Magazine featured these great lights by Prezzybox.com. A spa steal for only £6.95! (The colour changing model is currently 25% off – only £5.21)
And make sure your spa always has good vibes and pick up a waterproof iPod case, so you can rock your favourite tunes without ruining your gadget! You can order a waterproof iPod case and headphones from Play.com for around £12.
Tired of the tyranny of freestanding, immobile water? Get your H2O moving with a bubble spa designed to fit in your existing tub. The bubble spa bath mat generates powerful bubbles to relax the mind, revitalise the body and leave you totally refreshed. Gizoo's bubble spa has fantastic reviews and it currently only £59.95 with free delivery – you'll soon be bubbling with excitement.
For a truly luxurious experience, dare to try the therapeutic G Spa Bath Gel. As featured by Ella the Gadget Girl on the TV show 'Something For The Weekend', this product turns your bath water into a thick aromatherapy infused gel which due to the composition, retains heat for up to 3 times longer than water! With 25% off, you can indulge in this experience for only £7.46 – find out more on Prezzybox.com.
If that seems a little too exciting, perhaps the exfoliating 'scrub glove' is more your pace. These are easy to find at most leading supermarket chains but given the low cost, it's probably worth investing in a more luxurious model. FeelUnique.com stock the Opal London Sisal Glove, hand knitted Japanese Sisal fibres, which not only stimulate circulation and exfoliate dead skill cells but a more vigorous massage will help eliminate cellulite and other toxins! Only £4 with free UK delivery.
Don't forget to invest in some new loofahs and pumice stones to complete your new pampering routine!
Lastly, it wouldn't be a spa without the requisite slippers and fluffy robes. If you have some additional budget, consider buying some fit for the purpose and keep these separate to your usual 'lounge wear' – by doing this, your home spa sessions will stay separate to normal lounging.
Treatments and Products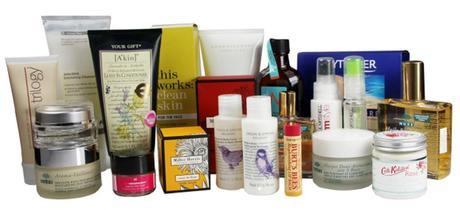 Image credit to gifthampers.me.uk
You've got your spanking clean tub, possibly some candles, some great gadgets and an array of pampering tools. Time to treat yourself in true spa style. Essential oils combine the healing elements of aromatherapy and the pampering qualities of leaves and fruits. Reasonably priced oils are available extensively these days from around £3 each. Naturallythinking.com have a great range of essential oils but don't dive in without knowing what to do. Check out this great guide on Wholeliving – DIY Essential Oils for Skin and Home.
You'll be needing to reinvigorate your face and body and get rid of that pesky dead skin. Sanctuary's soothing silk scrub uses coconut shell to eradicate that epidermis in the most luxuriant way possible, around £10, or to complete your DIY Spa experience then take a look at this excellent roundup by TipJunkie – 14 easy homemade sugar scrub recipes.
And once you've been fully exfoliated, don't forget to moisturise to give yourself that perfect spa glow at home. Champneys, the first name in fabulous spa facilities, have a wide range of products for your body and face to provide that sensational post-scrub treatment. Or, if you have a willing participant on hand, perhaps you can finish your new spa experience with a massage?
So don't despair, treat yourself to some sensational treatments at home and add a bit of spa quality to your life.
Thanks to vouchercloud.com who have created this great guide to creating a DIY home spa. Whether you are stocking up on goods to kit out a home spa, or just fancy a discounted spa day, check out the latest discounts from vouchercloud.com. With discounts across top retailers including Amazon, Prezzybox and FeelUnique, plus offers from the likes of SpaFinder, there is even more reason to treat yourself.