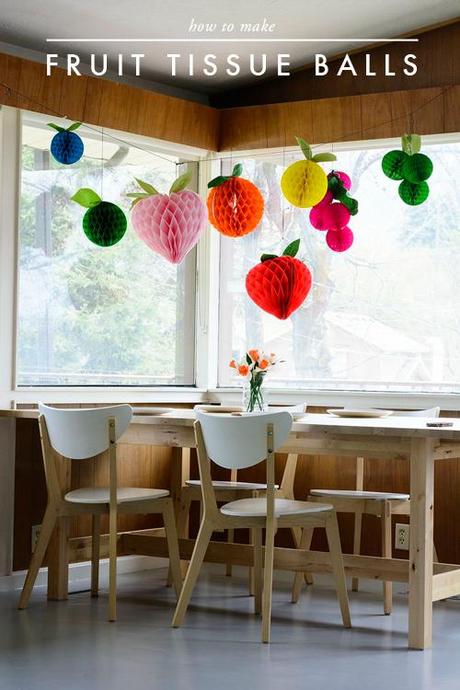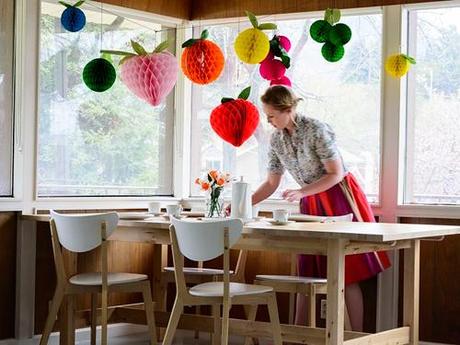 First thing, if you're reading this and you're in America and it's May 2nd at 9:15EST (or 10:15) turn it to NBC and watch yours truly vying to win the title of Best Hat on the Today Show Kentucky Derby contest. I guarantee an embarrassing flub with Al Roker.
Do you remember my fruit balloons? Well, I was at the darling shop Harmony on Center Street, Provo the other day (where I'm teaching a paper flower workshop on Saturday, May 11th. Sign up here), and I was eyeing the tissue hearts hanging up and all of a sudden it struck me: those hearts are strawberries! So, I had to turn them all into fruits. Rachel from Darlybird was kind enough to provide the tissue balls and hearts. She's got a great assortment of colors and shapes and they're at such a great price. Wouldn't these be great fun for a spring event? Event or not, they'll be in my studio permanently starting now.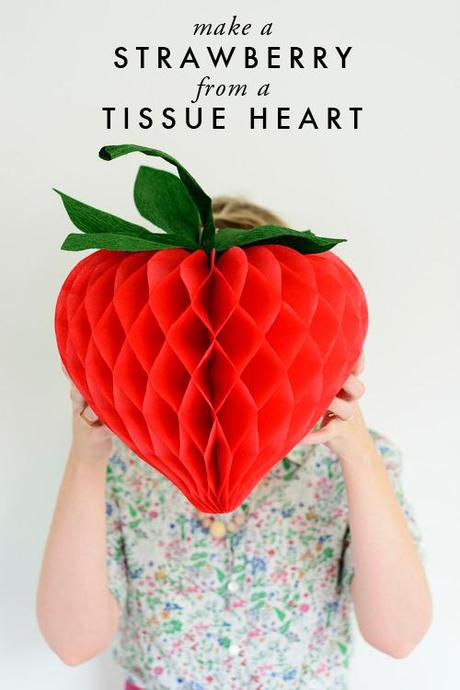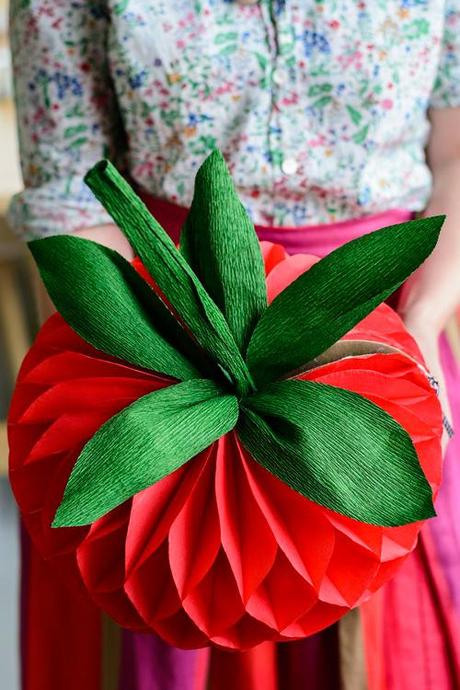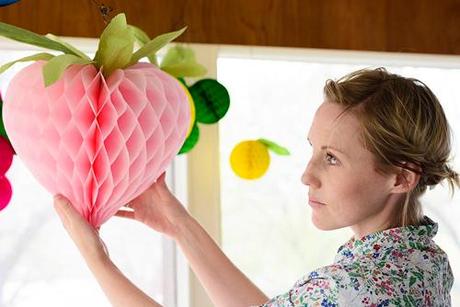 I won't do extensive directions with these because you can probably catch the drift, but I'll give a few pointers.
To make the strawberry heart
Materials: tissue paper balls and hearts (I got mine from Darlybird, which is cheap and has a great assortment), glue gun, crepe paper for the leaves in different shades (I'd try Paper Mart for cheap and heavy crepe paper), scissors
Step 1: Cut out 5 or 6 long leaves with the crepe paper grain going vertically.
Step 2: Gold it in the center vertically to provide a bit of shape to the leaves.
Step 3: Glue gun them into the crevices of the heart.
Step 4: With a longer piece of crepe paper (about 1 foot by 4" wide) roll it to form a cylinder. Make sure it's tight so that it holds its shape.
Step 5: Glue the "stem" into the center of the tissue heart.
Done!
Other fruits to try: orange, lemon, lime, blueberry, grapes in small bunches of purples or greens that are tied together. Adjust the size of the leaf according to each fruit. For the grapes I made more of a grape leaf shape like this
photography by Sheena Bates Thank you MLBE for your house!