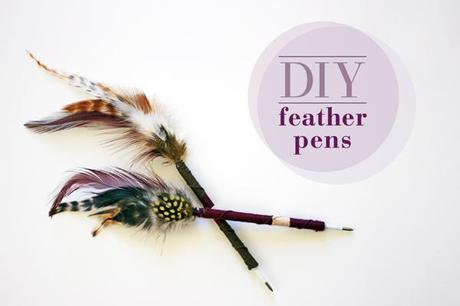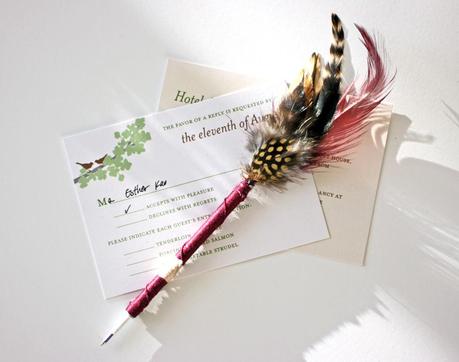 I've got a lot of embroidery floss left over from my middle school days. Of course I've kept it around, because I'm a pack rat when it comes to crafting supplies. I used some of it to stitch embroidery hoops, and some for DIY baker's twine, but I still have a lot left. I found this wrapped feather pen tutorial from idlewife, and thought it'd be a good use of my floss.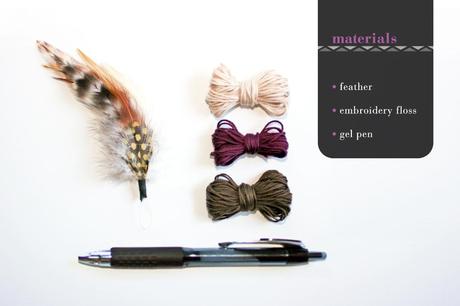 The feathers were purchased from Joann Fabrics a long time back. And the pens were spare ones from our drawer. So this was essentially a $0 craft.
steps
/1/
Start by taking the gel pen cartridge from the casing. Measure your embroidery thread, making sure you have a long tail (it's better to have more than less!)
/2/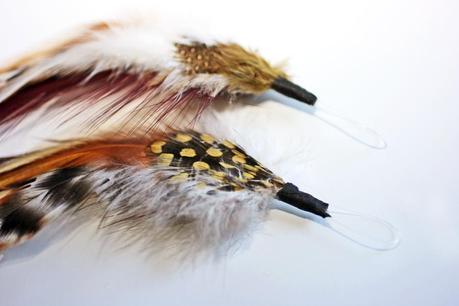 Check to see how the end of your feather fits into the pen cartridge. The feathers I used had ends that were taped with masking tape, which allowed the feather to fit snugly into the cartridge. If your feather end is too thin (i.e. falls into the cartridge), wrap the ends with a small bit of masking tape.
/3/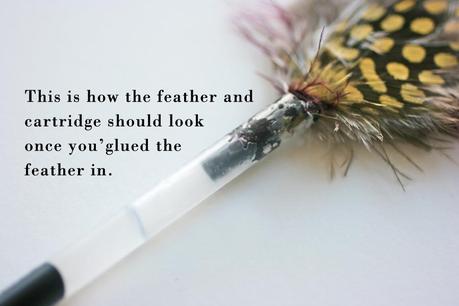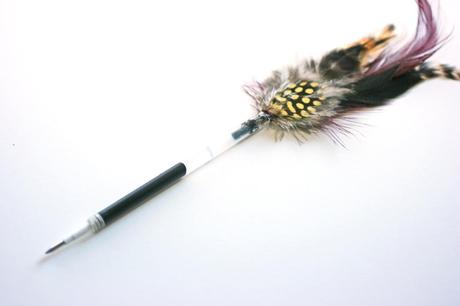 Tie one end of the embroidery thread around the taped end. Then put fabric or tacky glue all over the taped area, and insert feather into pen cartridge.
/4/
Start wrapping the pen, using the basic friendship knot. You'll want to work towards the pen tip. Idlewife has this great "how to" video for how to do the wrapping: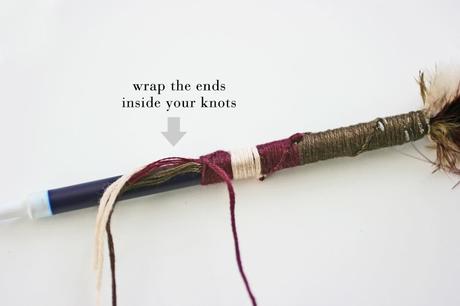 To change colors, use the existing color to tie a knot to the new colored thread. Hold the old color close to the pen and wrap the new color around both pen and old color.
/5/
When you've reached the tip of the pen, bind off the thread. You can add a little dab of glue to the ends and secure it to the pen.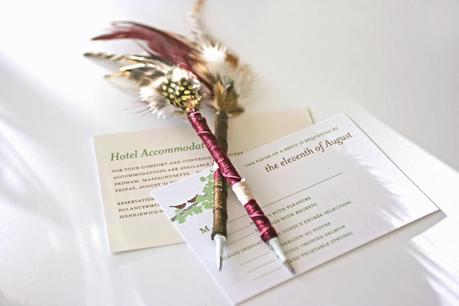 And you're done!
What can you use your feather pen for? I think it'd look neat for signing a guest book at a wedding. Or perhaps for party favors. Maybe they could be just to spruce up your cubicle at work. The sky's the limit on this one!