Want to find out how easy it is to create your own Faux Leaded Frosted Window? I had to create one out of necessity, but I can't wait to share how truly simple this project was. I live in an older home that has seen much love, wear and tear by families, hurricanes, hot Florida sun, and my lovely fur babies. Came home a while back to find out that the bottom front window pane had been broken. It looks like it was broken from the inside out. We are thinking our big lab was the culprit. He stands at this window to watch us leave and come home. This window allows him to watch for the mail lady and the UPS man as well as the little bunnies that taunt him in the front yard.
*This post contains affiliate links to products you could use to do this project yourself.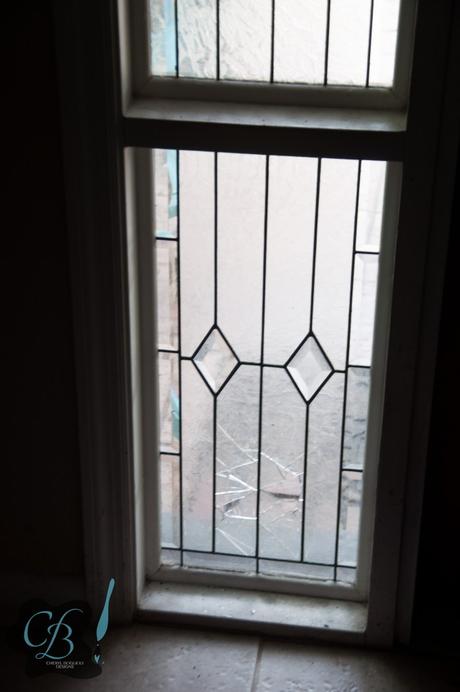 It's not as clear to see here, but the glass does seem to be all pushing out rather than in. Besides, if someone was trying to break in, I think they would have reached a little higher. Nevertheless, it had to be repaired. We put packing tape on it temporarily and a piece of wood over the inside so none of the fur babies got cut on the glass until it could be repaired. I called a few local glass companies to come and provide some estimates. Code now requires that tempered glass is used in sidelight windows adjacent to a door. No one could replace the leaded and frosted pattern we had on original windows. Estimates started at $150 and went up to $350 just to replace and install this ONE panel with plain clear tempered glass. We didn't want one clear window and couldn't really afford to replace all three at those prices, so I asked about just replacing the glass and I would install it myself. That would only cost $33! Order it!
Create Faux Leaded Frosted Panel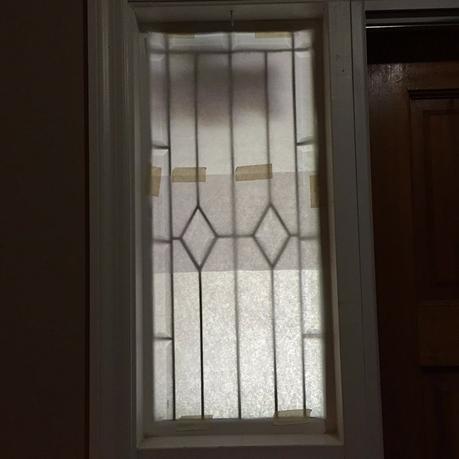 I knew I could figure out something with all the supplies I have on hand! First, I used my deli paper and traced the design from the top panel with a Sharpie marker.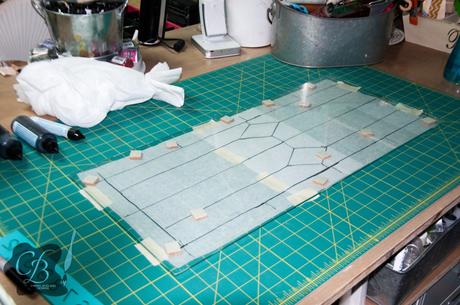 I squared up my tracing on a cutting mat and then centered the new tempered glass over the tracing. Those little cork squares were in place on both sides to protect the glass from being scratched. They also provided a great cushion for me to work on.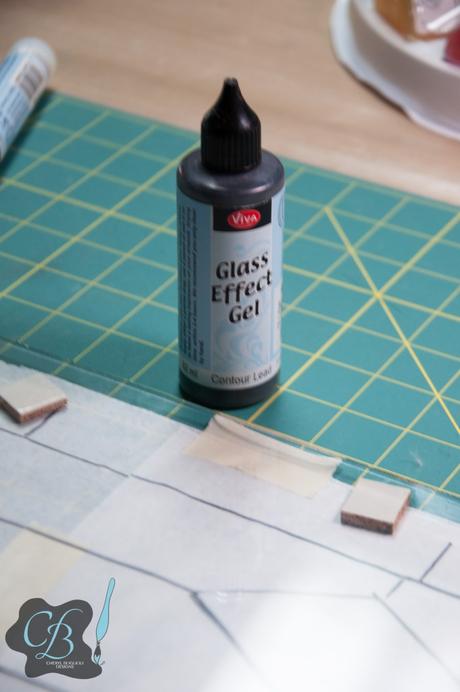 I used my Viva Decor Glass Effect Gel in Contour Lead to trace the leaded glass design directly onto the glass. I applied this to one side and allowed to completely dry for a few hours. Then all I had to do was flip over the piece of glass and trace the lines I just drew on the opposite side.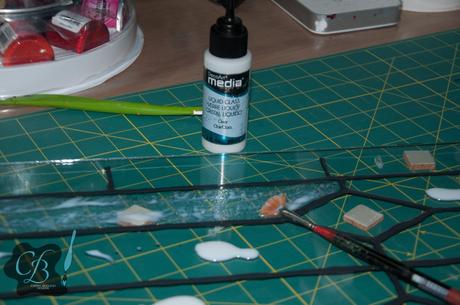 After the Faux Lead was dry, I used a small fan brush to push and apply DecoArt Media Liquid Glass. It really did not take as much as I had thought. When this dried, it gave a beautiful slumped antique glass appearance. This would have been perfect by itself, but would not have matched my original frosted glass window panes. How I could make it look more frosted now. The main problem I had was that my original window panes did not look etched. If so, I could have used a variety of other products for that look. My original windows actually looked like frosted ice. Using a scrap acrylic charm to test my theory , I found that adding a crackle over the liquid glass created a really good 'faux frosted' look.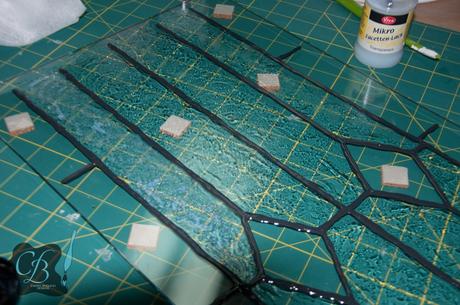 I decided to use Viva Decor Mikro Crackle Paint in transparent (Mikro Facetten-Lack) because it crackles in really fine cracks looking shattered rather than cracked appearance. This was applied directly over the dry Liquid Glass again using a small fan brush. Bingo! It produced a really great frosted look.
Replace Window Panel DIY
Now comes the DIY hard part, which wasn't really all that hard after all. I needed to remove the broken panel and install the new Faux Leaded Frosted Window panel. It does however, take a little patience.
First you must use a small scraping painters blade to gently and carefully pry up the small pieces of quarter round molding that frame the inside of the window pane and hold the glass in. You only need to remove this from one side. Use a pair of plyers to remove any old nails and use your painters blade to remove any bits of old caulking from quarter round pieces as well as inside window frame. I then needed to use the same scraping blade from the inside to pry the glass away from inner molding. I was able to sit in door frame and reach both sides to ensure old glass didn't just fall out. You may need an extra hand here. Carefully remove old broken window pane and clean up any debris.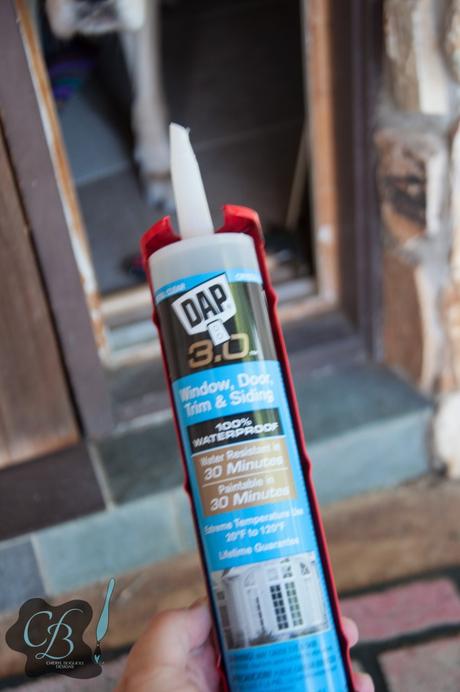 I used Dap Crystal Clear Window Caulk to run a bead inside window frame. This dries quickly and crystal clear. Love it! After running a small bead inside window frame molding, I placed my new Faux Leaded Frosted Window panel in place firmly against interior molding. I then replaced my outside quarter round molding with a nail gun at an angle so it would not hit the glass underneath. Voila! I installed a front entrance Faux Leaded Frosted Window Sidelight all by myself and saved a ton of money.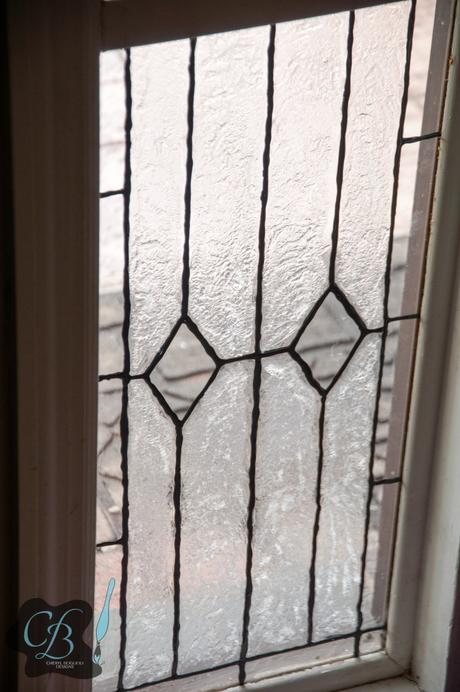 Here is a close up of my Faux Leaded Frosted window panel now in place. Not bad, huh? It might not look EXACTLY the same as the others on close inspection, but being down on the bottom of the sidelights and the fact it save me quite a bit of money, I'm quite happy with it. Now I want to paint that door soon.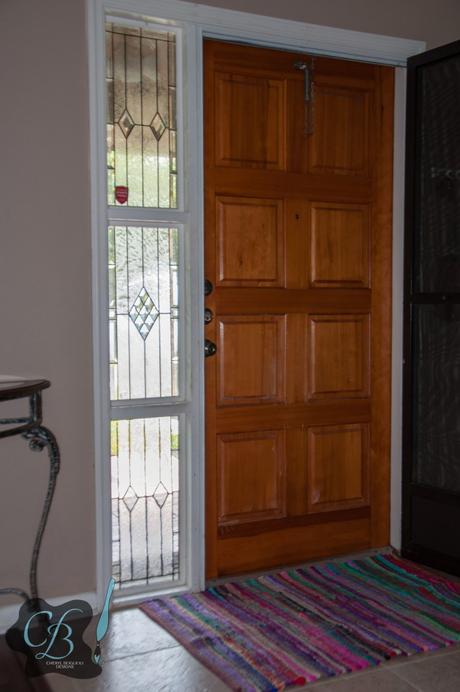 Do you have any window panels that need to be spruced up or replaced? Would you try this? How about using the same technique in a craft project? I have a few ideas now and would love to hear how you might use this technique.