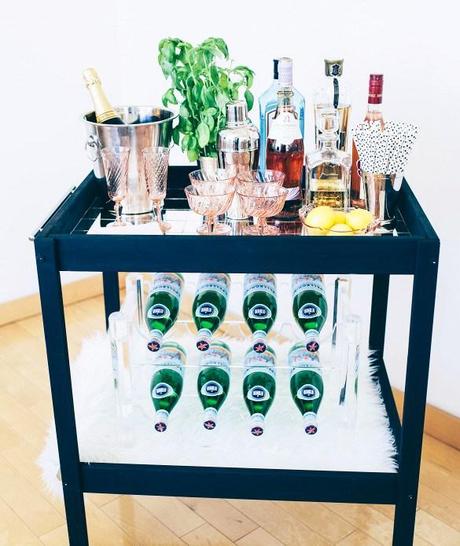 Hi Gorgeous! If you're like me then you like to have a drink every now and then–especially after a long stressful day. Or maybe you don't drink but you love to entertain and some of your guest like to have a drink. Well if you fall into either one of those categories then keep reading on how you can create your own bar cart.
DIY Bar Cart
Supplies:
1 changing table
50 mirrored tiles
2 bottles of high gloss acrylic craft paint
1 bottle of strong hold glue
1 paint brush
Steps:
1. Paint wooden parts of table and allow to dry.
2. Place and glue mirror tiles in rows on each shelf
5 Stylish Must Haves For Your Bar Cart:
1. Beautiful bottles
2. Glamorous glassware
3. An ice bucket
4. Playful accessories
5. Garnish
And there you have, it pretty easy–right?!
Gorgeous, will you be trying this DIY project? Let me know in the comments.
Stay Gorgeous!
Source: Domaine