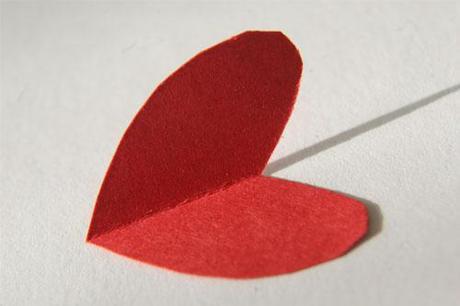 "But it is a cold, lifeless business when you go to the shops to buy something, which does not represent your life and talent, but a goldsmith's." Ralph Waldo Emerson, "Gifts," Essays, Second Series, 1844
That's right. It's that time of year again and this is my obligatory Valentine's Day post. At first I thought I would skip the holiday all together because I feel that it is completely overrated. In many respects, it is just another way for companies to make money by pressuring people into buying expensive jewelry, fattening chocolates (after half of the nation just resolved to diet and exercise for the new year, no less) and $10 greeting cards written by someone else that somehow, someway, just might explain your deepest and most heartfelt feelings for your sweet babboo. Or not.
I have known guys who have stayed in bad relationships just so they wouldn't have to spend Valentine's Day alone. I have known girls who bemoaned the fact that their significant other "only" bought them a card and some flowers, when what they really wanted were diamonds and a fancy night on the town, complete with limo and Richard Gere a'la Pretty Woman. Men completely lose their shnizz when they can't afford to buy their woman what she wants (usually because it's expensive) and women feel utterly destroyed if their man didn't come through with something from a completely fictionalized romance novel. I must interject that while not everyone has this extreme expectation of their lover, many do. Pinning one's entire relationship on the outcome of one day is not in the best interest of Love.
Perhaps 2012 is the year of revolution. The news these days centers around the sluggish economy, record unemployment rates, higher gas and transportation costs, increased food prices (and let's not forget the austerity measures facing our friends across the pond). All of this belt-tightening blah-blah-blah has convinced me that it's the right time to start thinking small…and with feeling. After all, it's not the amount spent on the gift that determines the giver's love. It is, in fact, the sentiment behind the gift. I remember more fondly the small tokens of affection that were given to me that the jewelry (some now broken), fancy dinners (already digested) and exotic flowers (long-since dead).
My favorite Valentine's gift is from my husband. I am a writer (and consequently a hopeless romantic) so when we were dating I bought this gorgeous gold-embossed stationary to write to him even though we lived no less than 10 minutes from one another. Some of the letters I would mail, some I would leave on his car at work, and some I would tuck into hidden places to be discovered at a later time. I knew that it made me happy to write these letters but I didn't know just how much he appreciated them until our first Valentine's Day as a married couple. He had four of his favorite letters matted and framed and presented them to me with a letter of his own. We didn't have a big wedding with invitations and proper pictures and the like, so they now serve as a visual testament to our love, hanging in the hallway of our very first home together.
This Valentine's Day, resolve to try something different…be daring…be cheap! Save your money for a rainy day and put your sentimental thinking cap on. It's time to rethink the traditional, commercially-dictated gifts of love, and instead look inside of yourself and see what small things yet meaningful things can be done to celebrate Valentine's Day in a fresh new way.
Happy Crafting, Lovers!
E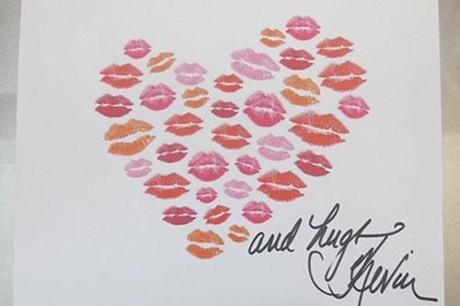 Lip Print Heart: I got this sweet bit of inspiration from Kevin Sharkey, one of my favorite designers, who often works with Martha Stewart. You could be straightforward and use this as a card, or get creative and frame it as an art piece. Kevin created a PDF with the lip prints already done for you, but I would prefer to create the design with my own two lips. I mean, my kiss is much more awesome than some clip art, right? Click the image to download the kit from MarthaStewart.com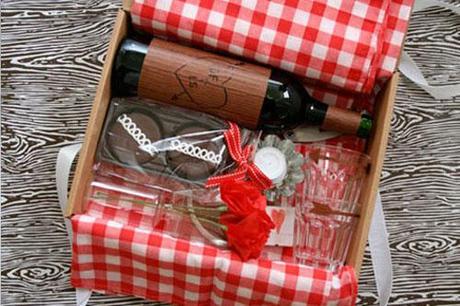 DIY Valentine's Day Kit: It doesn't have to be a fancy dinner at a pricey restaurant to show your affection. This DIY picnic kit turns the usual movie night at home into an intimate and affectionate encounter. Think of items that are special to your significant other or things that remind you of your first date. In my case, it would be a box of Jelly Belly jelly beans and an Elton John CD (our first date was memorable, to say the least). Thanks to the creative peeps at Design*Sponge for this great idea. Want instructions? Click the image.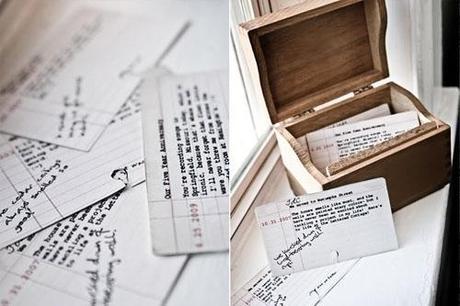 Catalog of Love: Grace, the crafty blogger at Poetic Home, made this sweet memento for her second anniversary with her husband. It tracks occasions and events over time, from their first date to their engagement. She created her own Dewey Decimal system and adds to it every year as their anniversary date approaches. It could also evolve into a project for a parent or grandparent, cataloging the cherished events from childhood and beyond. Click the image for more inspiration from Poetic Home.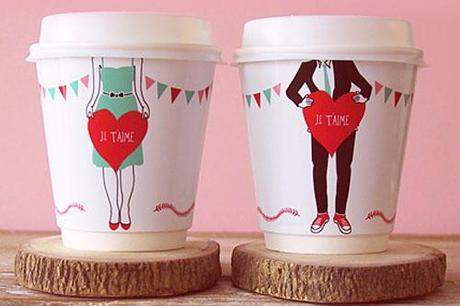 Je T'aime Coffee Cup Wrappers: The brilliant mind behind Eat Drink Chic, Amy Moss, created these cute coffee cup wrappers from a pre-existing template. This would be perfect for a surprise Valentine's Day road trip. The destination doesn't have to be anywhere special. Just make a mix CD with your favorite songs (romantic or not) and hit the road. Stop along the way to take pictures of yourselves to document the fun. Click the image above to visit Amy's blog and download the template.
Whatever you choose to do, remember that it doesn't even have to be a tangible gift to be awesome. Perhaps my favorite idea came from a YouTube video that I found several months ago while searching for music from Explosions In The Sky. This guy made a flip book video for his girlfriend using a point-and-shoot camera and his video editing skills.
Let's just say that Emma is one lucky girl.