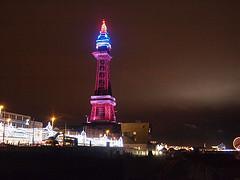 Blackpool Tower at night

Originally uploaded by
PyramidHead76
Blackpool, home of the seaside holiday and famed for its Tower, rock and Pleasure Beach, now has another claim to glory.

Figures released from the 2011

census show it to be the divorce capital of England and Wales. Yes, London might be the divorce capital of the world but Blackpool has a higher number of divorced people than anywhere else in the country.
The statistics from the census show that 9% of people are divorced, but in Blackpool the percentage is 13.1.
So what is it about this seaside town "up north" that results in so many divorces? Punch and Judy might still perform on the beach but one would expect the adult population to be too mature to fall under their influence. Further and whilst the town may play host to the political party conferences we surely can't blame the MPs for this one as well as every other anomaly in society.
It seems we don't need to. Inside sources tell me it could be the fault of the Illuminations. By lighting the town up from September to November each year, the indiscretions of amorous couples are noted by everyone passing down the Golden Mile. Sharing chips in the moonlight was never the most romantic of gestures but when it's not your spouse you're sharing with and you are lit up in a glorious technicolour spectacle, there is a potential to add to the statistics.