On the evening of that first day of the week,
when the doors were locked,
where the disciples were,
for fear of the Jews,
Jesus came
and stood in their midst
and said to them,
"Peace be with you."
When He had said this,
He showed them His hands and His side.
-John 20:19-20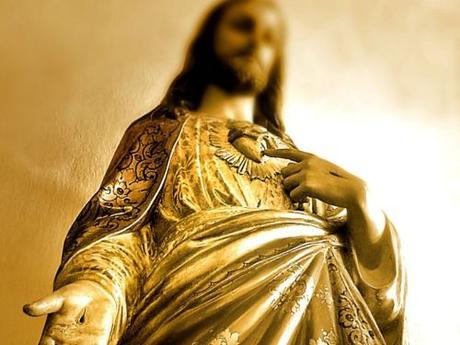 Although you have not seen Him
you love Him;
even though you do not see Him now
yet believe in Him,
you rejoice
with an indescribable and glorious joy,
as you attain the goal of your faith,
the salvation of your souls.
-1 Peter 1:8-9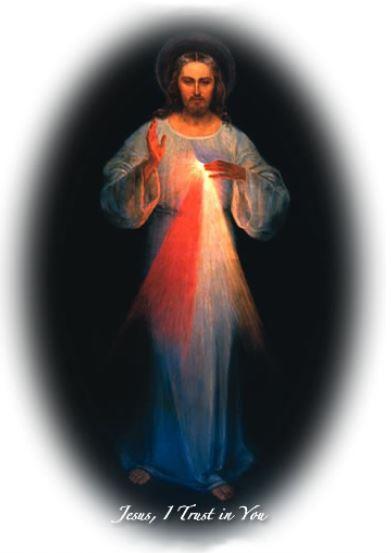 The message of The Divine Mercy is simple. It is that God loves us — all of us. And, he wants us to recognize that His mercy is greater than our sins, so that we will call upon Him with trust, receive His mercy, and let it flow through us to others. Thus, all will come to share His joy.
The Divine Mercy message is one we can call to mind simply by remembering ABC:
A – Ask for His Mercy. God wants us to approach Him in prayer constantly, repenting of our sins and asking Him to pour His mercy out upon us and upon the whole world.
B – Be merciful. God wants us to receive His mercy and let it flow through us to others. He wants us to extend love and forgiveness to others just as He does to us.
C – Completely trust in Jesus. God wants us to know that the graces of His mercy are dependent upon our trust. The more we trust in Jesus, the more we will receive.
This message and devotion to Jesus as The Divine Mercy is based on the writings of Saint Faustina Kowalska, an uneducated Polish nun who, in obedience to her spiritual director, wrote a diary of about 600 pages recording the revelations she received about God's mercy. Even before her death in 1938, the devotion to The Divine Mercy had begun to spread.
This is the Divine Mercy prayer that concludes the Chaplet of Divine Mercy (From the Diary of St. Faustina, 950):
"Eternal God, in whom mercy is endless and the treasury of compassion inexhaustible, look kindly upon us and increase Your mercy in us, that in difficult moments we might not despair nor become despondent, but with great confidence submit ourselves to Your holy will, which is Love and Mercy itself. Amen"
When I encounter great difficulties and find myself greatly overwrought, I turn to Him with a child's simple faith, and whisper: "Jesus, I trust in You."
See also "Religious faith is most powerful non-medicine against pain."
~Eowyn