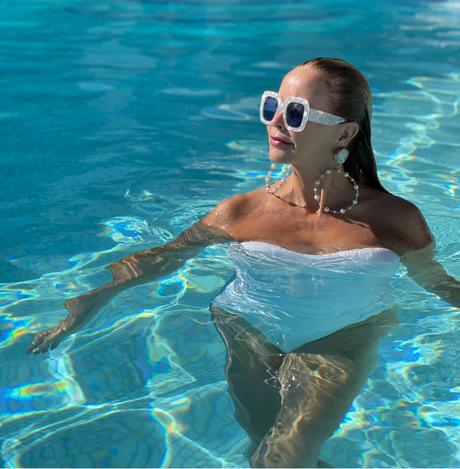 Jeff and I 
Celebrated our 34th Anniversary
at the beautiful
Dive Palm Springs!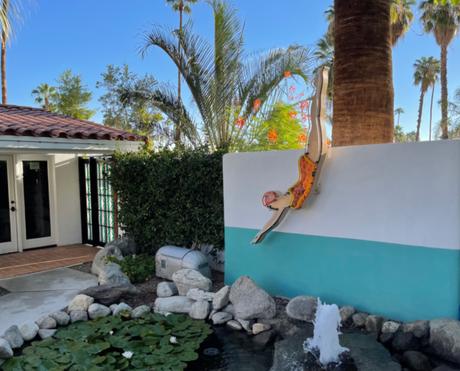 Located on 
East Palm Canyon 
in the historic 
Deepwell Estates
It is an intimate property with 11 rooms three distinct garden areaswithin the walled courtyard.
Originally built in 1954as the Sunrise Villa apartmentsIt has been artfully restored in a manner that respects the bones of the pastwith fresh swaths of modern design sensibility!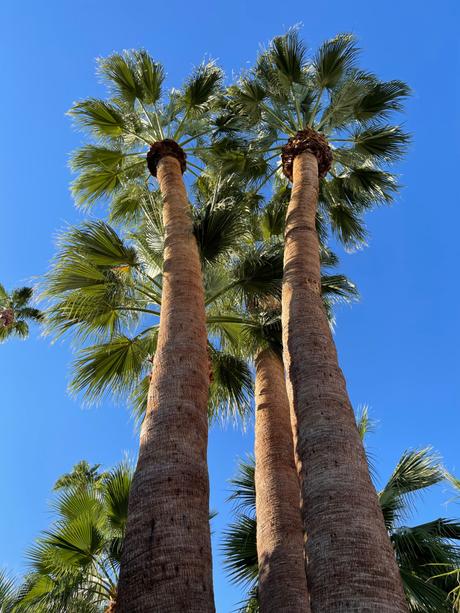 Just walking onto the  propertyyou feel embraced by the mature lush landscaping and garden areas.
It  feels like the rush of a safe embracebeing secluded in  such beauty.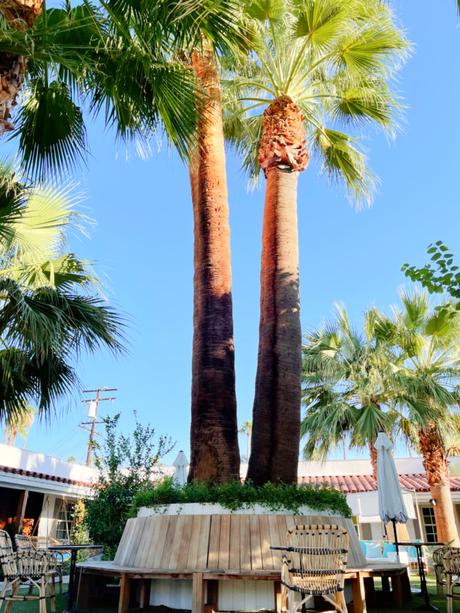 A 15 foot bench encircles the majestic palmsthat grounds the propertyin Palm Springs history.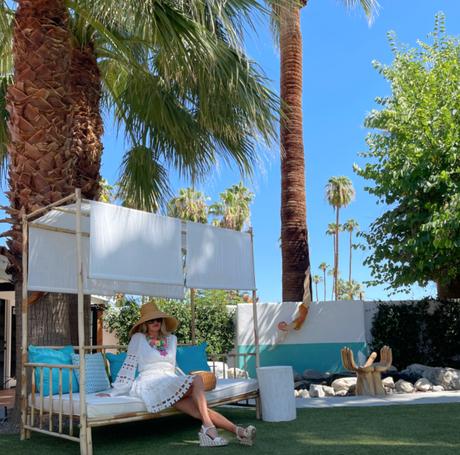 It's the modern furniture touchesthat bring in not only intimate gathering spacesbut so manyInstagram worthy backdrops.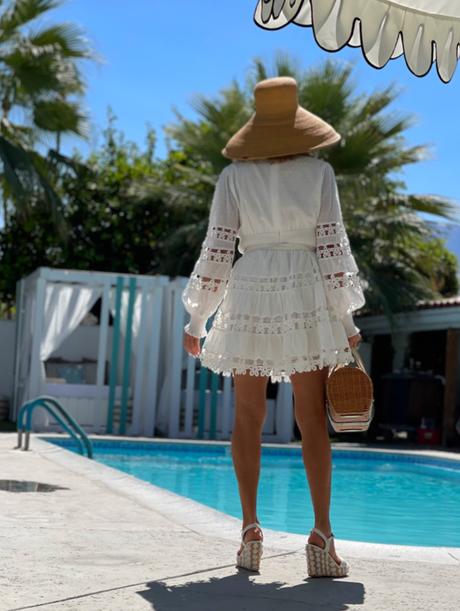 And thenthe gorgeous and historic 
Libott Pool
reveals itself!
In the 1950's Libott was the premier pool builder in Palm Springs.the entire pool bottom is covered inwhite porcelain tiles!It's a beautyespecially when in the pool!No rough concrete on your feetjust brilliant white tiles!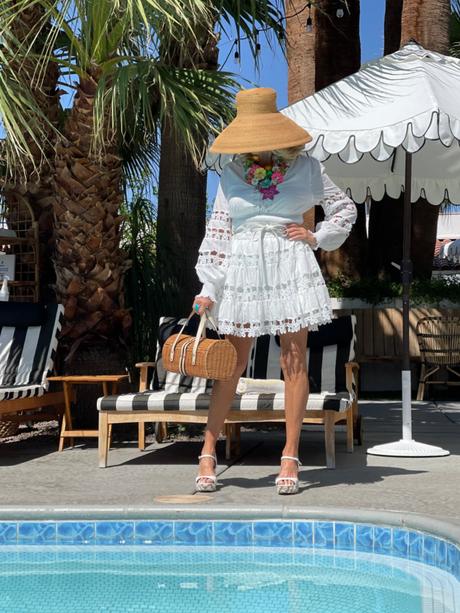 And of course I packed for 
Palm Springs!
Sometimes I pick locations for what I want to Wearsometimes I style my wardrobefor where I want to 
go.
This time packing was all about
Palm Springs Glamour!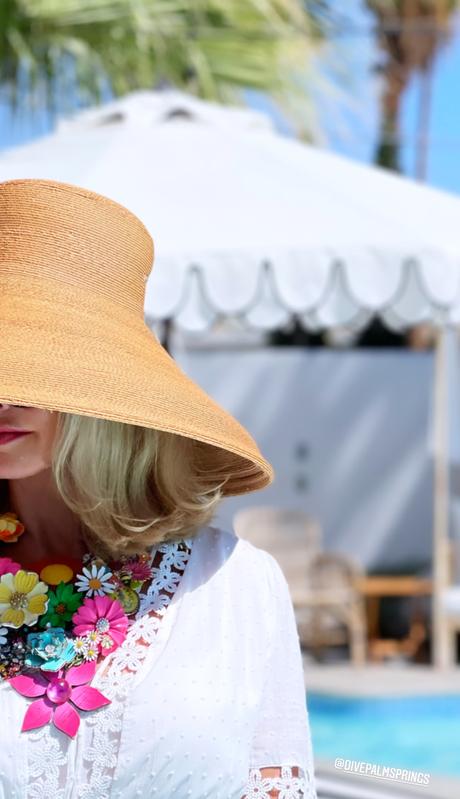 My 
Vintage Broach Necklace
harkened back to Palm Springs heyday.
This is one of my favorite personal creations.I have continually added broaches over they yearsMost notably some of my late Mother''s recently.
If your interested in making your ownI did a post years ago 
HERE
My
vintage Frank Olive straw hat
not only speaks
Palm Springs glamour loud and clear
even more importantlyit added another layer of sun protectionin the desert sun.
Both bold accessoriesset off my white cotton sundress from
Social Butterfly Collection
beautifully.this one is currently out of stockbut you can get the ensemble conceptI am creating.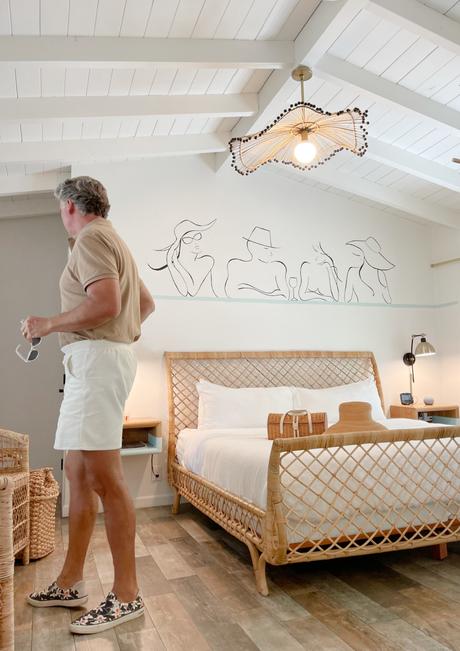 Now to the bright spacious room!The open beamed ceiling are the perfect backdrop for the 
Serena and Lilly
 furnishings!Handsome husband not included!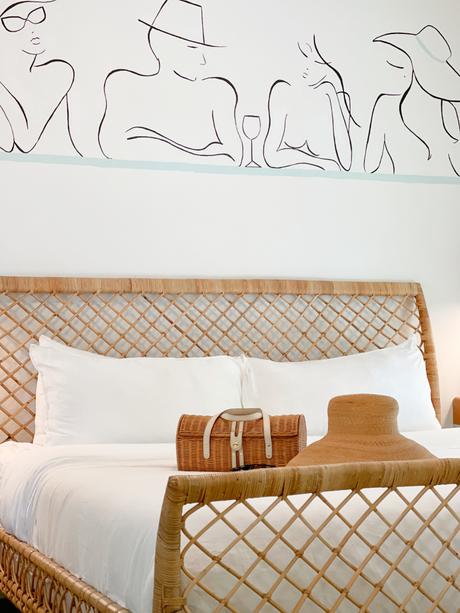 I just adore the open minimal feeling in the room.and especially 
the evocative original mural
I also love a room that speaks perfectlywith my personal
Accessories
like my vintage Kate Spade straw bag.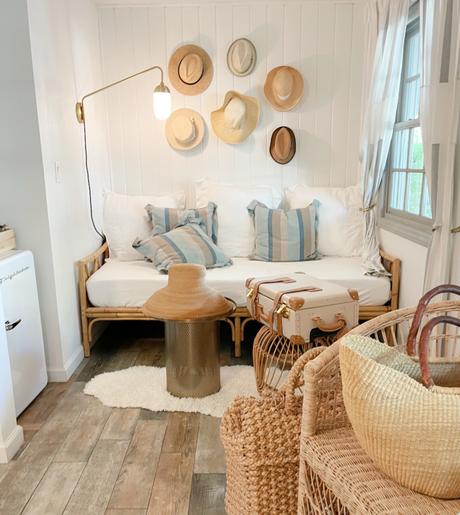 And of course if you know me
A Hat Wall
is always speaking my language!
My favortite
 Steamline Luggage
and 
Serena and Lily
woven bagfelt especially at home in the room!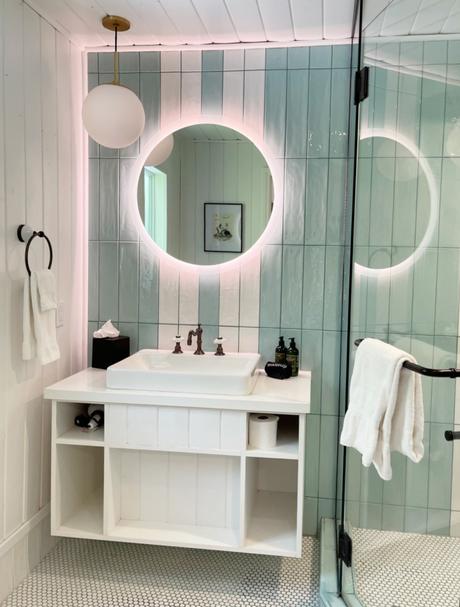 I love the bathroom design as well.
From the white slatted  wood wallsto the penny tilemixed with luxurious vertical tiles.
A design mix that exalts the past
with a fresh modern functionality!
It pretty much sums up the design ethos of the property!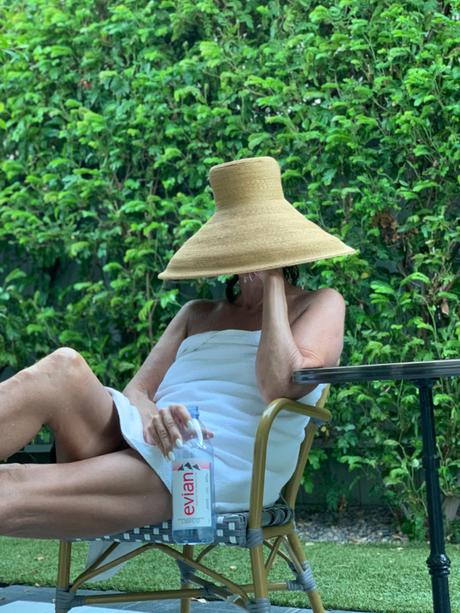 Need a shaded area for a break from the sunmost rooms come with a private back courtyard!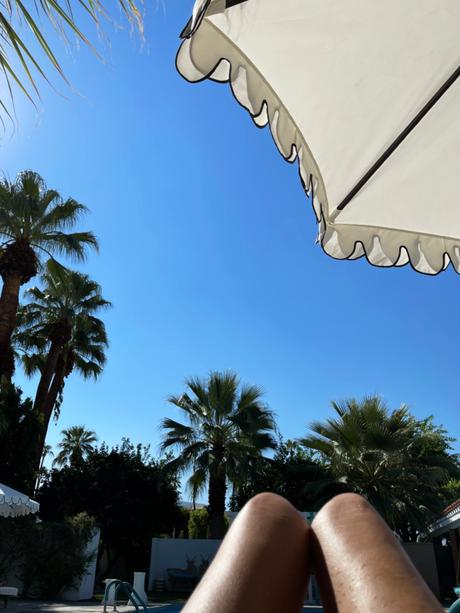 For meit was all about 
the pool!
I had planned our tripwith plenty of looks for going out and about in 
Palm Springs.
But when it came down to itnothing could beat time at the pool!
We arrived on a Sundayso weeven had the pool to ourselvesfor a bit!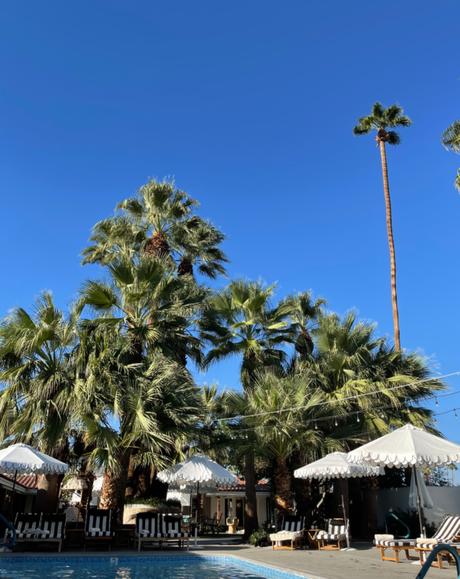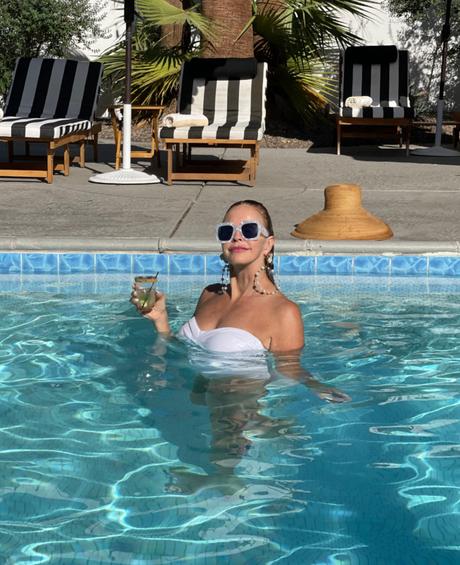 Dive Palm Springs
currently has an outdoor kitchenwith a chef/ bartender on site.Which means  ....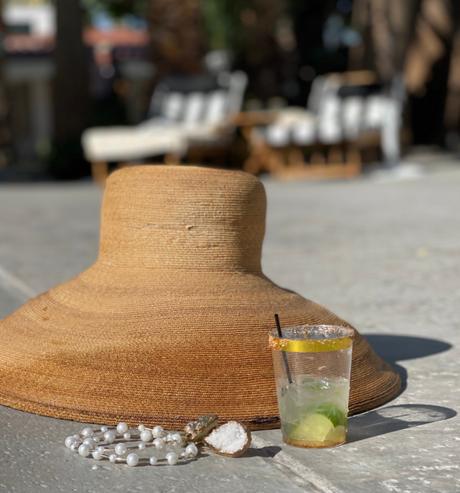 A beautiful hotel
with
gorgeous lush landscaping
stunning pool
perfect mezcal margaritas
the warm sun 
and a
handsome husband.
Anniversary Memories
at their best!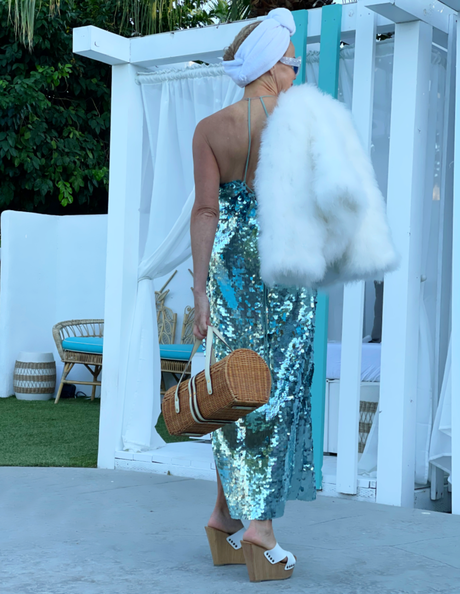 Then we added in getting
Glammed Up
for a night at one of our always favoritesthe iconic
Melvyn's!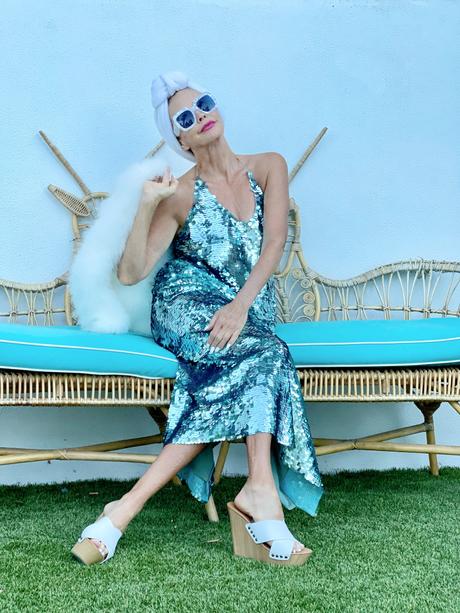 Palm Springs
 always feels like a
bring all 
the glamour 
you got destination
to me!
Glamour with 
a casual
SoCal twist!
My sequin Free People dressthat I got for a song on sale a few years back has been just waiting patiently in my closetfor the perfect time to come out and play!
As has my feather jacket.Another player I've had for years.I bought it from Beholdenand I'm currently in love with it!
An easy wooden slip on shoegrounds the look with a 
 casual SoCal vibe.
My best and easiest
Palm Springs Style Advice
besides a
 huge Sun Hat
A Turbanand Bold Sunglasses!
A Turbanwill take you from the poolto instant glamjust by putting it on!I really don't like taking the time forhair and makeup when I travel.I do as little as I can get away with!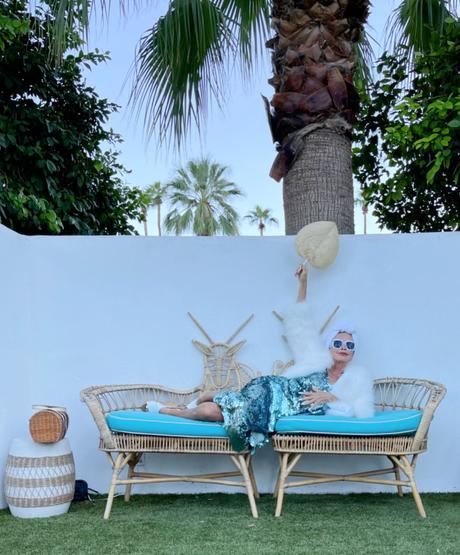 Oh how I love a 
Perfect Sartorial Moment!
When a 
Fabulous Outfit
meets the perfect 
Travel Location!
Moments like theseare what this
Fashion Accessory Designer
Dreams are made of!!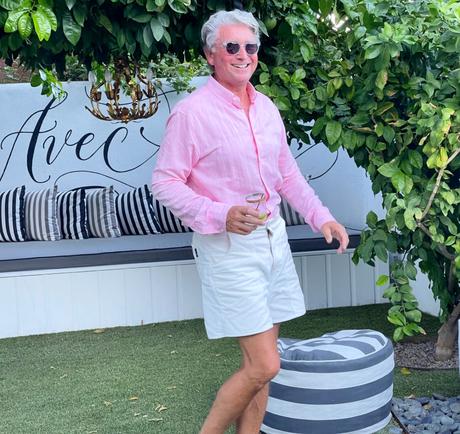 This man is also 
what dreams are made of!
Sure we have had our difficutiesover the last 34 yearsbut I couldn't be more proud of the both of usfor not only weathering our stormsbut coming out the stronger for it.
I often think of wanting to tell my high school self
You ended up with a 
great life
my dear!
Those heartbreaking nightsof no prom dateswere never a precursor of a life to comeeven though I had my fears!
Neither was not having a boyfriend for years.
Trust mewhen the time is rightyou will find 
a wonderful, wonderful 
life partner
is exactly how I would reassure my younger self!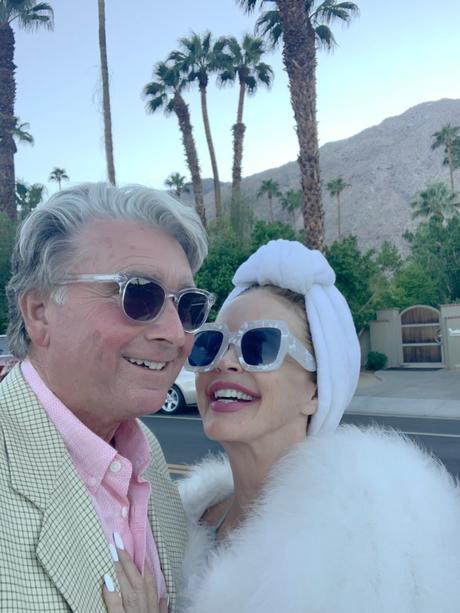 I am so Grateful
Jeff and I
are still doing 
Life Together.
And 
The Best is yet to Come!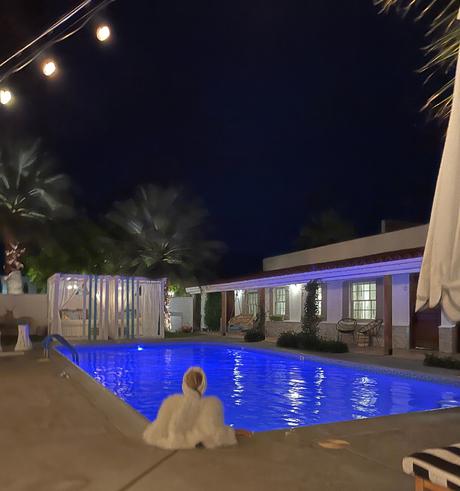 Now back to the fabulous 
Dive Palm Springs
where the pool never closesat this adults only property.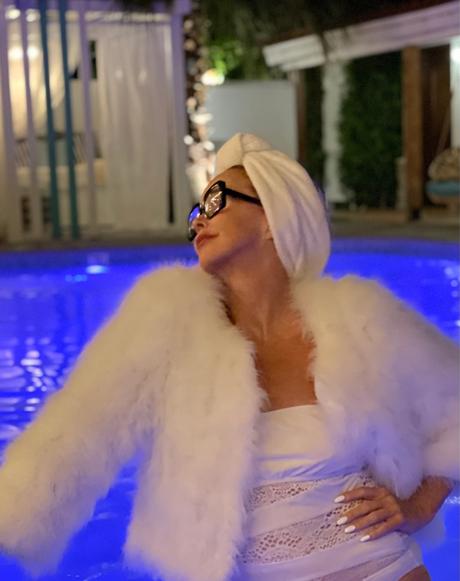 Which means a little leg dipafter a night outwas in orderfor this
 pool obsessed woman!
(Not to worry
no feathers were wetted!)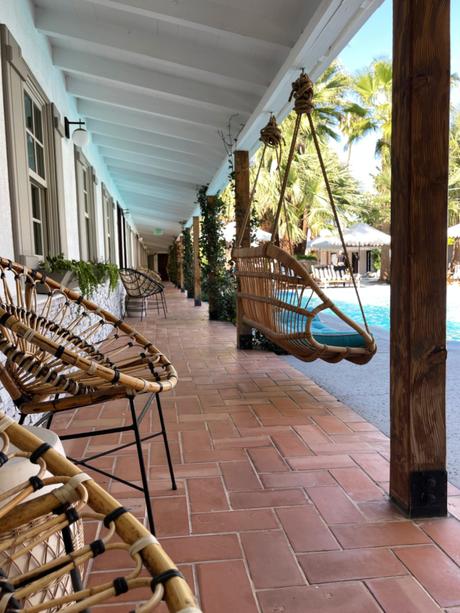 What a luxuryto get up in the morningand walk out a few stepsto arrive back at the fabulous pool!
Breakfast came with our stayso it was once againall about 
Pool Time!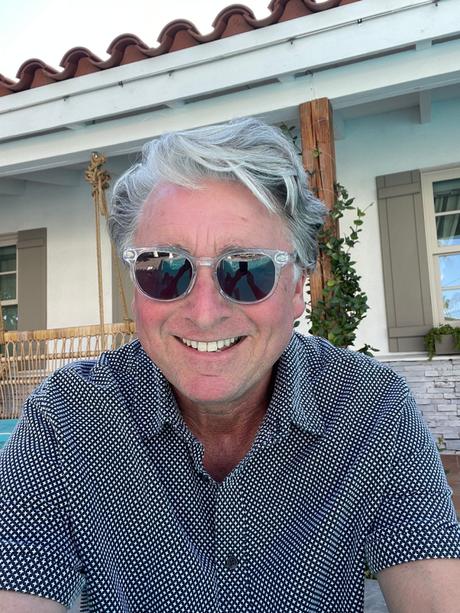 We had such a wonderful time at 
Dive Palm Springs 
we decided to extend out stay!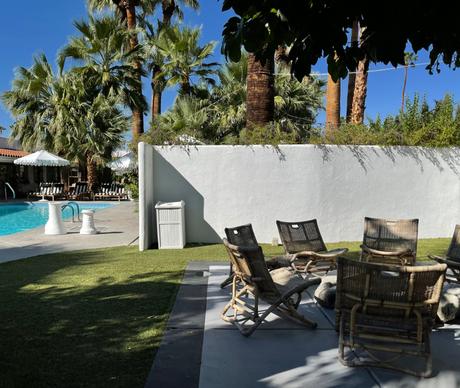 Especially since there were more areas to investigate.
We met so many interesting peoplesitting around the fire at night.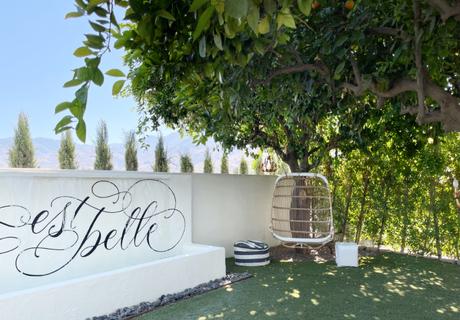 One of the beauties of the
Dive Palm Springs
is that this intimate propertyallows you spaces to stay privateor opportunitiesto socialize.
It's your choice.
We chose both.
It was all wonderful!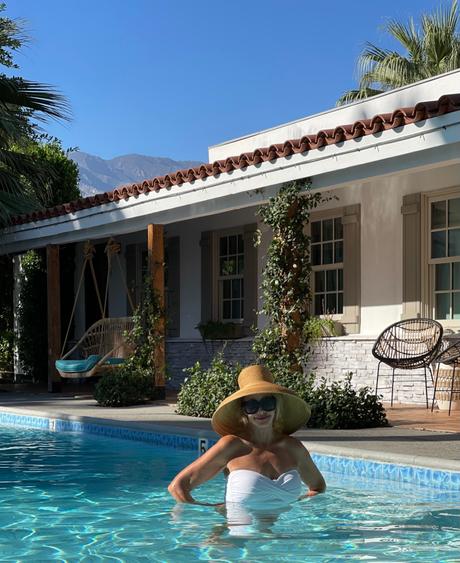 By now you can tellwe had such a great stay at 
Dive Palm Springs!
I would highly recommend a stay!
Thank you so much for visiting the blog today!I always appreciate hearing from you!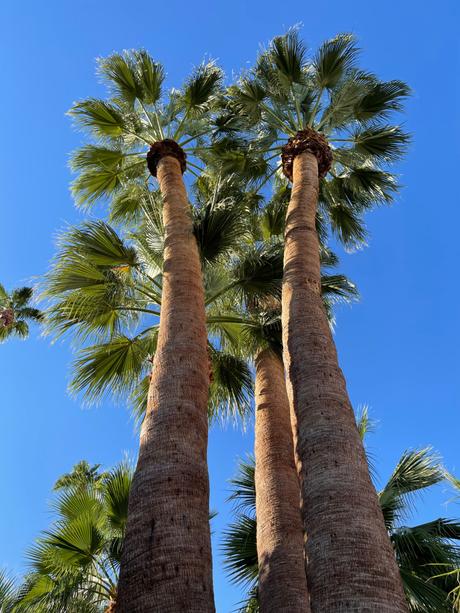 As always my friends
I wish you love and joy
as you style your life